Selangor is one of the 13 states of Malaysia. It is on the west coast of Peninsular Malaysia and is bordered by Perak to the north, Pahang to the east, Negri Sembilan to the south and the Straits of Melaka to the west. It totally surrounds the federal territories of Kuala Lumpur and Putrajaya.
> Go to Malaysia Mapfor Kuala Lumpur & Putrajaya City Map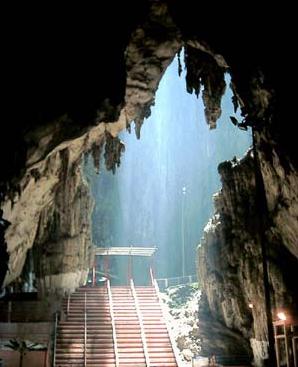 Batu Caves
This is a limestone outcrop which was little known until an American naturalist stumbled upon it about 100 years ago. Later a small Hindu shrine was built in the vast open space, later known as Temple cave. The main cave is reached by a straight flight of 272 steps. Several other caves exist in the same formation, including a small one at the base of the outcrop, reached by crossing over a turtle pond. The caves contain elaborately painted sculptures of various Hindu gods. The most spectacular Hindu festival in Malaysia is Thaipusam, a wild orgy of seemingly hideous body piercing. This is celebrated every year in the Hindu month of Thai, which is January or February. At Batu Caves, million of devotees and visitors flock to honour Lord Muruga. His chariot takes pride of place as it makes its way from the Sri Mahamarimaman Temple in KL''s Chinatown to the Batu Caves. The greatest spectacle is the kavadi carriers, which are great cages of spikes that pierce the skin of the carrier and are decorated with peacock feathers, pictures of deities and flowers. Some go as far as to pierce their tongues and cheeks with hooks, skewers and tridents. Women and children mostly carry milk pots as offerings. They chant 'vel, vel' as they make their way up the 272 steps to the temple in the main cave. Entrance to Batu Caves is free. Car park charge is RM2.
Zoo Negara (National Zoo)
Zoo Negara is located in Hulu Kelang about 13km from Kuala Lumpur. It first opened in 1963. It houses some 4,000 animals from over 400 species, with fine collection of animals covering native Malaysian wildlife as well as other animals from Asia and Africa. It has gone through some upgrades in recent years and now has new enclosures for primates, reptiles and safari Africa. The other parts are still the old enclosures with some still in seemingly cramped environment. Elephant and pony rides are available around lunchtime and there are elephant shows in the morning and afternoon. The Zoo is open weekdays and weekends from 9am to 5pm. Fees are RM7 for adults and RM3 for children. On weekends, the fees are RM9 for adults and RM5 for children. Tel : 603-4108 3422.
Getting there
By Bus : If you opt for public transportation, take Intrakota Bus No 20 from Central Market, a No 170 bus from Jalan Ampang, or a No 17 bus from Jalan Raja Laut in the Chow Kit area.
By Taxi : From the city centre, the best way to get to Zoo Negara is to board the PURTA LRT, disembarking at Wangsa Maju station. From here, you can catch a cab to Zoo Negara.
By Rail : Take the PUTRA LRT at Kuala Lumpur Sentral Station, disembarking at Wangsa Maju station. From there, PUTRA Line Feeder Buses provide shuttle service every half an hour beginning at 9.30 am and ends at 7.00 pm to Zoo Negara every Sundays and Public Holidays.
If you plan to drive, the Zoo is located about 13km from Kuala Lumpur city centre, along Jalan Hulu Kelang, which is accessible through Jalan Ampang.
Orang Asli Museum
This museum is a good introduction to the customs and culture of the Orang Asli(Original People) or aboriginal people. In West Malaysia, the Orang Asli are divided into three main tribal groups
Semang
(Negrito) from the North,
Senoi
in the middle and
Proto Malay
in the south. The Semang from the North, which consist of Kensiu, Kintak, Lanoh, Jahai, Mandriq, and Batiq. The Senoi from the middle includes Temiar, Semai, Semoq Beri, Jahut, Mah Meri, and Che Wong and the Proto Malay in the south consist of Temuan, Semelai, Temoq, Jakun, Kanaq, Kuala, and Seletar. The exhibits are interesting, which include musical instruments, blowpipes, poison darts, personal adornments and traditional clothing such as bark pants. Aboriginal dwellings of the nomadic kind are also presented. Also covered is their animistic religion and the role played by the medicine man. Tel : 6189 2122, Free Admission, 9.30am-5pm. Sat-Thu. Jalan Pahang, Gombak.
Getting there
Take bus 174 from Lebuh Ampang terminus in KL.
Genting Highland
Unlike the other charming highlands, Genting Highland is a modern hill station designed as a kind of Asian Disneyland. It is a forest of high-rise concrete blocks with the extensive theme parks and entertainment complexes. The main part of the resort is almost 2000m above sea level. Located close to Kuala Lumpur and residential areas of Selangor, it is a convenient drive away for many locals wanting to experience its temperate climate. It has the only
casino
in Malaysia, making it a popular destination for many who wish to try their luck. Look out for the
Chin Swee Caves temple
, located by the road side on the way up to Genting Highlands. There are many brightly coloured statues of '18 Lohans' or "18 immortals' and a Buddha. At the compound, there is also a 9-storey Pagoda. This temple was initiated by Genting Highland founder, Tan Sri' Dato Seri Lim Goh Tong, in 1976 and completed in 1993, after additional works and renovations.
Places to Stay
All hotels are operated by Genting Highlands Resort. Tel : 603-2718 1118, www.genting.com.my
First World Hotel, Price : RM65
Theme Park Hotel, Price : RM100
Resort Hotel, Price : RM140
Genting Hotel, Price : RM210, Apartment RM1000
Highlands Hotel, Price : RM230
Awana Golf & Country Resort, Price : RM130
Getting there
Buses leave from Kl's Puduraya bus station every 30 minutes from Genting Highland. From the Genting Highland bus station located at the Genting Skyway Complex, Gohtong Jaya, you will need to take the 3.4km long cable car to the top.
Buses also leave from KL Sentral Train station, hourly for the trip to Genting Highland.
Amazing Ten Animal Kingdom
On your way up to Genting highlands you will pass Gohtong Jaya and the skyway cable car Complex. Located here is the newly opened Amazing Ten Animal Kingdom. This mini zoo was built at a cost of RM3 million. What is attractive about it when compared to other local zoos is the uniqueness of the creatures. Here you will encounter the two-toed tree sloth, the nautilus, super glider possum, kinkajous, South American pacas and many others. Amazing Ten Animal Kingdom is open daily from 8.30am to 8pm. It is situated at Level 3 of Genting Skyway Complex.Tickets are priced at RM18 for adult and RM10 for child below the age of 12. Foreigners will have to pay RM25 and RM15 respectively. Tel :03-6100 1099.
Klang Valley, Petaling Jaya, Shah Alam & Klang
These areas of Selangor are a huge expanse of suburb and industrial area, offering little to see. Places of note is the Shah Alam
Blue Mosque
, Malaysia's largest mosque which can accommodate 24,000 worshippers. Its four minarets are the tallest in the world at over 140m. Going into Shah Alam, it is difficult not to spot this huge building. Pelabuhan Klang has many seafood restaurants which is popular among the locals. Seafood can also be found at
Pulau Ketam
(Crab Island), a small island just 30 minutes by ferry. The small Chinese community here is mainly fishermen with many of their houses built on stilts in the sea and river. Rubbish disposal is a problem here and much of it is strewn around. The KTM commuter trains from KL goes straight to the wharf where the ferry station is located.
Kuala Selangor
This is the old royal capital of Selangor. It was invaded by the Dutch in 1784, and became the scene of ongoing battles with the Sultanate of Selangor. At
Bukit Malawati
, a pleasant hill overlooking the town, there are some remnants of the fort which was fought over between the Sultanate and the Dutch. All that remains today is some sections of the wall and cannons, with a lighthouse stationed there. The walk up the hill is pleasant and you will likely encounter a troupe of harmless silver langurs, some clutching their golden-orange coloured babies.(The monkeys have a "pissed off" look) At the top of the hill you will be able to view the mangrove swamps and the sea.

Just below and next to Bukit Malawati is the
Taman Alam Kuala Selangor
, a 240-hectare nature park on the estuary of Sungai Selangor. This Park is noted for its birdlife, with around 150 species of birds sighted. There is an estimated 100,000 wading birds, comprising some 30 species, passing through here on their annual migration. An enclosure in the park houses a number of the endangered milky stork. This is an active breeding programme run in conjunction with Zoo Negara, or the National Zoo. There are numerous trails, watchtowers and several hides for better bird-watching.

There are chalets in the park for those wanting to spend a night in the wilderness. They cost RM25-45 per night. Entry to the park costs RM5. One of the highlights of Kuala Selangor is the
firefly
excursion. There are practically thousands of them on a particular berembang trees on the banks of Selangor River. Flashing at the same time in the night one hour after sunset, it creates a natural Christmas tree effect. To witness this wonder or rather, a mating ritual, you will need to hop onto a Malay-style longkong or boat which will take you on a half an hour cruise. Unfortunately of late, too much human encroachment and disturbance has reduced the number of fireflies. Many have the habit of catching them and over time, the numbers dropped. Kampung Kuantan is the point of departure of these boats. To reach the village, take the turn-off to Batang Berjuntai, 2km south of Kuala Selangor. Firefly Park Resort at Kampung Bukit Belimbing is another excursion point to see the fireflies. Tel :603-3289 1208, www.fireflypark.com.

There are a couple of wonderful seafood restaurants located on the other side of the river. From town, drive over the bridge over Sungai Selangor and you will reach a turnoff to the left. Here there is small Chinese village and the restaurants are built facing the river mouth. Dinner here should precede the firefly excursion.
Places to stay
Hotel Kuala Selangor, Tel : 603-3289 2709, Price : RM40-90
Melawati Ria Hotel, Tel : 603- 3289 1268, Price : RM40
Firefly Park Resort, Tel : 603-3289 1208, Price : RM120-160
Getting there
By Bus :From Kuala Lumpur's Puduraya bus station, the bus 141 run roughly hourly and it cost you RM4.90). It is walking distance to the Malawati Hill and Taman Alam Kuala Selangor.A taxi is required to the firefly destinations or the Seafood restaurants across the river.
By Car :If driving, you may follow the LDP Highway (Lebuhraya Damansara-Puchong) heading to Sungai Buloh. From there, you can easily find the signboard of Kuala Selangor. Otherwise, if you are coming from Kuala Lumpur via North-South PLUS Highway, you still have to exit at Sungai Buloh and follow the signs to Kuala Selangor.
Homestays in Selangor & Kuala Lumpur
Stay in a traditional Malay home instead of a hotel and get a feel of the kampung(village life). Please see homestay link.
Attractions around Kuala Lumpur'
Kuala Lumpur started out as a tin mining area back in 1857 at the Gombak and Klang rivers. As the riches grew, so came more fortune seekers and the expansion of housing and commercial buildings. In the late 19th century, British government representative Frank Swettenham transferred the central government from Klang to Kuala Lumpur. In years gone by, it gradually transforms into what is now Malaysia's biggest and most populous city.

Suria KLCC
The Petronas Twin Towers, known as the tallest twin buildings in the world, an iconic image of Malaysia's progress, 88 storeys tall is also home to Suria KLCC, one of the bst shopping centres in Kuala Lumpur. Shop till you drop at world class designer boutiques and haute couture outlets. You can find everything Malaysia has to offer here, luxury goods and delicious local food await you.

Dataran Merdeka (Independence Square)
The beautiful copper domes that greet you along the boulevard opposite the famous Selangor Padang or field more popularly known as Independence Square is the Sultan Abdul Samad Building, home of the Federal Court, Kuala Lumpur. It was on this field that Malaya's independence from British rule was declared on 31st August 1957. Ever since, Malaysia's Independence Day is celebrated here with a colorful march past these buildings which served as Malaysia's courthouses till they were relocated to Jalan Duta.

Masjid Jamek
One of Malaysia's oldest mosque, Masjid Jamek was built in 1907 by British Architect AB Hubbock. It is located at the meeting point of ever muddy Klang and Gombak rivers and seem out of place in what is now a busy area filled with people and traffic.

Masjid Negara
Completed in 1965, Masjid Negara, the state mosque is a large mosque but lacks the charm of old world architecture. It is one of Southeast Asia's largest mosque, however it does not have an imposing presence due to fact that it is stretch wide and flat rather than tall. It is a prerequisite do dress appropriately by covering up when visiting a mosque.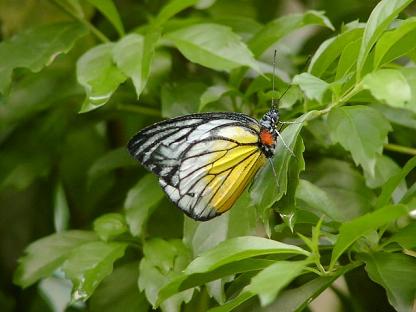 Lake Gardens

Here lies a 92 hectare gardens and parks just a step away from Kuala Lumpur city center. It was here and in the surrounding hills the British of past build their homes. The official residence of British government representative Frank Swettenham is now a classy and elegant hotel, the Carcosa Seri Negara. It is worth a visit to the Taman Rama Rama or Butterfly Park so see the many beautiful local species fluttering around in an enclosure. You will also be introduced in a small gallery the kind of small or very large insects and spiders found in Malaysia's jungle, which you will unlikely be able to see due to their amazing camouflage. Entrance Fee, Adult/Child, RM10.Camera RM1. 9am-6pm. In the vicinity is the Kuala Lumpur Bird Park, a large enclosure with mostly Southeast Asian birds. They have just opened a new wing which is an improvement over the older side of the park. Peacocks, Eagles, Flamingos, owls, hornbills and a host of interesting but rarely seen birds can be found here. Entrance Fee, Adult/Child RM22/15. 9am-7.30pm. Just opposite the bird park is the Orchid garden and Hibiscus garden which is free entry for the public. To the north of Lake Gardens is a Deer Park which houses a number of deer species, including the Sang Kancil, a tiny deer. The National monument overlooking Lake Gardens from the northern side is a memorial to those soldiers fallen in the fight against the communists in the 1950s. The bronze sculpture was made by Felix de Weldon, who made the Iwo Jima monument in Washington DC.

National Museum

Malaysia's National Museum is good for a quick visit. Items on display are not as plentiful, nevertheless, there are some colourful displays on Malaysia's history, economy, crafts, arts and weaponry. The mural at the long Minankabau styled building is beautifully crafted by Italians using small mosaics.