Camping
---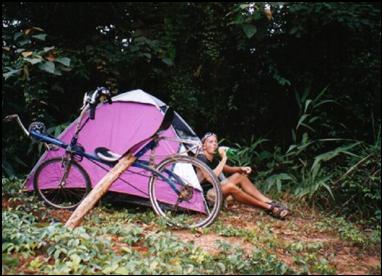 Camping is a favourite outdoor recreational activity, in which the campers get away form civilization and enjoy nature by spending one or more nights at a campsite. They may use a tent, a primitive structure, a travel trailer or recreational vehicle, or no shelter at all. Camping as a recreational activity became popular in the early 20th century. Campers frequent national parks and other publicly owned natural areas.
Campsites in Malaysia
Taman Alam Kuala Selangor (Kuala Selangor Nature Park)
Next to Bukit Malawati is the Taman Alam Kuala Selangor, a 240-hectare nature park on the estuary of Sungai Selangor. The campsite charge RM50 for 40 people. This Park is noted for its birdlife, with around 150 species of birds sighted. There is an estimated 100,000 wading birds, comprising some 30 species, passing through here on their annual migration. An enclosure in the park houses a number of the endangered milky stork. This is an active breeding programme run in conjunction with Zoo Negara, or the National Zoo. There are numerous trails, watchtowers and several hides for better bird-watching.
Getting there
By Bus : From Kuala Lumpur's Puduraya bus station, the bus 141 run roughly hourly and it cost you RM4.90. It is walking distance to the Malawati Hill and Taman Alam Kuala Selangor.A taxi is required to the firefly destinations or the Seafood restaurants across the river.
By Car : If driving, you may follow the LDP Highway (Lebuhraya Damansara-Puchong) heading to Sungai Buloh. From there, you can easily find the signboard of Kuala Selangor. Otherwise, if you are coming from Kuala Lumpur via North-South PLUS Highway, you still have to exit at Sungai Buloh and follow the signs to Kuala Selangor.



Cameron Highlands, Pahang
Camping is another activity popular with the youth where you can pitch tent on the along the main range after a hike. Alternatively, you can put up tent at the Sg Pauh campsite, which is located near the Forestry Department at Taman Sedia, a 5 minute drive to Tanah Rata or Brinchang. Call the forestry departmnet at 605-4911384.
Getting There
The gateway to Cameron Highlands is Tapah, which is easily reached by bus, taxi or train from Kuala Lumpur. From Tapah, you can take a bus or taxi to Tanah Rata, Cameron Highlands' main town. There are daily buses from Tapah to Tanah Rata, between 8am and 6pm. It takes 2 hours to reach the top and the 653 bends can be nauseating for some.



Kenong Rimba State Park, Pahang
This is a 120sq km lowland forest park rising to the limestone foothills bordering Taman Negara. The park offers adventures such as exploring bat filled limestone caves, jungle treking, visiting a orang asli village(batek tribe), swimming in the river, and camping.
Getting there
The jump-off town to Kenong Rimba Park is Kuala Lipis, some 180km from Kuala Lumpur, 258km from Kuantan and 300km from Kota Bharu. It is accessible by bus and taxi. Railway links it to Kuala Lumpur and Singapore. From Kuala Lipis train station take a southbound local train to the Batu 9 station. You can go by road to the Lipis Railway Station, about three hour's drive from Kuala Lumpur. From Batu 9 station, it's a short five-minute walk to the Sungai Jelai jetty for a 20-minute boat ride downstream to Tanjung Kiara Jetty at Sungai Kesong. The journey into the park starts from the jetty. Alternatively, opts for a boat from Kuala Lipis jetty to Tanjung Kiara or take the trunk road on a four-wheel drive to Felda Kechau Sembilan before passing through Kampong Matok.



Endau Rompin National Park
The Park provides camping equipment (at RM 20 per pax). The Endau Rompin park is the second largest park in Peninsula Malaysia after the Taman Negara National Park and it is located in the Johor-Pahang border. It covers 870-sq-km or 92,000 hectares, which is one and the half times the size of Singapore. One of the last remaining virgin forest is Malaysia, it boast a large variety of plant life including the huge umbrella palms, and host to many animals, like the endangered Sumatran Rhinoceros, elephants, wild boars and Indochinese Tiger, which are almost impossible to spot. The accessible region of the park is along the banks of Sungai Endau and Sungai Jasin. You are advised to hire a guide for RM40 per day at the park headquarters at Kampung Peta. There are two walking trails from the Kuala Jasin base camp, the Janing Barat Pleateau trail, which takes you to a Janing Barat Pleateau and the grueling 16km Buaya Sangkut Trail, which ends at the Buaya Sangkut Falls.(Buaya Sangkut translates to Trapped Crocodile in Malay) The Janing Barat Plateau is a 500m-high sandstone plateau which is a challenging uphill slog. Going to the Plateau and back to base camp normally takes one day. The Buaya Sangkut Trail takes a full three days(2 days if you are very fit) to reach and get back or if you choose to spend two days only, you can just stop at the Upeh Guling Falls or Batu Hampar campsite somewhere midway and return to base camp from there. Doing the full Buaya Sangku Trail, you will see the two beautiful Upeh Guling(8 meters in height) and Buaya Sangkut water Falls(40 meters in height). Midway, you will also come across Tasik Air Biru or Blue Lagoon. Camping grounds are at Kuala Jasin, Kuala Marong, Batu Hampar, Upeh Guling and above the falls at Buaya Sangkut.



Forest Recreation Park & Museum, Penang
Located north of Pulau Penang, close to Teluk Bahang is the Forest Recreation Park & Musuem. Activities here include jungle trekking and relaxing at some of the small waterfalls. There is also a campsite for those wishing to stay in the jungle. For more information on payment and availability, contact the Penang Tourist Guides Association at 261 4461 : Pejabat Tourism Malaysia Negeri Pulau Pinang, 56th Floor, KOMTAR, Penang 10000, Phone: +604 264 3494 / 263 4941 Fax: +604 262 3688



Pulau Gaya, Sapi and Mamutik, Tunku Abdul Rahman National Park, Sabah
It is possible to camp on these islands located a short distance west of Kota Kinabalu. A fee of RM5 per person is chargeable. If you do not have your own tent, use the park tents which cost RM30-40, which can fit four to six. Things to do include snorkelling, sun bathing and jungle hiking. Only Pulau Gaya has a restaurant. You need to bring your own water for Pulau Sapi or Mamutik. A park permit of RM10 is also chargeable. The permit can be obtained from Sabah Parks Tel : (6088) 211881, Lot 1-3, Ground Floor, Block K, Compleks Sinsuran.
Getting there
Malaysian Airlines has regular flights to KK airport at Tanjung Aru, which is the main gateway to Sabah. It is conveniently located close to the city at just 7km southwest of the city centre. Go to www.malaysiaairlines.com. A cheaper alternative is budget airlines www.airasia.com with tickets about half the price. There are plentiful of taxis in KK. From the airport, there is a taxi desk on the ground floor where a fixed price coupon of RM20 for a cab to KK.



Tambunan, Sabah
It is possible to camp at the tambunan Village Resort Centre, Kampung Keranaan. Tel : (6088) 774076. The resort is located at a riverside. There is a fee of RM10 Chargeable. 81km east of Kota Kinabalu, Sabah and across the Crocker Range is Tambunan, the first settlement in this region. It is also the home of folk hero Mat Salleh, who rebelled against the British in the late 19th Century. However, he was killed by his own people after negotiating a truce with the British. His gravestone is located off the main road 750m north towards Ranau. The surrounding hills and farms makes this place a pleasant stop. A good time to visit is in May when Pesta Kaamatan or Harvest Festival takes place. Visit the Mawar Waterfall in the Crocker Range.
Getting there
Take the minivans running between Tambunan and KK, Keningau or Tenom.



Sabah Agricultural Park, Tenom, Sabah
It is possible to camp at the Sabah Agricultural Park or Taman Pertanian Sabah, Lagud Seberang, Tenom, Sabah. Tel : (6087) 737952. Park Price : Adult/Child, RM25/10, 9am-5.30pm, Tue-Sun. There is a fee of RM10 chargeable per person. Tenom is a pleasant valley and home to the friendly Murut people.(Ironically, the last indigenious people to renounce headhunting) Farming is the mainstay here with vegetables, soya beans, maize and cocoa being grown in this fertile soil. Apart from a relaxing stay, there is the Sabah Agricultural Park located at Lagud Seberang sprawling over 1500 acres of land. There are 3,538 plant species including trees, fruit trees and flowers and seeing everything in detail could take days. Highlights include one of the largest collection of orchid species, at the specially designed garden such as the Hoya Garden, Tenom Orchid Centre, Native Orchid Centre, Hybrid Orchid Centre and others. To travel the park, bicycles can be rented for RM3 for first hour and additional RM1 for subsequent hour. Alternatively, take the guided tour on the tractor-trailer. The park is an expansion of a former Orchid Centre, established by a British man, Anthony Lamb, who spent many years in Borneo.



Poring Hot Springs
A camp Spot is available at Poring Hot Springs for RM6 per tent. Tents can be hired from hot springs park office for RM3. Please call Kinabalu Nature Resorts office Tel : (088-243629, www.kinabalunatureresorts.com) in KK, in advance. It is possible to just show up, but the Hot Springs is a popular place and a space is not guaranteed. With the Japanese love of hotspring, this help developed the Poring Hot Springs during their occupation of Sabah during WWII. The complex is part of the Kinabalu National Parks. Steaming, sulphurous water is channelled into pools and tubs, and surrounded by a pretty garden setting. The outdoor tubs are of different sizes and have hot and cold water taps to regulate the temperature. Private spa cabins charge RM15/20 per hour. Part of the Poring complex is the Tropical Garden(adult/child RM3/1.50), a butterfly farm (Adult/child RM4/2) and an Orchid Garden (adult/child RM10/5). You may also encounter rescued orang-utans here. There is the 40m Canopy Walkway (adult/child RM5/2.50) suspended from trees, offering fine views of flora and fauna. There are hiking trails around the springs, with Kipungit Waterfalls a short walk away. In another 15 minutes, you will reach Bat Caves. Another 2 hours away you will reach Langanan Waterfall. This trail is known among bird-watchers for spotting the blue-banded pitta. Poring Hotsprings is a popular place, especially during the weekends and school holidays. It is best to go on weekdays. Admission to Poring Hot Sprints : (Adult/Child RM1/6)
Getting There
Poring is 19kkm north of Ranau. Minivans run from Ranau to Poring and also from the park headquarters at Mt Kinabalu to Poring three times daily. Leaving Poring, minivans depart from outside the park office. On weekends there are shared-taxis parked near the office.



Niah Cave, Sarawak
There is a campsite located here, Price : RM5, Park Headquarters is located at Pangkalan Lubang. (Tel :085- 737 450) The cave system is located at the Niah Caves National Park. The park is dominated by a 394m-high limestone massif, Gunung Subis. To get to the caves from park headquarters, you need to take a boat across the river. Boat ride cost RM0.50cents. Once you are across you need to walk the 3km-long boardwalk to the caves. Along the way, you will come across the Niah Archaeology Museum(free admission, 9am-6pm) and much later, the village of Rumah Chang, where there are a couple of longhouses. In time you will reach the impressive Great Cave. It measures 250m across at the mouth and 60m at its greatest height. There are many bats inhabiting the caves and will fly out during sunset for feeding. Niah caves are nesting grounds for swiftlets, which supply the expensive bird's nest soup. These are collected by the Penan during harvest season. In 1958, archeologists discovered evidence of human occupation of the caves area dating back some 40,000 years. Rock paintings and death ships(burial coffins) were also found in what has become known as Painted Cave. To get to Painted Cave, you need to follow the pathway all the way through the Great Cave, out into the forest then to the opening of the cave. The area of the rock paintings and death ships are fenced off, so binoculars will be useful here.
A permit and park fee of RM10 for adult/RM5 for child is chargeable at the park headquarters. It opens from 8am-5pm.



Getting there
From Miri to Batu Niah, Syarikat Bas Suria (tel: (6) 085-434317/412173) has a regular bus service to batu Niah from Miri Bus Station. The journey 1 hr 40 mins to 2 hrs. Share taxis from the Bus Station are available as there are regular taxis, which can usually be chartered on a daily basis. self-drive cars are also available (ask at your counter or check in the yellow pages).
From Bintulu to Batu Niah, Syarikat Bas Suria (Tel: (6) 086-335489) has a regular bus service to Batu Niah from Bintulu Bus Station. The journey time is about 2 hr to 3 hrs drived. Share taxis from the Bus Station are available as there are regular taxis, which can usually be chartered on a daily basis. self-drive cars are also available (ask at your counter or check in the yellow pages).
From Batu Niah to park headquarters at Pangkalan Lubang, take a taxi or boat costing RM10. We recommend the boat ride which river throuhg jungle-clad limestone cliffs.



Bako National Park, Sarawak
There is a camping ground here which costs RM5 per site. Bako is Sarawak's oldest national park. Anyone can visit Bako National Park in a day as it covers 27sq km of unspoilt dipterocarp forest, scrub-like padang, swamp forest, mangroves and delicate cliff vegetation. Located 37 kilometres from Kuching, the park is rich with an abundance of flora and fauna. Although it is one of Southeast Asia's smallest national parks it contains almost every type of vegetation found in Borneo. Jungle trekking is the best way to fully absorb the richness of the park's treasure. A system of 16 colour-coded walking trails offers full day jungle hikes to gentle strolls. It has been protected since 1957 so the animals have become used to human visitors and are less shy than their remote jungle cousins. This means a good chance of seeing wildlife and getting close enough to take photographs. The proboscis monkey(only found in Borneo), long-tailed macaque monkeys, silvered Langurs, monitor lizards and squirrels can be seen here. Bako is also a good place for bird watching, particularly the hornbills. Thre are more than 150 species of birds have been recorded at Bako, including some rare varieties. There are beaches at Telok Panan Besar, Telok Sibur and Pulau Lakei which is accessible by boat.
Getting thereThe park can only be reached by a 20-minute boat ride from Kampung Bako(May not operate during monsoon season of November to February). First take a bus to Kampung Bako. Petra Jaya Bus No.6 leaves from near the market in Kuching every hour. Last bus to Kuching leaves Bako at 5pm.



Matang Wildlife Centre, Sarawak
Adjacent to Kubah National Park, the Matang Wildlife Centre was set up to rehabilitate animals like the orang-utans, hornbills, sambar deer and crocodiles. There are twice-daily feeding programs. There is a nearby river popular with the locals for swimming on weekends. The walking trails including the Ulu Rayu Trail which link to Kubah National Park. Admission is RM10. Camping site here charges RM5.
Bookings can be made at Kuching visitor's Information centre. Tel : Tel : 6082 410944 / 42.
Getting there
A taxi from Kuching takes you straight to the wildlife centre.



Gunung Gading National Park, Sarawak
Camping site charges a fee of RM5. Bookings can be made at Visitors' Information centre in Kuching. Tel : 6082 410944. The main draw of this National Park located at the Lundu district, is the rafflesia, which is the largest flower in the world. It can grow up to 3 feet or 1m in diameter and can weight 15pounds or 7kg. The flower emits a stench of rotting flesh and some even heat, mimicking a newly dead animal, to attract carrion flies, to help in pollination. The plant itself is parasitic and grows within the stems of jungle vines. Researchers say that its lineage dates back roughly 100 million years to the Cretaceous Period, the last act of the Age of Dinosaurs when flowering plants are believed to have first appeared. What was surprising was that they are nested within this group of plants with absolutely tiny flowers. This family, called Euphorbiaceae, also includes the poinsettia, Irish bells and crops such as the rubber tree, castor oil plant and cassava shrub, the researchers said.
At the Gading National Park, the rafflesia blooms year-round but unpredictably. Call and check whether there is one in bloom and get there soon if one is available. Guides to locate blooms can be hired for RM20 per hour. November to January are the peak blooming months. Other activities here include walking trails, viewpoints or the strenous climb up Gunung Gading(906m) or Gunung Perigi. Park Office Tel : 6082 735714, Adult/child RM10/5; 8am-12.30pm & 2-5pm.
Getting there
The Park is just 5 minutes drive from Lundu town or about 2 hour's drive from Kuching. Visitors can choose either day-trips or overnight stays when visiting the Park. Travellers should take STC (Sarawak Transport Company) Lundu Express Bus or Bus No. 2B from Kuching City to Lundu town centre. From there, take a Pandan bus No17C and ask to be dropped off at the park.



homepage > Camping