Slow food Malaysia
---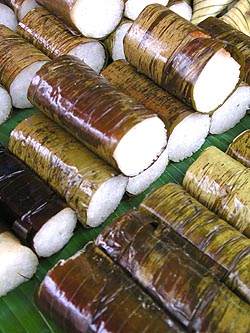 Slow food is the celebration and preservation of local food traditions which is unique and the people's interest in the food they eat, where it comes from, how it tastes and how our food choices affect the rest of the world. Never forget to try Slow Food in your travel to Malaysia, whether it is Chinese, Malay, Indian or Portuguese.
Johor
Dishes and cuisine in Johor are influenced by Arabs and the surrounding Malay archpelago. Some of the dishes are a unique blend of ingredients not found anywhere in Malaysia. Sadly, due to their difficult and sometimes complicated recipes, some are rare delights that can only be sampled in celebrations and state banquets.
Laksa Johor is a cuisine originated from Johor. It differs from Laksa Penang by having coconut mild added during cooking.
Mee bandung is also a dish originated from Johor, specifically from Muar. The term 'bandung' is not derived from Bandung, Indonesia but as a term for anything that is mixed from many ingredients.
Penganan Kacau keledek is a dessert normally reserved for the Johor monarch and elites. It is made from sweet potatoes, a lot of eggs (at least 40), fresh coconut milk (not instant ones) and huge amounts of sugar. It is mixed together and stirred on a simmering heat for at least 4 hours.
Mee rebus is the famous noodle dish which consists of Mee (a spaghetti like mixture of flour, salt and egg) and is served with a tangy, spicy brown sauce. Usually crumbs and boiled eggs are added.
Arisa is a unique chicken dish that is very rare nowadays, and is normally served to the royalties and social elites of Johor at formal functions and celebrations.
Sate is a favourite Malay food in Johor, mostly found in Johor Bahru and Muar.
Telur pindang - Eggs boiled together with herbs and spices, popular during wedding feasts in Johor.
Roti Kirai or Roti Jala - The name is derived from the word for bread and net or 'roti' and 'jala' in Malay. A special ladle with a five-hole perforation is used to make the bread looks like a fish net (picture in the works). It is usually eaten spicy with curry or sweet with 'serawa'. Serawa is made from a mixture of boiled coconut milk, brown sugar and pandan leaf.
Kacang Pol
Kuich Sirat
Pisang Salai or Gimpi
Otak-otak – The more popular is Otak-otak Gelang Patah
Nasi Briyani Gam
Mee Soto
Burasak – Is is a type of Buginese food
Halwa Maskat
Kerutup ikan
Asam Pedas daun kesum
Pecal
Tauhu bakar
Pendaram
Mee Siput
Rojak Petis
There are a few Johorean dishes with Javanese influences. These include lontong, nasi ambeng, bontrot/berkat, and ungkep.
Nasi Ambeng is a Javanese cuisine which is wrapped and served in a tray. It is divided into 4 serves. Formally, it is given after feasts like Yasinan and others.
Bontrot/berkat is a typical dish served in feasts after wedding ceremonies, Yasinan (reciting Yasin) and others. The term of bontrot/ berkat was derived from the Javanese language.
Kelantan
The Kelantanese cuisine, heavily influenced by Thai cuisine, is quite popular among Malaysians. In fact, many visitors come to Kelantan just to taste the special delicacies that cannot be found elsewhere. The use of sugar is a must in every Kelantanese kitchen, and thus most Kelantanese dishes are sweet.
Kelantanese food makes more use of coconut milk than anywhere else in the country. Curries are richer, creamier, and more influenced by the tastes of nearby Thailand.
Local specialties
Apart form delicacies imported from Thailand, there are delicacies which are invented by the Kelantanese themselves, such as :
Nasi Dagang. This is a mix of white rice and brown glutinous rice (special glutinous rice) which is cooked with coconut milk (santan), blended onions and garlic and some spices (such as fenugreek). Fish or chicken curry comes as an add-on to complete the dishes, so it's recommended to take only a small portion as it is extremely filling. The Nasi Dagang is one of the tastiest dishes in Kelantan and goes well with fish curry, sour salad, hard boiled eggs and curried chicken.
Nasi Kerabu. It literally means "salad rice". Kelantan's Nasi Kerabu is a "white rice" and served with "tumis" gravy with local herbs, leaves and vegetables. This is considerably different from the version served in other parts of Malaysia, which is a dyed-blue rice without a "tumis" gravy. The colouring comes from a type of flower, although some sellers use artificial equivalents. Apart from that it is also served with fried fish, keropok, salted egg, "solok lada" (fish fillet and coconut-stuffed chillis), and pickled garlic.
Nasi Tumpang. Rice packed in a cone-shaped banana leaf. A pack of Nasi Tumpang consists of an omelette, meat floss, chicken curry and sweet gravy. It is traditionally meant for travellers.
Ayam Golek/Ayam Percik. Wood-fire broiled chicken dressed with sweet coconut gravy. Ayam Golek/Ayam Percik is eaten with white rice in major family dishes and can also be dipped into "cholek" (Thai chilli sauce).
Nasi Berlauk. Most Kelantanese have Nasi Berlauk as their breakfast. Nasi Berlauk is rice served with fish and vegetables cooked with tumeric and galangal infused yellow gravy.
Nasi Ulam. Ulam is the local term for raw vegetables - the meal consists of white rice served with a variety of raw vegetables, and is considered one of the healthiest dishes found in Malay cuisine.
Kau-Jam. Also termed as chlorophyll rice, the Kau-Jam is a green rice cooked using up to seven types of herbs, and served with raw vegetables (such as bean sprouts, cucumber, and long beans), fish flakes and local Keropok. The meal is often accompanied by Budu and sometimes served with deep-fried fish.
Keropok. These are Kelantanese fish crackers. Their texture and colour are noticeably rougher and darker than the usual variety found on the West Coast of Malaysia. Like the curries, the crackers are influenced by Thai cooking and produce a sharper, saltier taste.
Keropok Gote. These are Kelantanese fish sausages. Made by combining fish flesh and sago, keropok gote is rolled into long firm sticks and then steamed or boiled. To enjoy it, one has to cut it into desired bite sized and deep fried. Different from Terengganu's keropok lekor, the Kelantan variety is thicker and longer in size and has to be fried to be eaten. Keropok Gote is probably the one snack which all Kelantanese children grow up with. It is a must at all school canteens.
Kelantanese Laksa. The Laksa dish, white noodles served with curry and vegetables, is made differently in every state in Malaysia. The Kelantanese laksa employs the creamy white gravy which is richer and has full-bodied flavour. The main ingredients is fish flesh, although connoisseurs would certainly prefer the ones made of eels
Thai-influenced dishes
Perhaps the most characteristic Kelantanese-Thai dish is 'kaeng matsaman'—a mouth-watering beef curry cooked with peanuts, potatoes and chopped red onions in a thick coconut milk sauce. Other Kelantanese-Thai specialities include: 'kaeng phanaeng kai'—savoury chicken and coconut curry. 'Kaeng som nom mai dong'—hot and sour fish ragout with pickled bamboo. 'Pla see siad haeng thawt'—deep fried semi-dried pla see fish. 'Khao yam pak tai'—an intriguing breakfast salad. The presentation is exquisite. A small pile of fragrant boiled rice, accompanied by finely chopped heaps of lemon grass, peanuts, bean sprouts, green beans, sour mango and chopped makrut or kaffir lime is served with spicy chilli pepper, fresh lime and a piquant sweet-sour sauce. It's unusual, elegant, and very typical of Kelantan. Kelantanese dishes, like central Thai, are usually accompanied by generous helpings of 'khao suay', or "beautiful rice"—the best of which, 'khao hawm mali', or jasmine-fragrance rice, is steamed until each grain is tender but separate. When something tastes this good, the Thais utter in full emotion:-"Perhaps the Pisek!"\
Cholek. It is the most popular dipping sauce in Kelantan. The cholek is different from other chilli sauces because cholek is very thin and rather sweet. This dipping sauce is used for any kind of chicken, but also goes well with shrimp, fish cake, spring roll, sausage, etc. The most popular brand is "Mae Pranom" from Thailand
Budu. It is a salted (fermented) anchovy sauce eaten with rice, grilled fish and vegetables. A bit of lemon juice, hot chillis and onions are added on for taste. Once so combined, the purple-brownish condiment has a blend of salty and sour taste. Nowadays, other types of fish are also used to create Budu.
Tempoyak is a fermented durian dip, used for example with Nasi Kerabu.
Penang
Penang island is a paradise for food lovers who come from all over Malaysia and even Singapore to sample the island's unique cuisine, earning Penang the nickname of the food capital of Malaysia. Penang was recognised as having the Best Street Food in Asia by TIME magazine in 2004, citing that nowhere else can such great tasting food be so cheap. Penang's cuisine reflects the Chinese, Nyonya, Malay and Indian ethnic mix of Malaysia, but is also strongly influenced by the cuisine of Thailand to the north. Its especially famous "hawker food" is sold and eaten by the street feature strongly in noodles and fresh seafood. Great places to savour Penang's food are Gurney Drive, Pulau Tikus, New Lane, Swatow Lane, Penang Road and Chulia Street. Local Chinese restaurants serve excellent fares too. American fast food outlets and coffee joints are readily found throughout the state. Japanese, Korean, Italian and Western food are also popular.
Perak
Lemang, a Malay delicacy made from glutinous rice cooked in a bamboo tube over slow fire is a must-have during festivities, especially along with some rendang(Malay for meat curry in coconut milk and spices). Some say it originated from the indigenous people who cook their rice using bamboo.
Tempoyak. Perak is also known for fermented durian, also called "Tempoyak". It is a durian paste, cooked with fishes.
Perlis
Padi fish. The vast rice field yields many kinds of fish, like the puyu, keli, sepat and haruan. They have become a favourite delicacy for many residents of Perlis. These padi fish are cooked with pekasam, asam pedas, keli masak cili, sepat kering and masakan lemak. A popular outlet serving such a food can be found in Mata Ayer. The outlet is called "Pokok Sawa".
Kuala Perlis Laksa. Laksa is synonimus with Perlis and is known for its delicousness. The fish gravy enjoyed with the laksa is made with rice flour.
Pulut. Perlis is also popular with a dish called Pulut and the favourite is Chicken Pulut or Pulut Ayam. This dish originated from Thailand and has become popular with the locals and visitors alike. Fried chicken is served with the Pulut, sauce and fried spring onion. Apart from chicken, it can be served with durian, jack fruit and salted fish.
Seafood. For lovers of seafood, Kuala Perlis and Kuala Sungai Baru comes into focus. Kuala Perlis is famous for its fried fish, crabs and squid cooked in varieties of method
homepage > Slow Food Malaysia