Pulau Langkawi
---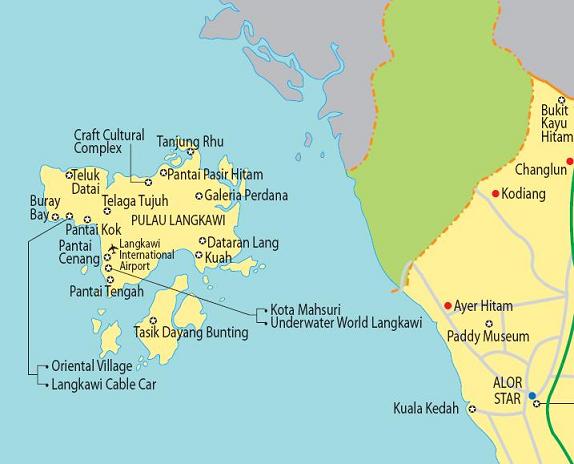 <![if !vml]>

<![endif]>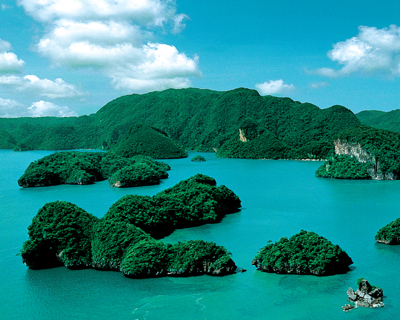 Langkawi archipelago All of Langkawi is actually 99 islands awaiting discovery, and that's when the tide is high. At low tide, the islands can number as many as 104. Sanctuary of some of the most ancient rainforests in the world, they are teeming with exotic flora and fauna. Langkawi means strong eagle in Malay and legend has it that the mythological bird Garuda made its home here. A place one can truly relax as the pace here is slow and village like. Check yourself into one of the many relaxing resorts and treat yourself to a spa treatment, or just laze around at the beach. Many of the resorts are also family oriented and with many attractions around the Island, you can bring the whole family for a holiday. Langkawi is a Duty Free status Island but only prices of certain goods are cheaper than elsewhere in Malaysia. Many foreigners, some of them retires, are so attracted to the place that they have made the island their home in Malaysia's My Second Home Program.The populated and the largest island is Pulau Langkawi, and Kuah located at southeast, is the main town and the arrival point for the ferries. The beaches lie mostly to the west and north of the island, where most of the budget, mid-ranged and luxury hotels are located. Away from the built-up areas, Langkawi is still a rural Malay island of small villages, rice paddies, water buffalo and natural beauty.
Kuah This is the gateway to the Island of Langkawi as the main jetty is located here. It is also a fishing village and a commercial area where you can shop at the duty-free outlets and souvenir shops. Banks, internet café and money changers are also located here. Drop by Tourism Malaysia at Jln Persiaran Putra, Kuah to collect the necessary brochures. Tourist attractions around this area include the Legenda Langkawi Dalam Taman. Located next to the jetty, the theme park features the many folklore of the island. Adult admission is RM5 and child is RM2.50. Dataran Lang or Lang Square located next to it has a 18m high sculpture of a Bhramini Kite and picturesque terraces, ponds, bridges, restaurants and barrel vaults, made of bricks. The Langkawi Crystal at Jalan Kisap, 8km north of Kuah is where glass works are made. In the same area is the Langkawi Bird Paradiseê a bird park, which houses many local and other exotic birds. RM15 adult fare and RM8 children fare. Further on when you travel north towards Tanjung Rhu, there is the Galeria Perdana which showcases the hundreds of gifts received by the former Prime Minister, Dr. Mahathir from foreign dignitaries. Interesting well made traditional crafts from all over the world are on display. For instance, the woodcarving from Easter Island, Wayang Kulit Puppets from Indonesia and others. Admission is RM3. Tour the Langkawi mangrovesêê, a wonderful river boat ride travelling through intricate network of streams and coves, set among limestone outcrops rising out of the calm Andaman Sea. River ride may include feeding the Bhramini Kites and Huge Sea Eagles or jungle trekking, cave exploration, village visits, high tide swims and guided exploration of mangrove flora and fauna. The jetty for the boat is located 15 minutes north of Kuah, but most trips can be arranged from hotels, which include transportation to the jetty. For more information, please contact the Langkawi Tourist Information Centre at 604-9667789.
Places to stay in Kuah are The Gates Langkawi Resort which is just next to the main jetty. Perched on hill overlooking the vast expanse of the sea, The Gates is a sanctuary of nature, sprawling over 200 acres of green land. Replete with 177 international standard rooms, chalets and suites. City Bayview Hotel is a high rise located in the centre of town, very near to the jetty, it has 282 Superior, Deluxe, Executive rooms and Suites, and a Presidential Suite. www.bayviewintl.com. Eagle bay is a mid range hotel and has 132 rooms that are fully furnished and with air-conditioning. The rooms open out to a commanding view of the island's natural beauty – of the sea, islets, gardens, and the highest mountain in Langkawi. www.hotelcentral.com.my.
Durian Perangin The river's attractive 14-tier waterfall and unique rock formation are the main attractions at this picnic spot next to Gunung Raya. Drive for 14km north of Kuah and turn off to these waterfalls, which are 3km off the main road. A 5km track leads to Gunung Raya Peak which, incidentally, is the highest spot in Langkawi where you might catch a glimpse of the Great Hornbills. Apart from views of Langkawi, you can also see Thailand from the lookout point. Alternatively, Gunung Raya summit can be reached by car using the paved and winding road.(occasionally closed)
Malaysia Book Village Another 5km of continuous track from Gunung Raya Peak will take you to nearby Malaysia Book Village in Lubuk Semilang. This village houses Dewan Bahasa dan Pustaka (DBP) which sells books on Malaysia and in the Malay Language, the Rumah Noel Anselot - LAVA, which sells local and international magazines- HIZBI, which sells children and religious books, - PUSTAKA AL-HAS, which sells children books, Rumah Richard Booth PUSTAKA UNION which sells old and antiquarian books in English.- ASIA KYUSHU GALLERY, the only gallery that exhibits the One-Village-One-Product Scheme from Japan, Taiwan, China, The Philippines, South Korea and Malaysia. Rumah POK RAFEAH the Secretariat & Information Centre, it has books on Travels, Sports and Novels in the, English and European Languages, Souvenir items, Refreshment Corner, Internet & Multimedia Facilities. DARULFIKIR specializes in second-hand and antiquarian books in Arabic and on Arabic Literature; Islam and the Al-Quran. Rumah HENK RUESSINK This house is named after Mr. Henk Ruessink, Founder of the Bredevoort Boekenstad in the Netherlands. It houses the POPULAR BOOK CO. that specializes in East Asian books.
Air Hangat Village This hot springs is towards the north of the island, going towards Tanjung Rhu. It is a 4 acres complex housing a 3-tier hot-spring fountain, 18 meters hand-carved river stone mural depicting the legends of Air Hangat, day-long outdoor entertainment programme featuring Malaysian/ ASEAN cultural dances and traditional sports and games, live displays of Malaysian/ASEAN customs, Malay folk and classical dances are performed at the Park, alongside other traditional Malay art and craft activities like batik-painting and congkat playing. Free admission.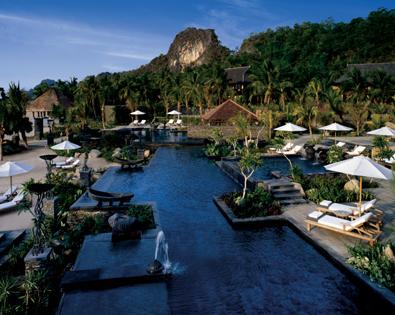 Tanjung Rhuêê It is located to the north of Langkawi Island. From Kuah, heading north to the Padang Lalang village, turn off at the roundabout to the north. The beaches here are one of the better ones in Langkawi and the water shallower. At low tide, you can walk across the sandbank to islands close by. There are mangrove cruises, and kayaks can be hired. Places to stay are the 5 star Tanjung Rhu Resort, www.tanjungrhu.com.my. This resort is in a secluded cove and has a beautiful beach. From the resort, you can walk to the public beach, with its food stalls and boats for hire. Prices from RM1,002. Alternatively, there is the other beautiful up market resort, Four Seasons Resort Langkawi. Prices from RM1,887. www.fourseasons.com/langkawi/. From Tanjung Rhu, you can hire a boat to get to Gua Cerita (Cave of Legends). The cave can be reached with a climb up a wooden ladder. Legend has Gua Cerita linked with the mystical Battle of the Big Birds. It was here apparently that the Princess of China was kidnapped and held captive. Faintly legible on the walls of the cave are some ancient inscriptions, said to be verses from the Holy Koran. Some locals also believed that the place was the home of Gedembai, a giantess who had a deadly power. Ancient inscriptions have been found on the walls of the caves about 7.7 m from the cave entrance. Written in Jawi, they tell of Sheikh Baharuddin who died on the ninth day of sixth month in year 68 of the Moslem era. They are believed to have been written in 1754 AD which was during the region of Sultan Mohamed Jiwa II of Kedah who was known to encourage Arab missionaries to visit Kedah.
Pantai Pasir Hitam The largest black sand beach in Malaysia is located 19km north of Kuah town and called Pantai Pasir Hitam (Black Sand Beach). The black pigmentation of the sand is the result of the mineral content - thought to be tin or an oxide of tin, which may have come from the sea-bed or from the earth's crust. The sea here is not conducive for swimming. Close by is the Kompleks Budaya Kraf, a handicrafts centre built in an extravagant neo-Islamaic style. Malaysian goods such as batik, pottery and wood carvings are among the things on sale.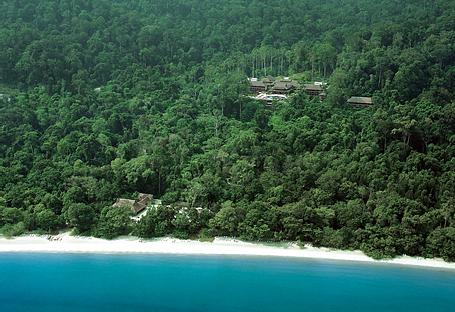 Teluk Dataiêêê Here lies the exclusive and up market The Datai Resort, and Andaman Resort. The award winning The Datai Resort is another "must go" for creature comforts who wants 5 star pampering. Featuring 54 deluxe rooms, 40 villas and 18 suites nestled in lush rainforests and a private stretch of sandy shore facing the breathtaking Andaman Sea. Kerry Hill, an Australian now based in Singapore was the architect and Didier Lefort a talent nurtured in Paris invited to expertly draw its design. The architect has cleverly adapted the building to the natural terrain, building on a crest 150 feet above the sea and extending 500 metres through the jungle to the water's edge. Trained elephants were used to fell trees where necessary as this was less damaging to the forest. The spa at The Datai, was Runner Up in the "Best Hotel Spa in Asia" category in the 2nd Annual Conde Nast Traveler Readers' Spa Awards 2005. 4th placing Asia Leisure Hotels in 2002 Conde Nast Readers' Award. The Datai Beach listed No. 7 in the World's Best Beaches, Discovery Travel & Adventure Channel January 2003. Prices from RM1,250. www.ghmhotels.com. The Andamans Langkawi is a tropical paradise featuring 188 elegantly appointed rooms and suites located next to the private beach. The Andaman provides relaxing spa treatments. The spa has three villas; two duplex-style Rainforest Villa overlook the Andaman Sea and includes: two massage beds on each level, large bathtub, garden shower and relaxation terrace. The very private Sari Villa offers more lavish facilities, including a large jacuzzi, garden-shower and relaxation terrace. Prices from RM750. www.ghmhotels.com. Next to the Andaman or The Datai Resort is the Datai Bay Golf Club. It caters to golfers and has a 18-hole, 72-par golf course. It was designed so that most of the tall tropical trees remain as part of the landscape. The Golf Club Datai Bay offers the comfort of an international class Golf Club, including full buggy facilities, locker rooms, a Pro Shop and F&B amenities.
Near Teluk Datai, Temurun Waterfalls are worth a look and the turn off is located on the left along the road leading to the Datai Resorts. The Crocodile Farm is also located along the road.. The farm covers 20 acres that houses more than 1000 crocodiles. Registered with The Convention on International Trade and Endanger Species (CITES), the farm has many attractions for the tourist. Among them are Feeding Pond, Species Pond, Breeding Pond, Show Pond and Bridge-Over-Pond, which enable you to get a closer look at crocodiles. Adult ticket is RM15 and Child is RM10. Opens from 9am-6pm. 604-959 2559
Pantai Kokê This stretch of beach 24.8 km away from Kuah boasts white sand and swaying palms, ideal for lazing about while you view the yachts and sailboats drifting gently against the azure backdrop of the Andaman Sea. Resorts are dotted along the shore, offering pleasant accommodation. Sheraton Langkawi Beach Resort has 231 rooms in 38 acres of tropical forest. www.sheraton.com/langkawi. Tanjung Sanctuary Langkawi Resort Hotel is a small bungalow hotel with just 32 private bungalows set in 67 acres of wildlife and jungle on a peninsula jutting into the Andaman Sea. It has 2km of coastline has private beaches, headland, rock reef and verdant natural forest. www.tanjung-sanctuary-langkawi.com. Berjaya Langkawi Beach & Spa Resort is located in Burau Bay with Malaysian-style chalets and suites spread over 70 acres with 400 rooms. www.berjayaresorts.com/beachresort_langkawi.htm. Oriental Inn is located inside Oriental Village Shopping Development around a lake against the backdrop of Mat Cincang mountain. It offers 30 air-conditioned rooms, inclusive of three Suites with king size bed and 27 standard rooms with queen or twin bed, while the Oriental Village Shopping has 30 shops with a variety of items like designer clothes, art and craft, local batik clothing and straw hats. www.langkawi-resorts.com/oriental-inn
Pantai Kok was the Summer Palace location of the 1999 Hollywood movie "Anna and the King", now housing the props and costumes among other things. Admission for adults is RM5 and children are RM3.50. Inland, you will come across Oriental Village shopping complex, where you'll find the station for the Langkawi Cable Carêê. Those who do not fear heights can take the 30 minute cable car ride to the top of Gunung Mat Cinchang for some spectacular views of Langkawi as well as into the neighbouring Thai islands. This is where passengers really have to place faith in technology and the engineering skills of the Austrian construction team as it rises 700 feet and built in a way to minimise damage to the environment. The cable car ride is well worth the RM15 (adult) and RM10 (child) charge. It operates from 10am to 7pm daily except in conditions of high wind. Telaga Tujuh or Seven wells is located near Pantai Kok to the west of the island. It is a waterfall which cascades 100m down a hillside through a series of seven wells. You can slide down one of the pools to another through a smooth stone channel. Conditions are slippery at the top of the falls and it is not wise to venture there.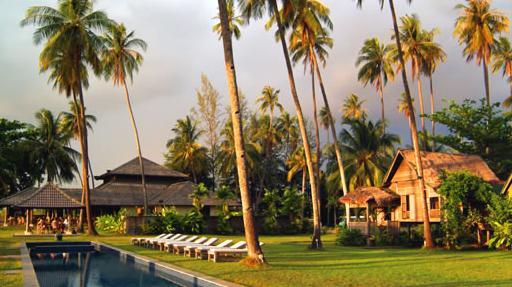 Pantai Cenangê Most of Langkawi's beach chalets are situated here. It has a good range of shops, bars and restaurants. At low tide, between November and January, a sandbar appears and you can walk across to nearby island of Pulau Rebak Kecil. Places to stay include the recommended Bon Ton Restaurant and Resort. Accommodation is in seven antique and charming Malay timber houses, ranging from 60 to 120 years old and built into a 100 year old coconut plantation. The houses are beautifully restored with modern amenities and individually decorated in a unique Aseana style. The restaurant is said to be one of the best in the Island. www.bontonresort.com.my. Pelangi Beach Resort, Pelangi means rainbow in Malay and this sprawling resort offers 350 chalet rooms designed on the principle of a leisurely Kampung or Village lifestyle. www.pelangibeachresort.com. and Casa del Mar Hotel with its Mediterranean architecture. www.casadelmar-langkawi.com.
Just 15 minutes by boat from the Langkasuka jetty, is the island of Pulau Rebak Besarê. Rebak Marina Resort is the only resort on this 390 acre island and has 104 luxuriously appointed rooms. It also boasts of the only fully equipped marina in Malaysia currently facilitating the maintenance of sailing yachts. www.rebakmarina.com
Located opposite Casa Del Mar Hotel, is the Laman Padi Langkawi. A rice museum housing displays and exhibits including artifacts and photographs showing the significance of padi cultivation to the country is one of the attractions here. Visitors have the opportunity to enjoy a bird's eye view of the fields from a roof top garden. For the uninitiated, try your hand at padi planting using both traditional as well as modern methods of padi cultivation. Laman Padi is open daily from 10am to 6pm. Admission fee is just RM2 for adults. Children under 12 have free admission. Laman Padi Langkawi, Langkawi 07000, Malaysia, Tel: +60 4 955 4312.
Another attraction in this area is the Underwater Worldê, which is a large aquarium with a walk-through tunnel for looking at the many varieties of fish. Charges are RM18 for adults and RM10 for children.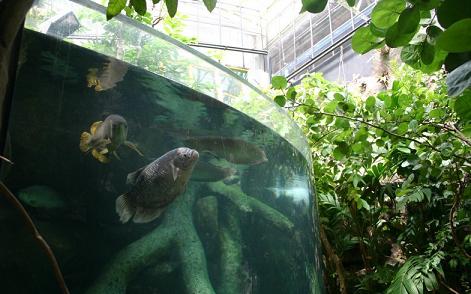 Pantai Tengahê Located on the south west coast of the island, Pantai Tengah is smaller but calmer. It has a few big resorts here and some basic chalets. Places to stay include Langkawi Holiday Villa(www.holidayvillalangkawi.com), Aseana Resort-which has the longest swimming pool in Malaysia, at 154.4 metres long.(www.aseaniaresortsgroup.com.my/langkawi),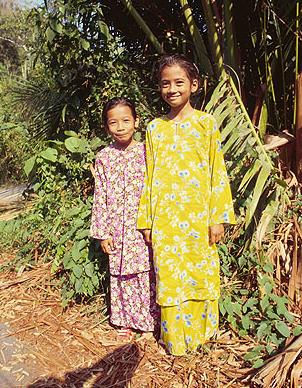 Sunset Beach Resort (www.sunsetbeachresort.com.my) Visit the Mahsuri Mausoleum near Pantai Tengah. One of the more believable legend of Langkawi is the legend of the beautiful Malay princess Mahsuri. She was accused of committing adultery and sentenced to death. She bled white blood at her execution as a sign of her innocence. In her dying breath, she laid a curse on the island that it would remain barren for seven generations. In her own words "For this grave injustice done to me, Langkawi should not prosper for seven future generations." In 1821 not long after her death, Langkawi was invaded by Siam and soon the island fell into desolation. It has been said at one time that the buffalos outnumbered people on the island. Seven generations have since passed and today, Langkawi is a flourishing tourist destination. Coincidence or not, one of the two siblings who are of the seventh generation descendants, is a young and pretty seventeen year old(as at 2006) girl named Wan Aishah Nawawi, who now resides in Phuket Thailand. Mahsuri's Mausoleum or Makam Mahsuri is about 12 kilometres west of Kuah. Mukim Ula Melaka, RM2 admission.
Not too far away to the west is the Padang Matsirat or 'field of burnt rice'. When Siam invaded the island, the rice here was burnt to prevent it falling into their hands but caused starvation among the people.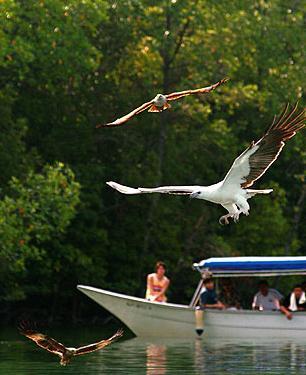 Around Pulau Langkawi Island hopping toursêê can be arranged with most tour companies. About 15 minutes by boat, Pulau Dayang Bunting (lake of the pregnant maiden) is a popular destination and has a beautiful lake called Tasik Dayang Bunting. This freshwater lake is surrounded by dense jungle and limestone cliffs. Good for swimming or rent a kayak or pedalo to tour the lake. Stories have been told of a large white crocodile inhabiting the lake. Another tale is of a childless couple after years of trying finally getting a baby after drinking from the lake. At the lake you can see a profile from the mountains of a pregnant women lying down. North of the lake is Gua Langsir (Cave of the Banshee), which is host to thousands of bats. Pulau Singa Besar and Pulau Beras Basah are other popular destinations. Those who are interested in fishing can try to find a boat for hire that takes you to some fishing spots around the Islands. Eagle Feeding tours can be arranged and you will be able to see sea eagles up close. This will normally include island hopping. Island hopping and fishing trips are best avoided during monsoon season, from July to September, where the seas can be quite rough.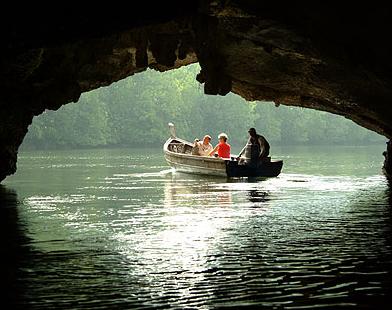 Pulau Payar Marine Parkêê Pulau Payar marine park consist of a few islands and the largest is the 2km-long Pulau Payar. The other islands are Pulau Lembu, Pulau Segantang and Pulau Kaca, They are all located 30km south of Langkawi. The islands are surrounded by coral reefs where you can do some fish feeding, which in Pulau Payar may include at times certain species of tame sharks. On Pulau Payar there are gazebos, picnic tables, barbecue pits and restrooms at selected areas. To get to the marine park, take a 45/60 minutes catamaran/ferry ride from Kuah jetty. Langkawi Coral is the main tour operator for Pulau Payar Marine Park. www.langkawicoral.com. Marine Park fees of RM5.00 for adults and RM2.50 for children is chargeable.
Transportation The best way to travel around Langkawi island is to hire a car, which is cheap and convenient. Rates start at around RM80 a day but do negotiate for a lower figure. Taxis are available but fares are relatively high. Alternatively, a motorbike can be rented for around RM35 a day.
Getting There : Langkawi is easily accessible by air, sea, rail and road.
By Boat : Langkawi is accessible by boat from Penang, Kuala Perlis, Kuala Kedah and Satun, Thailand. All passenger ferries to/from Langkawi operate out of Kuah. From 8am to 6.30pm, regular ferries operate roughly every one and a half hours in both direction between Kuah and the mainland ports of Kuala Perlis (45 minutes, RM12) and Kuala Kedah (one hour, RM15). Ferries to Langkawi can also be taken from Georgetown, Penang. (RM35/65 one way/return)
By Air : From Malaysia's capital city Kuala Lumpur, or other key cities in the country, you can take a direct flight on the national carrier Malaysia Airlines (MAS) daily. Silk Air (from Singapore) and Air Asia(Budget carrier, book online at www.airasia.com) also has direct flights to the island. The KL-Langkawi flight takes about 55 minutes.
For more information, please contact the Langkawi Tourist Information Centre at 604-9667789 located at jln Persiaran Putra, Kuah. Opens 9am-1pm and 2pm-6pm.
Kedah Mainland. Please see Kedah Mainland link
Homestays in Pulau Langkawi
Stay in a traditional home instead of a hotel and get a feel of the kampung(village life). Please see homestay link.
homepage > Pulau Langkawi
Langkawi Island 2007 Events

<![if !supportEmptyParas]> <![endif]>

Launch of Visit Malaysia Year 2007

,

Jan 7

<![if !supportEmptyParas]> <![endif]>

Le Tour de Langkawi

,

Feb 2

<![if !supportEmptyParas]> <![endif]>

Royal Langkawi International Regatta

,

Feb 4-9

<![if !supportEmptyParas]> <![endif]>

World Universities International Peace Debate

,

Mar 17-23

<![if !supportEmptyParas]> <![endif]>

Langkawi Water Festival, April 6

<![if !supportEmptyParas]> <![endif]>

Langkawi-Kok Adang International Fishing Competition

,

April

<![if !supportEmptyParas]> <![endif]>

Gunung Raya International Run

,

April

<![if !supportEmptyParas]> <![endif]>

Wilderness Challenge Langkawi

,

April 29

<![if !supportEmptyParas]> <![endif]>

17th Pelangi Cup International Golf Open Championship

,

May 17

<![if !supportEmptyParas]> <![endif]>

International Bird Race

,

June

<![if !supportEmptyParas]> <![endif]>

Muadzam Shah Trophy Golf Tournament

,

July 7

<![if !supportEmptyParas]> <![endif]>

Rambutan Trail

,

July 13, 14

<![if !supportEmptyParas]> <![endif]>

Langkawi Culture Festival

,

Aug

<![if !supportEmptyParas]> <![endif]>

Geopark Asia Pacific Conference

,

Aug

<![if !supportEmptyParas]> <![endif]>

International Rugby 10 a side

,

Sept

International Shooting

,

Oct

<![if !supportEmptyParas]> <![endif]>

Muay Thai International Competition

,

Nov

<![if !supportEmptyParas]> <![endif]>

International Junior Tennis Tournament

,

Dec

<![if !supportEmptyParas]> <![endif]>

Langkawi International Maritime and Aerospace exhibition (Lima 2007)

,

Dec 24-31