Fishing in Malaysia
---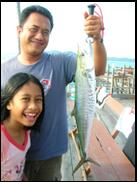 It is always a thrilling experience to go fishing, and it suits the young and old, men and women. Malaysia is blessed with abundance of fish, both in the rivers, lakes and in the sea.
Fishing in the Sea
Pulau Sembilan, Pangkor
Boats can be hired once you are at Pulau Pangkor to Pulau Sembilan, a group of nine islands where sports fishing is popular.
Getting there
By Car : From Kuala Lumpur to the town of Lumut where the jetty is located, the journey is approximately 250km and will take around 4 hours. Take the North South Expressway, starting at the Damansara toll plaza, heading for Ipoh. Exit at the Bidor toll plaza. The rest of the journey will be on trunk roads. You will pass through Bidor where there is a Shell petrol station on your left if you need to refuel. Follow signboards stating "Pelabuhan Lumut" or "Lumut Naval Base". You will then need to follow signboards to "Teluk Intan", "Setiawan" and "Pulau Pangkor". The journey from Bidor town to Lumut jetty is approximately 110 km, or 1 ½ hours. The long term car park behind the shell petrol station, next to the bus station charges RM10 per day.
By Bus : Lumut is 83km southwest of Ipoh. Take the bus in Ipoh to the Lumut bus station, which is right by the ferry jetty. On Pulau Pangkor, buses to Ipoh can be booked from the agent located at the town's Chuan Full Hotel.
Direct buses to Lumut from other states are possible as Lumut is well connected to other destinations, and many bus companies have an operation here.



Pulau Aur, Pemanggil and Tioman
Three islands situated in the beautiful Seribuat Archipelago, Pulau Aur, Pemanggil and Tioman are three islands located in the South China Sea, East of West Malaysia at Johor State. They are one of the main game fishing centres of the southern region and prime Black Marlin region of Peninsula Malaysia. The majority of boats to these outer islands depart from Mersing town. Fishing boats for hire are virtually all converted coastal trawler boats with differing degrees of facilities and luxury. The majority tend to be basic with no sleeping quarters.
There are accommodation on the beautiful islands of Aur, Pemanggil and Tioman islands themselves. Tioman on the other hand boasts a few star rated hotels along with a wide range of alternative accommodation and facilities. Special arrangements can be made to pick up anglers, and return them to Tioman. A two day one night trip is the minimum recommended. Lanting Beach Resort is located on the island of Pulau Pemanggil. Also magnificently popular for its garden of corals and fishing habitat. Get a chance to fish with the koyan master, Tarzan Laut who has a handful of experience and stories to share with. Black Marlin, Sailfish, Dorado, Spanish Mackerel, Shark, Stingray, Tuna, Grouper, Giant Trevally, Cobia just to name a few of the big game species mangling in its water. Best time for fishing is in between September to December. Dorado is very seasonal somewhere in May and June. Lanting Beach Resort can be contacted at 607-799 3973.
Mersing are accessible only by road, being approximately 6 hours from Kuala Lumpur. Tioman is accessible by plane from Kuala Lumpur or by ferry from Mersing. Boat travel times to these islands vary, depending on the vessel and destination. The ferry to Tioman takes around one and a half hours, while fishing boats from Mersing to Aur and Pemanggil take approximately 6 hours.



Pulau Gemia & Pulau Kapas
Both islands lie close by and fishing services are offered by Gem Island Resort to fish in the sea. In April to June is time for fisherman in Marang Town to go for squid jigging at night. (Candat Sotong ). If you wish to try candat sotong, boat departs around 7.00pm and reach the jigging point near Kapas Island in 45-60 minutes. The squid are attracted to the light and tent to cluster around boats where fluorescent lamps are lit. A jig is a weighted lure with nine hooks arranged in a circular pattern at one end. The other end is secured to a fishing line. Normally the fisherman can land 30kg to 40kg squid a night and in a good night up to 100kg.



Pulau Redang
Redang island's water is teeming with fish. Book a fishing trip with the islands resort i.e. Redang Kalong Resort.



Penarik Village
On the northern shores of the state of Terengganu overlooking the marine park holiday islands of Redang and Perhentian lies the small village of Penarik. This unique fishery where part of the Setiu river system runs parallel to the South China Sea offers excellent game fishing offshore and top class estuary fishing along the river system. Fiberglass and traditional fishing boats are available for hire and rustic chalet style accommodation is available. The seas boast Sailfish, Narrow barred Mackerel, Barracuda and Dolphinfish. Bottom fishing produces Crevalles, Jacks and Snappers.



Merchong Village
From the village of Merchong, Pahang located close to the mouth of the Merchong river, good class fibreglass vessels are available for game fishing. These boats head for the 'unjangs' (fish attracting devices) about 20km offshore where Sailfish are a common catch. Other species include Barracuda, Narrow barred Mackerel, Dolphinfish and various species of Trevally. This is a day trip fishery only with anglers returning to shore in the late afternoon. Chalets are also available. Good bottom fishing can also be had. For more information go to www.merchongfishing.com



Pulau Perak
Where the southern Andaman sea meets the Straits of Melaka, 60 nautical miles south west of the legendary island of Langkawi, lies Malaysia's most westerly island, Pulau Perak. Rising almost vertical from the sea bed, the waters around this limestone outcrop teem with fish. This relatively new discovery has so far produced Big Eye Tuna, Rainbow Runner, Cobia, Sailfish, Striped Marlin, Wahoo, Shark, Narrow Barred Mackerel and Giant Trevally. Sailfish in excess of 60kg have been landed. Pulau Perak and Tukun Perak, an atoll about 10 nautical miles south of the island are, however, most famous for their Giant Trevally with specimens of over 40kg.
For game fishing, this is arguably the finest destination on the west coast of Peninsula Malaysia. It also boasts excellent deep sea fishing with good sized Groupers and Snappers, and a variety of extra large Surgeon fish. Fishing safaris to Pulau Perak are normally 3 to 4 clays duration with live on board vessels available for charter from Langkawi.



Pulau Labuan
Labuan island off the coast of Borneo is strategically located at the heart of South Fast Asia. An international offshore financial centre, Labuan, along with its small islands, boasts fine resort hotels and some top class game fishing. Within a few nautical miles off Labuan itself Marlin, Sailfish, Narrow barred Mackerel, Wahoo, Dogtooth Tuna and Dolphinfish can be found. However, the finest fishing grounds are the Lucornia shoals located 164 nautical miles west of Labuan. The shoals offer fine game fishing and excellent deep water bottom fishing, with massive Grouper being fairly common.
Fishing these waters is difficult due to the limited facilities available. Only one boat is available for hire to Lucornia Shoals and this is suitable only for the hardiest of anglers. At present, a standard trip is five days duration but the quality of the fishing more than compensates for the 27 hour journey it takes too reach the shoals. The waters around Labuan also boast a few good wreck fishing sites in easy reach, where good Grouper, Snapper and Jacks can be found. Labuan has regular daily flights connecting with Kuala Lumpur, Kota Kinabalu and Kuching.



Pulau Mabul
The indigo waters of the Sulawesi Sea near Pulau (island) Mabul, south of the town of Semporna in eastern Sabah houses one of the world's most unique fishing and diving centres. A redundant deep sea oil rig was towed from Labuan to its resting site off Mabul. Refurbished into a hotel, this angling and diving centre is located only 20 minutes away from the world renowned dive site of Pulau Sipadan.
A modern 9 metre (29ft) fibreglass, fully equipped game fishing boat provides the angler with the opportunity to fish remote 'virgin' waters. Marlin, Sailfish and big Yellowfin Tuna are the main quarry but the waters also provide an abundance of Dolphinfish, Mackerel, Wahoo, Barracuda. Giant Trevally, Skipjack, Bonito, Rainbow Runner, Cobia, Queenfish and more. The facilities and accommodation on various islands in these waters are some of the best available. Developed initially for divers, some of these resorts now offer fishing packages.



Seas of Kota Kinabalu
The seas off Kota Kinabalu, Sabah also offer some excellent fishing. Sailfish and Narrow barred Mackerel can be taken only a couple of miles from shore while day trip and overnight excursions can be made to Pulau Mengalum for either game fishing or bottom fishing.



Kudat
From the town of Kudat in the north, basic boats can be arranged to fish in deep waters north and west of the islands of Banggi and Balambangan. This is a minimum of a one week safari and 3 months notice must be given to fish this, as yet untouched, angling area. At present, only Hook, Line and Sinker and Cherrybird Tours and Travel can organise this fishing. This trip is only for the hardy and adventurous.
The Malaysian state of Sarawak on the island of Borneo is also relatively untouched with regards to angling. The upper interior rivers provide some excellent sport while the seas are known to be rich in fish stocks.



Miri
Only a few part time fishing operators exist and this is only for sea fishing. One boat based at Miri provides excursions to the Southern Lucornia Shoals. Angling trips to the interior rivers can be arranged but organisation necessitates at least three months notice. A five day safari to the Southern Lurcornia Shoals is only for the hardy and adventurous and again requires it least 3 months notice to organise.
For packages please go to http://www.gamefish.ws/gamefish_packages.asp



Fishing at Kelongs
Kelongs are structures built on stilts over the sea. They were originally used to trap fish. However, nowadays, they are often used by anglers and almost resemble little resorts with basic facilities. Kelongs provide stable platform to fish from, with a lot of space and fresh air. Common catches at kelongs are what anglers refer to as "baitfish". A more appropriate word would be schooling fish as they travel in schools and range in size from 10cm to 20cm – selar and tamban are the most common. The larger fish include the barracuda, cobia, threadfin salmon, mackeral and many other coastal fish that feed on the abundant baitfish gathered at the kelong. Kelongs are great places for an affordable family holiday as most kids love the thrill of catching some fish. They will be even more excited when they get to eat what they catch. Most kelongs will oblige with the cooking, at no extra charge. Packages include all meals (occasionally supplemented by your personal Catch of the Day), free flow of drinks like Chinese Tea and coffee, and a clean place to rest for the night. Most kelongs restrict the use of fresh water as it has to be shipped in from the mainland. However, there is enough for a nice clean shower (limited to one a day at some kelongs). Drinking water is never in short supply, though.
At certain Kelongs, you can take a trip to the nearest island beach – provided by most kelongs at no extra cost – for some swimming or snorkeling maybe your cup of tea. Or why not settle down to a good book accompanied by fresh sea breezes? So there is something for everyone at the kelong.
Call a Kelong
Kelong Acheh, Johor, 019 7772684, www.kelongacheh.com
Kelong Paradise, Waterfront Resort, Sabak Bernam, (603) 76259838
Kelong Ah Yu, Tanjung Leman, Pulau Sibu (603) 013-7212332
Kelong Ah Fatt, Tanjung Leman, Pulau Sibu (603) 019-7453019
Kelong Ah Ngan, Pulau Sibu (603) 019-7712879
Kelong Mamud, Lukut Mamud (603) 019-6611448


Fishing at rivers & Lakes
Tasik Pedu
This is a man made lake located east of Alor Setar, Kedah. The lake contains a large number of fish, both aquarium and sport fishes. There are two resorts located in this remote area.
8 hours drive from Kuala Lumpur. If you use the North-South Expressway, exit at the Gurun toll Plaza and drive through Jenniang, Sik and Gulau before arrving and Pedu. Fly by helicopter, Oxysky Aviation Services (603) 7859 1933, Terminal 3, Subang Airport, Petaling Jaya, Selangor, which will land at the Resort itself. Take a flight from Kuala Lumpur International Airport, with
Mas or AirAsia to Alor Setar. There are regular bus services from Kuala Lumpur's Puduraya bus station to Alor Setar. From Alor Setar, take a taxi to the resort.



Temenggor
Temenggor Lake, a man-made hydroelectric dam in upper Perak. The 152 sq km lake contains 6,050 million cubic metres of water and fringes the 117,500-hectare Belum Forest. The real fishing grounds are in the rivers where kelah, sebarau, tengas, badong, temoleh and toman can be found in abundance.



Tasik Kenyir
Kenyir Lake is the biggest man-made lake in Southeast Asia. Covered by more than 340 islands spread out in water catchments area of 38000 hectares. Tasik Kenyir is thriving with fishes like Kelah, temoleh, lampam, kelisa, kawan, kalui, belida and sebarau.
Getting there, From Kuala Terengganu, head for Kuala Berang. Drive on for about 40km and you will reach Pengkalan Gawi, where the main jetty is located. You can hire a boat to Sungai Petang Kelah Sanctuary. The boat ride will take about 45 minutes. For details, call Kelah Sanctuary Agency, Ketengah's Tourism and Tasik Kenyir Development Unit at (609) 822 3142
Fishing can also be done on a Kenyir Lake houseboat. It is basically a self sustainable boat with food and lodging. For more information, go to www.kenyirlake.com.



Tasik Raban
Tasik Raban in Lenggong district is a unique and beautiful place. It is actually made up of several interconnected pools. Rich vegetation surrounds the lake, and together with its unusual composition, makes Tasik Raban a scenic area. This is also a anglers paradise.
It can be reached by bus or taxi from Kuala Kangsar. From Ipoh, taking the North-South Highway exiting at Kuala Kangsar proceeding on the East-West Highway to Gerik.



Tasik Chini
Tasik Chini is Malaysia's second largest natural lake. It is actually formed by a group of 12 lakes among 12,000 acres of lush tropical wilderness. Tasik Chini itself is a habitat for over 144 species of fishes, which include the toman. The best time to fish is during monsoon seasons mid year and end of the year, when rain brings the water level up.
Take a taxi from Kuantan directly to Kampung Gumum. Alternatively, take a bus from Kuantan or Pekan to Felda Chini. From here, hire a private car and drive to Kampung Gumum or the lake Chini Resort.



Tasik Bera
Tasik Bera is Malaysia's largest natural lake. It's big attraction is the diversity of fish species. Almost 100 species of freshwater fish have been identified, many which cannot be found elsewhere. These include the highly valued, and thus endangered, Asian Arowana or Golden Dragon Fish Scleropages formosus, the Silver Shark and the Harlequin Rasbora. Other species include various Catfish, Gouramy, Barbs and Carp. It is a popular angling place.
From Kuala Lumpur Follow Route 2 (Kuantan road). Turn south off Route 2 at Temerloh and take Route 10. After Kerayong turn right off Route 10 and follow signs to Tasik Bera. After 16 km follow the last 5 km on unsealed road to Persona Lake Resort.or
By Express Bus via Karak Highway to Temerloh. Arrange with Persona Lake Resort for pick-up at Temerloh Bus Station.



Tasik Sembrong
Tasik Sembrong is located about 10km from Air Hitam town in the state of Johor on the Air Hitam - Kluang road. Fishes include the toman, sebarau, kaloi, baung, belida dan belida bintik, kelah dan kelah biru, temperas, sia, tebal sisik, terbul, susur batang, patung, lalang, seluang, temakang, sepat siam, puyu.



Kuala Koh, Taman Negara
Located in Kelantan, the north gateway to Taman Negara National Park is Kuala Koh. The many rivers here providing an opportunity for river fishing. However some rivers are prohibited for fishing as they are breeding grounds. A park permit cost RM1 and a fishing license cost RM10. You can either drive or take the public transport to Kuala Koh from Gua Musang in Kelantan. There is a road connecting this park entrance to the Gua Musang Kuala Krai main road. Car rentals can be obtained at Gua Musang.



Sungai Tahan, Sungai Keniam, Sungai Sepia, Taman Negara
Wonderful places to fish with fighting fish like Kelasa. The best fishing months are February, March, July and August. A fishing permit costs RM10 and hiring a rod cost RM5 a day. To get to Taman Negara is to take a bus or train to Jerantut, and a bus or taxi from Jerantut to Kuala Tembeling and then a boat from Kuala Tembeling to park headquarters at Kuala Tahan. You can also drive all the way to Kuala Tahan but it is more enjoyable to take the boat ride from Kuala Tembeling. More than 3 boats a day leave the jetty, but can be irregular during the monsoon season of November – February.



Types of Fish
Saltwater fish
Apart from the main target species many other exciting species can be fished around the same areas. These include Cobia, Grouper, Snapper, Queenfish, Jacks and Sharks. With over 700 recorded species of fish in Malaysian waters, surprises very often pop up.
Marlin
Long powerful slightly compressed body rising rapidly to the top of the head. The upper jaw is elongated to form a long, slender lance or spear. There are 2 dorsal fins, the first is long and initially high, the second smaller and composed of six or seven rays. There are also two anal fins while the pectoral fins are stiff and cannot be folded against the body. Colouration is typically blue-black on the back becoming silver white on the flanks below the lateral line. SIZE Although known to exceed 700 kg in other parts of the world, the Black Marlin in Malaysia usually ranges between 50 kg and 150 kg.
Sailfish
Long and slender body with elongated upper jaw forming a lance or spear. No mistaking the massive sail-like first dorsal fin of cobalt blue with black spots. Colouration disappears if out of water for more than a couple of minutes.
SIZE 20 to 60 kg.
Yellow Fin Tuna (Thunnus albacares)
Typical tuna with huge, uniform, elongated body. Long crescent shaped bright yellow second dorsal and anal fin. Golden yellow finlets with black tips run from second dorsal fin and anal fin to tail. Metallic dark blue in colour on the back to silvery white flanks and belly. SIZE Specimens exceeding 100 kg have been taken in Malaysian waters. Common sizes average 20-40 kg.
Wahoo
Very long slender body slightly compressed on the flanks. Long head terminates in a pointed snout with a movable jaw. The mouth is full of sharp pointed teeth. The first dorsal is long and can be folded into a groove on the back. The second dorsal fin and the anal fin are small and followed by finlets to the tail. The back is a brilliant metallic blue colour with bright blue vertical bands running to the silver flanks and belly. SIZE In excess of 50kg, more common around 15-20 kg.
Barracuda
Long cylindrical body will long pointed snout and a mouth full of canine teeth. First dorsal fin has 5 spines and the second 10 soft rays. Irregular dark blotches are common on the lower flanks. Colouration varies from greyish to greenish brown on the back to silvery flanks and belly. Two distinct types are found in Malaysian waters; one a yellow tipped tail, the other a black tipped tail. SIZE Specimens of over 40kg have been taken in Malaysian waters. However, 5- 15 kg is a common range.
Mackerel
OTHER NAMES Tenggiri, Tanguigue, Giant Mackerel
Elongated body slightly compressed on the flanks. Pointed snout with large mouth and big strong teeth. Two dorsal fins close together, the first are long and low, the second short and taller. Dorsal and anal fins followed by 8-10 finlets. Back dark blue in colour with lower flanks and belly being silvery. Flanks also have irregular vertical wavy stripes. SIZE Up to 25 kg in Malaysian waters.
Grouper
The Serranidae is large and important family of fish, consisting of more than 375 species. These are mostly temperate and tropical marine fish, ranging size from less than 30 cm (12 in) to about 3.7 m (12 ft), and are found near rocks, reef, wrecks, and piers in coastal waters. The larger members of the family are robust, sharp-toothed, basslike fish, which live near the bottom and feed on fish, crustaceans, and shell fish. They tend to be solitary rather than schooling, except at spawning time, and the individuals of many species change sex as they grow: they mature and breed as females, and become males when grow older and larger.
Dorado
Wrasse belongs to the Labridae family, which has more than 400 members distributed widely in coastal tropical and temperate waters. A typical wrasse has thick lips and strong teeth, which it uses to crush shellfish, and swims by flapping its pectoral fins rather than using its tail. Wrasse range in size from small species about 10 cm (4 in) long up to 2.3 m (7 ft 6 in) giant maori wrasse of Indo-Pacific waters. The dolphinfish a.k.a dorado is one of the two members of the Coryphaenidae family.
Snapper
Most of the 230 or so species of snapper that make up the Lutjanidae family are found in tropical seas, but a few also occur in warm-temperate waters. They are predatory fish, with sharp, conical teeth, including one or two canine teeth on either side of the front of each jaw. These canine teeth help to distinguish the snappers from the groupers, many species of which are similar in overall appearance. Large numbers of snapper are taken in shallow coastal waters and over reefs by anglers and spearfishers, and some species are fished for commercially.
Cobia
The cobia, the only member of the Rachycentridae family, is a prized gamefish. It is also fished for commercially for its fine flesh but not here in Malaysia, which is often sold smoke.
Snook & Barramundi
Snook and barramundi belong to the Centropomidae family, which contains about 30 species. Some of the Centropomidae are exclusively marine, others are marine but move into brackish water and even into rivers; some live in rivers and spawn in brackish estuaries, while a few are found only in freshwater.
Drum & Kahawai
Bonito & Shad
Queenfish
Jackmackerel
Rays
Sharks
Amberjack & Jack
Freshwater fish
Lampam Jawa
It usually mouths the bait and swims off with it. A firm lift of the rod will usually hook the fish.
River lampam
This opportunistic feeder will quickly bite the bait and dart downstream. Legering from upstream is best. If the hook is sharp, it will start to penetrate when the lampam swims off. Lift the rod firmly.
Toman
It will bite its prey to stun it, swim off a short distance and then reposition itself before swallowing the bait. If you are using live baitfish, let the toman swim away with it first. Open your bale arm (spinning reel) or free your clutch (multiplier reel). The line will eventually stop running out. Close your bale arm or engage your clutch. At the next run of the toman, point the rod to the fish and strike firmly when the line has gone taut. If you are using a lure, it is best to strike at the moment the fish has taken it. You will know it's a toman; a circle of small bubbles will appear at the water surface.
Haruan
A haruan's bite is similar to the toman's. When you are using a frog bait for haruan, let the fish have a good hold on the bait before striking. When using lures like spinner bait, spinners or spoons, the haruan will usually hook itself.
Keli
It's usually gluttonous when taking bait. Chances are the fish will hook itself deep in the gullet. Using a barbless hook will make it easier for you to unhook the fish, and causes less harm. Just make sure your line is always taut when playing the fish.
Sebarau
The sebarau roves around rivers and lakes, slashing out at small baitfish before returning to the depths or under snags. Most anglers use lures for sebarau. Usually, there is no chance or need for striking; you would be busy holding on to the rod and keeping your balance! Make sure your lure hooks are strong enough to handle their awesome jaws!
Kelah
This fish has pharyngeal teeth situated deep in its throat. It will thus suck in the bait, taste it and either blow it out or crunch it. Whatever bait you use, make sure the hook point stands proud of the bait.
Rohu
This is a nibbler, much like its cousins, the terbol, rong and ara-ara. The rohu bolts away when it feels the hook poke its lips. Smaller hooks are needed for rohu (size 10 to 6). If you find your bait being wasted by these tricky fish, you need to strike when your free-line or float indicates nibbling action.
Patin
River patin feed at the bottom and will hook themselves when swimming off with your bait. Pond patin take more time with their bites, sometimes nibbling at the bait before taking it confidently. It is best to allow the fish to swim off with the bait.
Pacu
It has strong teeth that can break even stainless steel hooks, let alone nylon leaders. Its feeding habits are much like pond patin. When bait-fishing for pacu, it's best to use a circle hook of size 2 or larger, with braided leader of, say, 25lb. When a pacu takes off with your bait, let it take up the slack line. Do not strike. The tightening line will slide the circle hook to the side of its lips and the hook point will embed itself there.
Grass carp
Like most carp, it has pharyngeal teeth and feeds like the kelah. Grass carp fishing is a waiting game. The pastebait is usually free-lined. Set the rod on its bank-sticks (rod rests), and put a light indicator (e.g. tin foil paper) on the line between two-rod guides. The rise and fall of this indicator shows a feeding fish. When the whole line tightens up, lift the rod up firmly and strike.
Belida
It has a surprisingly small mouth compared to its large size. It feeds close to the bottom, sucking in small minnows or prawns. When a belida takes the bait, allow it to swim off with it. Only when it has taken up all your slack line, do you strike.
Ketutu
(Marbled Goby/ Emperor Fish) is considered a delicacy. You need deep pockets if you intend to have steamed ketutu for dinner at some of the city's seafood restaurants!
But what makes the ketutu a unique fish is its feeding habit. It will take your bait of dead fish or prawn, and then simply lie still. Your line will register a twitch, then come back to rest.
Minutes later, when you reel in your line, you feel a heavy resistance as if your rig is snagged on a plastic bag. Then up comes this fish with its mouth wide open and your hook embedded in its gullet!
Obviously, the ketutu is not an angler's fish for it has no fighting qualities. If you intend to release the fish, a pair of surgical pliers (or small long-nosed pliers) will help to disgorge the hook safely.
When you release the hapless fish, it will remain still in the water, pretending to be dead. Much later, it will slowly swim off.
homepage > Fishing in Malaysia