Kelantan
Darul Naim(The Beautiful Abode)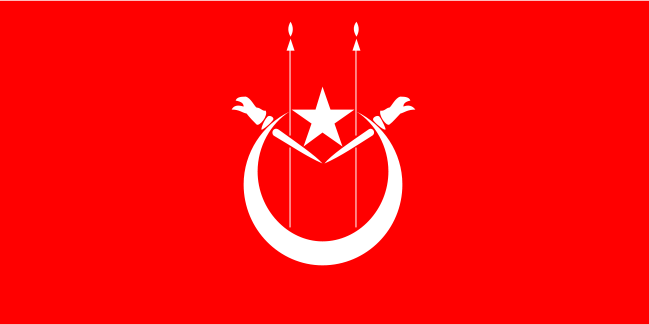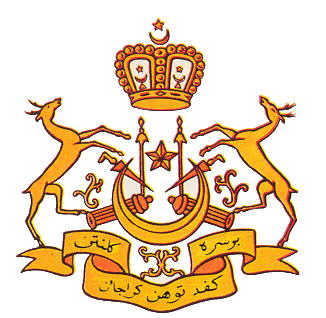 ---
The "Cradle of Malay Culture", Kelantan offers a delightful profusion of colourful traditions, charm and scenic beauty. Located in the north-eastern corner of the peninsula, Kelantan, also known as the "Land of Lightning" is an agrarian state with lush paddy fields, rustic fishing villages and casuarina-lined beaches. Nature-based activities range from simple river cruises, rafting, caving and bird watching to jungle trekking. You can also shop for unique and beautiful souvenirs like the Malay Kite, Wau, or interesting wood carvings. The Capital is Kota Bharu, which is a good base from which to explore the surrounding countryside. Siamese influence is evident in this state, with their many temples and architectural influence on local buildings, as it was once under their rule. 95% of Kelantan's population are ethnic Malay, and under the Malaysian Constitution, all Malays are Muslims; therefore, Islam is the most influential religion in the state. It is also Malaysia's most conservative state with the ruling state government PAS, imposing laws like single-sex queues in supermarkets and separate public benches for men and women.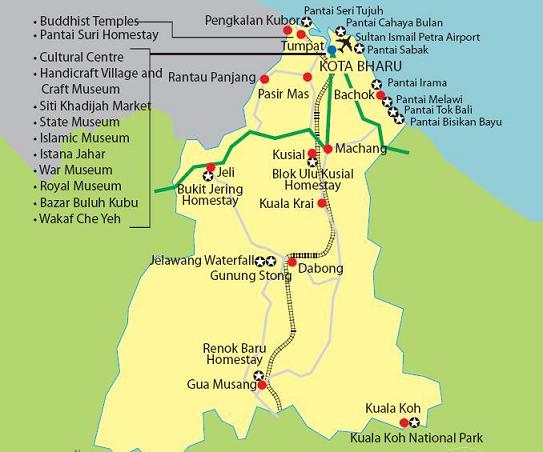 <![if !vml]>

<![endif]>
Sights - in the city of Kota Bahru > Go to Malaysia Map for Kota Bahru City Map
Located northeast of the state and the Malay Peninsula, Kota Bharu is a city rich in Malay culture.
Padang/Bulatan Merdeka Independence square is a strip of grass that was established as a memorial after WWI. This Padang was where the body of Tok Janggut, a leader of an uprising of 2000 men in 1915, against British land taxes, was displayed after he was killed. There are a number of museums located in this area.
Bank Kerapu(War Museum) This building was built by the Mercantile Bank in 1912, becoming the first stone edifice in Kelantan. Now, it is a WWII memorial museum featuring the Japanese occupation, 1948 Emergency and history of prewar Kelantan, all of it making the 1,000 exhibits. Jln Sultan, Entrance RM2. Sat-Thu 8.30am-4.45pm.
Muzium Islam It contains photographs and artifacts related to the history of Islam in Kelantan. Jln Sultan. Free entrance; Sat-Thu 8.30am-4.45pm. (609) 7440102
Istana Jahar (Royal Ceremonies Museum)ê The Royal Ceremonies Museum; is a fine old wooden palace dating back to 1887. This beautiful palace is adorned with intricately carved wooden panels, showcasing Kelantan's good wood craftsmanship. Now converted into a museum, it highlights Kelantanese traditional ceremonies and customs. Inside, visitors can find an extensive collection of Kelantan's historical documentation, rare artifacts, photographs and even a weapons gallery. It is located within the cultural zone in Kota Bharu, the museum is easily accessible from Jalan Sultan and Jalan Hilir Kota. Entrance RM3, Sat-Thu 8.30am-4.45pm. Tel (609) 7444666.
Istana Batu (Royal Museum) Located close to Istana Jahar, this Royal Museum was constructed in 1939 as a wedding gift from HRH Sultan Ismail to his nephew Sultan Yahya Petra Ibni Almarhum Sultan Ibrahim Petra. In 1969, the building was turned into the Royal Museum. You will have intimate insights into how the royals lived, which access to their bedrooms, dining hall and personal items like photographs, costumes, priceless artifacts and antique furniture. Jln Hilir Kota. Entrance RM2, Sat-Thu 8.30am-4.45pm. Tel (609) 7487737
Kampung Kraftangan & Museum Kraf Located opposite the Istana Batu, this pedestrian square has souvenir shops selling local handicrafts such as woodcarvings, batik and other local crafts. It also features a one-room museum with displays of local crafts. Nearby is the a large Audience Hall called Istana Balai Besar. Built in 1840 as a principal royal residence, it is now used for formal state functions. The palace stands proudly, surrounded by a fort within an area that covers over 1627square metres. It is closed to the public.
Muzium Negeri Kelantan(State Museum)ê The state museum contains artifacts showing the history and culture of Kelantan, like traditional instruments, kites, shadow puppets as well as Chinese porcelain and furniture. On display also are artifacts from local archeological sites such as those found at Nenggiri River. Jln Hospital, Entrance RM2. Sun –Thu 8.30am -4.45pm.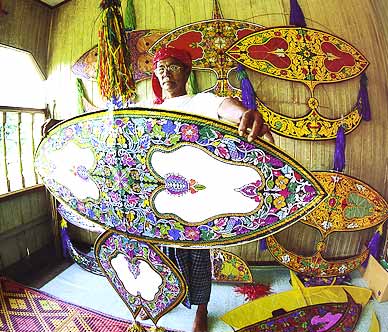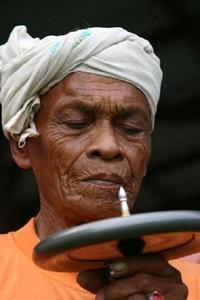 Gelanggang Seni Kelantan's rich culture is showcased at this centre. Watch demonstrations of silat(Malay martial arts), giant kite (wau bulan) flying, giant top spinning and listen to the giant drums (rebana ubi). Cultural performances, such as the shadow puppet play (wayang kulit) and traditional Malay music, are held on selected evenings. Jln Mahmud, Saturday, Monday and Wednesday: 3:30pm - 5:30pm, 9:00pm - 11:00pm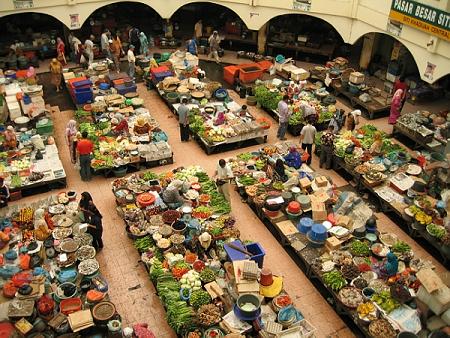 Shoppingê Around Kota Bahru there are shops selling local Malay items such as Batik, songket, silverware, woodcarving and kites. The markets are another good shopping location where beautiful handicrafts like kites and batik are on sale. The Central Market(Siti Khadijah market), Bazaar Buluh Kubu and Old Central Market are three destinations located in close proximity in the city. The profusion of colours, aromas and sounds bear testimony to the variety of goods on sale. At Jalan Temenggong, the street is lined with craft shops selling gold and silver jewellery, textiles, brassware and wood carvings.
Out of Kota Bahru, one of the best locations to shop is on the road to Pantai Cahaya Bulan (PCB). For silver craft, Kampung Marak, Kampung Sireh and Kampung Badang are the most well known. Kelantan silverware offers traditional and decorative items from vases to jewellery. For songket weaving, go to Kampung Penambang 4km north of Kota Bahru. Here, silk material is woven with gold and silver thread. Batik factories are found in Kampung Putih, Kubor Kuda and Kampung Badan. A visit to a batik factory gives an insight into the process of batik printing. Kites can be bought in along the road to Pantai Cahaya Bulan. Kites are called 'Wau Bulan' (moon kite), 'Wau Kuching' (cat kite) and 'Wau Merak' (peacock kite).
Sights - Terengganu's other attraction
Masjid Kampung Lautê Located in Nilam Puri, Bachok, this 300 year old mosque is the oldest mosque in Peninsular Malaysia. It was build by Javanese Muslims entirely by wood, without nails, and has some impressive woodcarvings and influences of Thai architecture. It is still being used and entry for non Muslims is forbidden. It first stood at Kampung Laut but moved to its current place in Bachok due to flood worries.
Beaches
Pantai Cahaya Bulan (PCB) : PCB means Moodlight beach, but was once called Beach of Passionate Love. It is located 10km north and half an hour away from Kota Bahru.
Pantai Irama : Beach of Melody is one of the better beaches around in terms of cleanliness and swimming activities.
Pantai Bisikan Bayu : It means Beach of Whispering breeze. Close to the border with Terengganu, it lies about 50km to the south of Kota Bahru, close to the village of Kampung Semerak.
Pantai Sri Tujuh : This beach is located near the Thai border in Kampung(village) Tujuh, Tumpat, about 7km away from Kota Bahru, in a quiet bay. Suitable for picnics and there are stalls selling handicrafts. This is also the location for Kite flying competitions held in May, both locally and international.
Pantai Sabak : A focus point for fishermen bringing in their catch in colourful fishing boats, this place has historical significance too. On 7 December 1941, the Japanese landed here to begin its occupation of Malaya in WWII.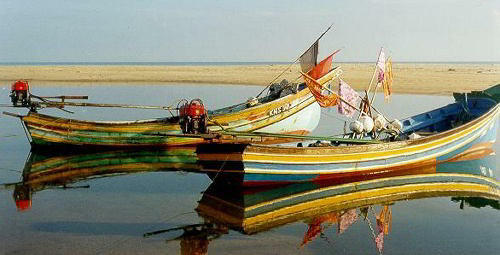 Perkampungan Nelayan Catch fishermen returning with their catch in the late evenings in their colourful boats is quite a scene. Two places you can do this is at Kampung Kuala Besar and Kampung Sabak, 15km away form Kota Bahru.
Water Fallsê
Best time to go is on weekdays to avoid the crowds.
Jeram Pasu : It is located 35km south of Kota Bahru, in Kampung Padang Pak Amat and reachable by a vehicle or Bus No.3. From Kampung Padang Pak Amat follow an 8km path to the water fall. It is a very popular waterfall destination for the locals. It has clear waters and a cool and refreshing environment.
Jeram Lenang : Jeram Lenang is an attractive jungle waterfall. It is about 65km from Kota Bahru. It is also a popular waterfall destination, ideal for picnics, resting, camping and jungle trekking activities.
Lata Beringin : This waterfall is known for its 120 meter height. It is located in Sungai Pas and reachable through Kuala Krai – Gua Musang road. Beautiful scenery and surrounding makes it a popular picnic spot.
Thai Temples There are many interesting Buddhist temples in Kelantan with Wat Phothivihan claiming to be the largest Buddhist temple in Southeast Asia. It has a 40m-long reclining Buddha statue. It is located at Chabang Empat. Two other temples located in this area are Wat Kok Seraya and Wat Phikulthong.
One of the oldest and most beautiful Thai temple in Kelantan is Wat Uttamaram at Kampung Teresek, Repek, Pasir Mas. The terraced roofs have naga serpent finials, and are coloured green and saffron. Chinese dragons wreathe the temple's pillars and fabulous monsters stand guard. Take photos using black and white for some very beautiful pictures.
Jungle Railwayê The jungle railway or east coast railway goes through some beautiful jungle views as it traverses Peninsular Malaysia's mountainous region. It is worth the trip if you have the time. Starting from Tumpat, near Kota Bharu it takes 14 hours to reach Kuala Lumpur, going through, Pasir Mas, Tanah Merah, Kuala Krai, Gua Musang, Gemas before joining the KL – Singapore railway line.
Jelawang/Dabong Area This area is best visited as part of a tour organised in Kota Bharu as it is difficult to travel independently. Call on Zeck Traveller's Inn (609) 743 1613. The village of Dabong is along the Jungle Railway but the best way to arrive is by riverboat from Kuala Krai. Attractions in this area are the limestone caves, namely Stepping Stone Cave (an impressive narrow 30m corridor through a limestone wall that leads to a hidden grotto), Kris Cave and Fish Cave. From Dabong, you cross Sungai Galas to 1422meter high Gunung Stong and Falls. A place to stay is Rumah Rehat Dabong (609) 744 0725. There are trains to Dabong every day from Wakaf Baharu. The recommended option is to take the first morning train to Kuala Krai, and take a scenic 3 hour jungle cruise to Dabong.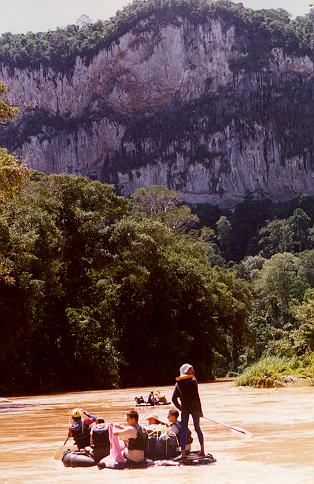 Gua Musangêê Gua Musang is another inland town with limestone hills and caves. It is possible to explore the caves but it is very steep and hazardous. A guide is recommended, which you can find at travel companies here or local children will offer their services for a small fee. Nenggiri River close by is a favourite among those who enjoy river rafting. The section of the river from Kuala Betis to Kuala Setelu, has become the playground of adventure and nature lovers. Archaeological sites can be found in the caves, such as Gua Cha, Chawan and Jaya, which are situated along the river.
From Gua Musang, a pre-arranged transfer can be made to the starting point of the rafting expedition in Sungai Nenggiri at either Kuala Betis, some 40 minutes away, or historical Gua Cha, about 90 minutes via the trunk road.
You raft along the 53km of the little known Nenggiri River that flows from the backcountry of Kelantan. En-route you stop to visit GUA CHA Archaeological Site with its mysterious cave and imposing limestone. Rafting down the river either on bamboo raft or rubber inner tubes is the best form of traversing this section of the river. Those interested in taking on Nenggiri on their own should contact Kesedar at 09-9121788
Kuala Kohêê A two hour journey from Gua Musang will bring you to Kuala Koh, the northern gateway to Taman Negara and its Kelantan headquarters. There are chalets and a restaurant at affordable prices. Experienced tour guides are available from travel companies located at Gua Musang. You can also rent a car for your trip to Kuala Koh.
Bird watching enthusiasts have the opportunity to see many species of wild birds in the Jungles of Kuala Koh. It is also an ideal place for fishing in the rivers in the vicinity. The tropical jungle is rich in flora and fauna for jungle trekking and a good opportunity for the photograph enthusiast to take pictures. The various rivers offers water sports such as kayaking and bamboo rafts. Rafting from Kuala Pertang to Kuala Koh takes about two hours. There is also a canopy walkway to admire the forest top up close. Stay at a Bumbun(Observation Hides) Impian, about 30 minutes hike from Kuala Koh, and try to observe larger mammals visiting the salt licks nearby. Visit the shy and friendly Batek tribe orang asli(aboriginal people), and get a glimpse of their simple life. These Batek are among the most primitive compared to the other orang asli as they are quite resistant to change. Many still prefer to live in makeshift huts made of palm leaves with the floor covered with dried leaves. There are 6 chalets and a 74-bed hostel. Rates are RM30 for chalet and RM5 per person for hostel. Campers are charged RM1 each. Park permit cost RM1 and camera license RM5. If you plan to fish, you need a fishing license costing RM10. For more information, do contact the local travel agents or the Wildlife Department office in Gua Musang. Tel/fax no: (+609) 912 2940
Homestays in Kelantan
Stay in a traditional Malay home instead of a hotel and get a feel of the kampung(village life). Please see homestay link.
Getting there
By Air : Fly Malaysia Airlines or AirAsia to Kota Bahru airport. Malaysia Airlines fly to Kota Bahru from Kuala Lumpur and Penang. Air Asia flies to Kota Bahru from Kuala Lumpur.
By Car : From Kuala Lumpur, Malaysia's capital, the overland route takes visitors eastward along the Karak Highway to Kuantan in Pahang, a journey of about 3 hours. The rest of the journey from Kuantan to Kota Bharu takes about 4 hours. The route heads northwards along the coast.
Second option is the inland route to Kota Bharu turns off from Karak Highway at Bentong and proceeds northwards to Raub and then to Gua Musang, before reaching Kota Bharu.
An alternative route exits the Karak Highway at Temerloh and passes through Jerantut, Benta and Gua Musang en-route to Kota Bharu. From Penang, visitors can get to Grik via Sungai Petani in Kedah and then travel along the scenic East-West Highway to Jeli in Kelantan before continuing the journey to Kota Bharu. There are regular air-conditioned express bus services operating from Kuala Lumpur and major towns to Kota Bharu.
By Train : Leaving Kuala Lumpur, train travels to Seremban - Gemas - Jerantut - Kuala Lipis - Gua Musang - Kuala Krai - Tanah Merah - Pasir Mas - Kota Bharu. Journey takes about 14 hours for the 800km trip. For further details, kindly contact: Malayan Railway (Kuala Lumpur), Phone: 03-2267 1200 / 2274 9422

Once you are in Kota Bharu, it is relatively easy to get to nearby districts as regular bus and taxi services are available from the main bus terminal. For those who plan to visit places of interest in the interior of Kelantan, it is advisable to enquire with the Kelantan State Tourists Information Centre or any registered travel agent in Malaysia.
Kelantan and Terengganu working hours:
Sat-Wed: 9:30am-4.00pm
Thur : 9:30am-11.30am
Fri : Closed
Kota Bahru Tourism information center 609-748 5534, Jalan Sultan Ibrahim, Kota Bharu.
or
For more information please contact Pejabat Tourism Malaysia Kelantan, Kg Kraftangan, Jalan Hilir Balai, 15300 Kota Bharu, Kelantan, Phone: +609-747 7554 Fax: +609-747 8010
homepage > Kelantan
2007 Events

<![if !supportEmptyParas]> <![endif]>

Traditional Game Performance every Monday, Wednesday, Saturday until September, Kota Baru Cultural Centre

<![if !supportEmptyParas]> <![endif]>

Fishing Competition, Pantai Seri Tujuh, Tumpat

,

End of February, May and July

<![if !supportEmptyParas]> <![endif]>

Handicrafts and traditional cooking exhibition, Kota Baru Handicraft Village

,

March

<![if !supportEmptyParas]> <![endif]>

Floral Fest, Pengkalan Chepa Orchid Park, Kota Bahru

,

April

<![if !supportEmptyParas]> <![endif]>

Dikir Barat Competition held in conjunction with the Sultan of Kelantan's birthday, Sultan Muhammad IV Stadium in Kota Baru, April

<![if !supportEmptyParas]> <![endif]>

The Art of Bird Singing, Gelanggang Seni Suara Burung, Lubuk Jong, Pasir Mas

,

April

<![if !supportEmptyParas]> <![endif]>

The Royal International Go-Kart Competition, Gunung, Bachok

,

April

<![if !supportEmptyParas]> <![endif]>

Songkran Water Festival, Tumpat

,

April

<![if !supportEmptyParas]> <![endif]>

Kelantan Water Festival, Tumpat

,

April

<![if !supportEmptyParas]> <![endif]>

Kelantan International Kite Festival, Pantai Seri Tujuh, Tumpat

,

May

<![if !supportEmptyParas]> <![endif]>

Candik Singing Competition, Kota Baru

,

May

<![if !supportEmptyParas]> <![endif]>

The Cultural Star Kelantan Talent Competition, Kota Baru Cultural Centre

,

June

<![if !supportEmptyParas]> <![endif]>

Candik Singing Competition, Kota Baru

,

June

<![if !supportEmptyParas]> <![endif]>

The Cultural Star Kelantan Talent Competition, Kota Baru Cultural Centre, June

Candik Singing Competition, Kota Baru, June

Nenggiri Whitewater Adventure & Treasure Hunt, Call 09-7485534/3543, Nenggiri River, Gua Musang, June

Monkey Coconut Plucking Competition, Kundur Beach, Kota Baru, June

Citrawarna Malaysia (Colours of Malaysia Festival), Kota Baru, June

Royal Kelantan Horse Endurance Competition, Gunung Bachok, June

Kelantan Marine Fest, Pantai Seri Tujuh, Tumpat, June

Kelantan Traditional Food and Fruit Fest, Kota Baru, June

Merdeka Fishing Competition, Perdana Resort, Kota Baru, June

The Asean Ayam Serama Competition, Kota Baru Cultural Centre, Sept

Kelantan Cultural Fest. Sultan Muhammad IV Stadium, Kota Baru, Sept

Independence Day Song Bird Competition, Lubok Jong, Pasir Mas, Sept

Kelantan Festival, Sultan Muhammad IV Stadium, Kota Baru, Sept

The 100 Rice and 100 Kuih Fest, Kota Baru Cultural Centre, Sept

Kelantan Marine Fest, Pantai Seri Tujuh, Tumpat, Sept

Nenggiri International Challenge, Nenggiri River, Gua Musang, Sept

Kelantan Traditional Food and Fruit Fest, Kota Baru, Sept

Loy Kratong (Release of small hand carved floats into river) Tumpat, Sept

World War Two Memorial Day, Kota Baru, Sept