Sabah
Negeri di bawah bayu (Land below the wind)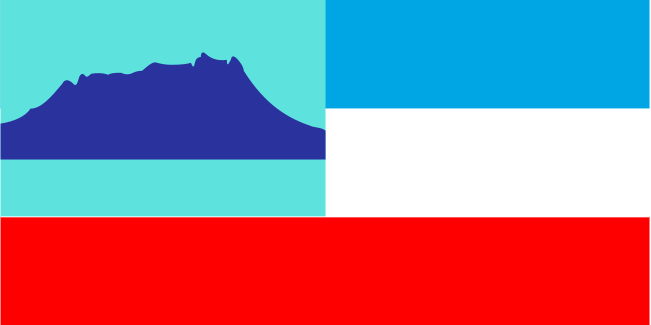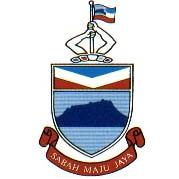 ---
Sabah is known as the Land below the wind because it is located below the typhoon and monsoon belt. Sabah is the second largest state in Malaysia and is one of two Malaysian states on the island of Borneo. Situated on the north of the island, Sabah is smaller than its sister state, Sarawak, which it borders on the west. The southern part of the island, called Kalimantan, belongs to Indonesia. The state capital is Kota Kinabalu, formerly known as Jesselton. Before the forming of Federation of Malaysia, Sabah was a British crown colony known as North Borneo. It was administered by the British North Borneo Company. In WWII, Jesselton was razed by the retreating British before Japanese occupation. Just three years later, it was again bombed by the Allies to push them out of Borneo.
Sabah is generally mountainous, with the Crocker range of central mountains overlooking the coast. Mount Kinabalu, in central Sabah, is the highest yet most accessible mountain in Southeast Asia. These mountains and several lower ranges of hills are traversed by an extensive network of river valleys and are mostly covered with dense tropical rainforest. Over three quarters of the population inhabit the coastal plains. The largest non-indigenous ethnic group is the Chinese, with 20% of Sabah's population. The largest indigenous ethnic group is the Kadazan-Dusun with 30% of the total population, followed by the Bajau 15% and the Murut 3%. Malay is the national language spoken across ethnicities. English, Chinese Mandarin as well as the Chinese dialects of Hakka and Cantonese are widely understood. The indigenous ethnic groups each have distinct languages. The people of East Malaysia are generally known for their genuine friendliness and down to earth attitude.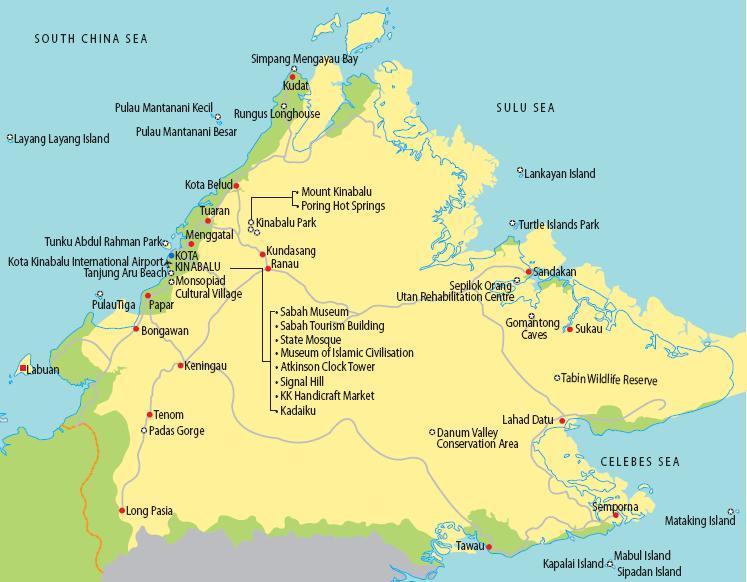 Sights - in the city of Kota Kinabalu (KK)ê > Go to Malaysia Map for Kota Kinabalu City Map
Sabah's capital Kota Kinabalu, or KK in short, sits on the edge of the South China Sea overlooking a cluster of coral-fringed islands. With the Crocker Range as a backdrop and the cloud-shrouded peaks of Mount Kinabalu in the far distance, the modern suburbs stretch for many kilometres along the coast and inland. It is Malaysia's fourth-largest city and the largest city in Borneo. This is one of the gateways to Sabah state and Borneo and where you can organise some of your tours.
Sabah Museum is a modern four-storey building following the designs of longhouses of the Rungus and Murut tribes. There are good collections of tribal and historical artefacts, Sabah's butterflies and insects; and a 'time tunnel' showcasing the history of KK. The top floor is devoted to Muslim history. Tel: (6088) 253199, Fee RM5, 9am-5pm, Sat –Thu. The adjoining science centre has an informative exhibition on the petroleum industry. The art gallery features shows and arts by local artists. To get there, catch a bus along Jalan Tunku Abdul Rahman and get off just before the mosque. The State Mosque is impressive from a distance and is some distance from central KK. It is south of the city centre past the Kampung Air stilt village, not far from the Sabah Museum; It is visible when traveling to or from the airport. The Atkinson clock tower, built in 1905, stands on a low hill near the main police station on Jalan Balai Polis, close to the city centre. It is one of few structures to survive the Allied bombing of Jesselton in 1945. The Kota Kinabalu City Bird Sanctuary was opened in 2000 and covers 24 hectares of mangrove swamp in KK suburb of Likas northeast of the city centre. Some 80 species of resident and migratory birds have been recorded here. Here you can view the majestic purple herons from a blind in the northwest section of the reserve. A 1.78km-long boardwalk, interspersed with resting huts, observation towers, and an outdoor classroom have been built for the convenience of visitors. You can rent a pair of binoculars for RM5 or loan books on birds from the small library. It is best visited during morning or late afternoon from September to April. The North Borneo Railway is a luxurious ride on a refurbished wood-burning Vulcan steam train going as far as Papar and back. It leaves Tanjung Aru, KK at 10am and returns at 2.30pm. www.northborneorailway.com.my. (Train & Track closed for maintenance till late 2007) Tel : (6088) 263933. Fee Adult/Child RM180/130 with lunch. Operates on Monday, Wednesday and Saturday. The old stilt village of Kampung Air has shrunk to its current size after being cut off from the sea by land reclamation. It is located south of the city centre off Jalan Lebuh Raya Pantai Baru.
KK tour operators & travel agencies
Looking for some adventure, whether it is Snorkeling, Scuba Diving, Mountain Climbing, Jungle trekking, River Rafting, River travel, Kayaking, Animal viewings such as turtle hatchery, Orang Utans, Proboscis monkeys, Homestays, Cultural trips to local longhouses and others, arrange them with experienced and well equipped travel/tour operators.
Borneo Eco Tours, Tel : (6088) 234009; www.borneoecotours.com; 2nd Floor, Shop Lot 12A, Lorong Bernam 3, Taman Soon Kiong. Near Sabah Golf & Country Club, Southeast of city centre. A Borneo specialist, there are many tours to suit one's taste and wallet.
Borneo Adventure Tel : (6088) 238 731, 238732, www.borneoadventure.com; 5th Floor, 509-512 Gaya Centre. Established in 1987, this award Winning company has professional staff and interesting itineraries. One of the top tour operators.
Borneo Wildlife Adventure Tel : (6088) 213668; www.borneo-wildlife.com; 1st Floor, Lot F, GPO. Arranges tours throughout Sabah, including day trips outside KK.
Wildlife Expeditions: Tel: (6088) 259701; www.wildlife-expeditions.com; 1st Floor, Wisma Sabah, Jalan Tun Fuad Stephen, 88000 Kota Kinabalu. Specialising in wildlife and rainforest trips such as Kinabatangan tours and Sukau River Lodge stays.
Intra Travel Service: (6088) 261 558, www.intra-travel.com.my; Level 1, No.5 Airport Terminal 2, Jln Old Airport . Specialise on trips to Tabin Wildlife Reserve.
Borneo Divers : (6088) 222226, www.borneodivers.info; 9th floor, Menara Jubili, 53 Jalan Gaya. A diving specialist with the longest-established diving outfit, with courses and a dive shop at Wisma Sabah.
Riverbug or Traverse Tours Sdn Bhd, Tel: 088-260501 / 260502 , www.trasversetours.com, Lot 227 – 229 2nd Floor, Wisma Sabah.
Borneo Sea Adventures. Tel: 088 230000; www.bornsea.com 1st Floor, 8A Karamunsing Warehouse.
Places to Stay in KK
Backpacker Lodge. Tel : (6088) 261 495, www.welcome.to/backpackerkk, Price : RM18-40
Trekkers Lodge Pantai. Tel : (6088) 213 888, www.trekkerslodge.com, Price : RM17-43
Kinabalu Daya Hotel. Tel : (6088) 240000, www.kkdayahotel.com, Price RM78-88
Mandarin Hotel. Tel : (6088) 225222, Price RM50-70
Ruby Inn. Tel: (6088) 213222
Diamond Inn. Tel : (6088) 261222
Hotel Shangri La. Tel : (6088) 212800, Price RM185
Hotel Capital. Tel : (6088) 231999, Price RM85
Hotel Deleeton. Tel : (6088) 252222, Price RM130-180
Winner Hotel. Tel : (6088) 243 222, Price RM55-65
Wah May Hotel. Tel : (6088) 266118, Price RM60-70
High Street Inn. Tel : (6088) 218111, Price RM60-70
Shangri-La Tanjung Aru Resort. Tel : (6088) 225800, www.shangri-la.com, Price RM370
Hyatt Regency Kinabalu. Tel: (6088) 221234, www.kinabalu.regency.hyatt.com. Price RM310
Promenade Hotel. Tel : (6088) 265555, www.promenade.com.my, Price RM270
Jesselton Hotel. Tel : (6088) 223333, www.jesseltonhotel.com, Price RM280
Magellan Sutera. Tel : (6088) 312222, www.suteraharbour.com, Price RM565
Pacific Sutera. Tel: (6088) 318888, Price RM400
Beverly Hotel. Tel : (6088) 258998, Price RM280
Transportation
By Air : Malaysian Airlines has regular flights to KK airport at Tanjung Aru, which is the main gateway to Sabah. It is conveniently located close to the city at just 7km southwest of the city centre. From there, there are regular flights to Bintulu, Kuching, Pulau Labuan, Lahad Datu, Miri, Sandakan, Sibu and Tawau. Go to www.malaysiaairlines.com. A cheaper alternative is budget airlines www.airasia.com with tickets about half the price.
By Car : Cars can be rented form rental booths near the taxi stand at the airport. Renting a car is a lot easier as public transport to remote areas is limited.
By Bus : There are 2 bus stations.
One on Jalan Tunku Abdul Rahman southeast of the municipal offices. Express Busses, minibuses and minivans leave for Beaufort, Keningau, Kota Belud, Kudat, Lahad Datu, Lawas, Mt Kinabalu, Ranau, Sandakan, Semporna, Tawau and Tenom.
The other behind Centre Point is a busy minibus and minivan depot going to Beaufort, Kampung Likas, Keningau, Kudat, Papar, Ranau, Tambunan and Tuaran.
By Taxi : Taxis run the routes of minivans. The taxis leave only when full. Although pricier, they are faster and more comfortable. There are plentiful of taxis in KK. From the airport, there is a taxi desk on the ground floor where a fixed price coupon of RM20 for a cab to KK.
By Train : Tanjung Aru train station Tel : (6088) 254611 is 5km south of the city centre, close to the airport. The lines are not extensive and runs only to Tanjung Aru, Papar, Beaufort and Tenom.
Sights - Sabah's other attraction
Tunku Abdul Rahman National Parkêê Five islands and its reefs make up of the National Park just a short distance west of KK. The travel there takes less than half and hour and islands are quite pleasant. Although the corals are not spectacular here, the water is crystal clear and there are still some coral fishes to be seen. It is also a great place to relax. The islands are noted for their shallow waters which make them into a huge natural swimming pool. The waters are warm during March until October. During the cooler months from November to February, plankton blooms attract krill which in turn attract whale sharks, the world's largest fish. You may be lucky enough to spot one during these times.
Pulau Manukan It is a fairly large island and is largely covered by dense jungle. It is the most popular destination and has well developed facilities. The southern and eastern shore has some nice corals. Some beaches has shallow waters which stretches quite far out into the sea, making it a pleasant place to swim and spot a clown fish or the occasional puffer fish or turtle. The sandy beaches are also wonderful. Places to stay is the Manukan Island Resort. Tel:(6088) 243 629, www.kinabalunatureresorts.com. Price :RM230. The island is served by the Coral Garden Seafood restaurant.
Pulau Gaya At 15sq km, it is the largest island in the park and mainly covered by dense tropical forest. There are about 20km of hiking trails and a good stretch of white sandy beach at Bulijong Bay. Animals like monkeys, pangolins and bearded pigs all reside on this island. The Marine Ecology Research Centre here can be visited. The aquariums are cleaned on Mondays and Thursdays and thus closed until 6pm. www.gayana-ecoresort.com/merc;Gayana Eco Resort, Fee Adult/Child RM9/7. 9am-9pm. There is a large stilt village in front of Pulau Gaya and it is mainly inhabited by Filipino refugees. A boat can be hired to to the village but safety can be a concern. A interesting place to stay is the Gayana Eco Resort, which are tatched bungalows sitting on stilts over the water. It is a research centre within Gayana promoting giant clam breeding and reef rehabilitation. You may visit these research centres. Tel (6088) 301131 or (6088) 245 158(Wisma Sabah, KK), www.gayana-ecoresort.com, Price RM156-200. You can also camp on this island. See camping link.
Pulau Sapi Located at southwest of Pulau Gaya, Pulau Sapi has some of the best snorkelling in the park. This small island has good beaches and a nature trail. There are no accomodations on this island but you can camp here. See camping link.
Pulau Mamutik This is the smallest and least visited island. There are nice corals and marine life at the northeastern tip. Scuba diving is a popular activity here. There are no accomodations on this island but you can camp here. See camping link.
Pulau Sulug It is also one of the lesser visited island as it is the furthest. Sulug Island at 8 hectares is the least developed, with an untouched quality that makes it attractive to those seeking a more tranquil atmosphere. The shoreline is rocky with beautiful patches of coral at the southern end.
Getting there
Boats to the islands can be arranged at the KK ferry terminal. Boats leave when they are filled up. Manukan is the most popular destination and cost RM14 return. The other islands cost RM20.
Lok Kawi Wildlife Centreê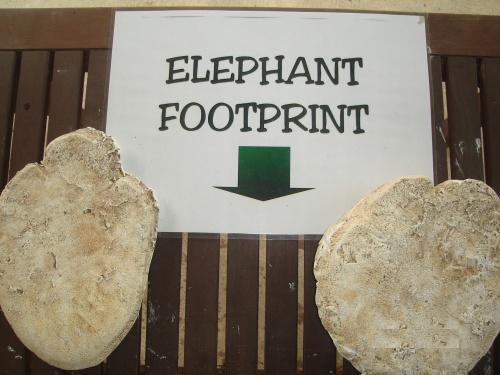 Located 15km south of KK, the Lok Kawi park, combining a zoo and botanical garden was opened in February 2007. Developed and managed jointly by the Sabah Wildlife and Forestry departments, the 70ha park showcases Sabah's diverse wildlife including the Borneo pygmy elephants, orang utans, proboscis monkeys, Sumatran rhinos and bear cats. Costing nearly RM30mil, the park also features a children's zoo with domesticated animals such as ponies and goats as well as a 1.4km walking trail. There is also a 2-acre bird park netted with wire mesh and a modern children playground for energetic children. Malaysians above the age of 18 would have to pay RM10 to enter the park while children would be charged a RM5 entrance fee. A RM20 entrance fee would be levied for foreigners and RM10 for their children. Students wearing their uniforms can enter the park for free. The town of Lok Kawi also features one of the few Hindu temples in Kota Kinabalu, the Sri Subramaniyar Temple.
Pulau Layang Layangêê This island is located 300km northwest of KK near the disputed Spratlys group of 600 islands, reefs and atolls in the South China Sea. It is a tiny man made island surrounded by an atoll 14 sq. km. in diameter and jutting 2000 metres from the Ocean depths. In 1985, the Malaysian Federal Government began reclamation works and created a 50-acre island on one part of the reef. The diving here is excellent particularly down the 2000 metres wall. Large shoals of pelagics, including massive numbers of barracuda, tuna, jacks and the hammerhead shark frequent these waters. Tour operators have reported awesome schools of hammerhead sharks numbering a hundred regularly visit Layang-Layang. Manta rays with fin spans of over 10 feet are also found here. Other residents include the Napoleon Wrasse, Hawksbill turtles, Dog tooth tuna, Giant hammerhead wrasse and the White tip reef sharks. Access to the resort and dive areas is only possible out of monsoon periods of February and October. The island is also a breeding ground and resting place for sea birds such as migratory swallow, egret, brown foot bobbi and crested terns. There is one resort on the island, the Layang Layang Island Resort. Tel : 603-2162 2877, www.layanglayang.com. Some of the KK tour operators can be contacted to arrange tours.
West of Kota Kinabalu
The Crocker Range is a National Park which still has some good stands of intact forest. It is a mountainous area stretching from Tenom in the south and peaking in the north at massive 4095m Mount Kinabalu. A highway climbs steeply from KK over to Ranau then goes south to the central valley towns of Tambunan, Keningau and Tenom. From here, you can travel eastward to Batu Punggul.
Tambunan Rafflesia Reserveê The Rafflesia is the world's biggest flower and known to grow up to 3 feet or 1m in diameter and can weight 15pounds or 7kg. The flower emits a stench of rotting flesh and some even heat, mimicking a newly dead animal, to attract carrion flies and help in pollination. The plant itself is parasitic and grows within the stems of jungle vines. Researchers say that its lineage dates back roughly 100 million years to the Cretaceous Period, the last act of the Age of Dinosaurs when flowering plants are believed to have first appeared. What was surprising was that they are nested within this group of plants with absolutely tiny flowers. This family, called Euphorbiaceae, also includes the poinsettia, Irish bells and crops such as the rubber tree, castor oil plant and cassava shrub, the researchers said. There are 12 or so species of rafflesia found only in Borneo with several species unique to Sabah. Although by no means guaranteed, the best opportunity to see one of these wonders is to visit the Tambunan Rafflesia Reserve. It is a good idea to call The Rafflesia Information Centre for any blooming. (6087) 774691, Free Admission, 8am-4.30pm. There are cool pleasant walks in the jungle and the Sensuron Waterfall is just 4km from the information centre.
Places to stay
Gunung Emas Highlands Resort, Tel : (6088) 215499, Price :RM60-80
Gunung Alab Resort, Tel : (6088) 302279, Price RM35-45
Getting There
From Kota Kinabalu, take a Tambunan or Keningau minivan to the reserve at RM10. The minivans are rather frequent until dusk.
Tambunan 81km east of KK and across the Crocker Range is Tambunan, the first settlement in this region. It is also the home of folk hero Mat Salleh, who rebelled against the British in the late 19th Century. However, he was killed by his own people after negotiating a truce with the British. His gravestone is located off the main road 750m north towards Ranau. The surrounding hills and farms makes this place a pleasant stop. A good time to visit is in May when Pesta Kaamatan or Harvest Festival takes place. Visit the Mawar Waterfall in the Crocker Range. To get there, head towards Ranau; 7.5km past the turn-off to KK there is a sign 'Air Terjun Mawar'. Turn left and keep going. There is a homestay programme in the village here. Please see homestay link for details.
Places to stay
Tambunan Village Resort Centre, Kampung Keranaan. Tel : (6087) 774076, Price RM100-120. Trips to Mt Trus Madi can be arranged here.
Getting There
From Kota Kinabalu, take a Tambunan or Keningau minivan to the reserve at RM10. The minivans are rather frequent until dusk.
Mt Trus Madi This is Sabah's second highest mountain after Mount Kinabalu. The 2642m-high mountain has a couple of muddy trails that are treacherous. Trekkers must be well equipped with own equipment and food. You can hire a guide or get maps and assistance from the Forestry Department at the district office in Tambunan. (Jabatan Perhutanan 6087 774691). There are camping spots halfway up the mountain and on the summit. Starting from the bottom, it can take three days to get to the top. It is also possible to take a 4WD up to 1500m and complete the rest of the climb within five to seven hours. Trips can be arranged at Tambunan Village Resort Centre, Kampung Keranaan. Tel : (6087) 774076, Price RM500 per day per group, includes rental of 4WD, provisions and guide hire. To get to the mountain from Tambunan, take the road towards Kaingaran. Past Kampung Batu Lapan, then head southeast.
Tenom Tenom is a pleasant valley and home to the friendly Murut people.(Ironically, the last indigenious people to renounce headhunting) Farming is the mainstay here with vegetables, soya beans, maize and cocoa being grown in this fertile soil. Tenom is a compact town. Apart from a relaxing stay, there is the Sabah Agricultural Park located at Lagud Seberang spreading over 1500 acres of land. There are 3,538 plant species including trees, fruit trees and flowers and seeing everything in detail could take days. Highlights include one of the largest collection of orchid species, at the specially designed garden such as the Hoya Garden, Tenom Orchid Centre, Native Orchid Centre, Hybrid Orchid Centre and others. To travel the park, bicycles can be rented for RM3 for first hour and additional RM1 for subsequent hour. Alternatively, take the guided tour on the tractor-trailer. The park is an expansion of a former Orchid Centre, established by a British man, Anthony Lamb, who spent many years in Borneo. For overnight stays there is a hostel for rent at RM25 per night and a camping ground for RM10 per person. Sabah Agricultural Park or Taman Pertanian Sabah, Tel : (6087) 737952, 737558, Price : Adult/Child, RM25/10, 9am-5.30pm, Tue-Sun. Minivans from Tenom head to Lagud Seberang frequently. The park entrance is about 1km off the main road. Taxis can be hired for the trip to the park. Visitors to Tenom can also visit the Murut Cultural Centre, which is a replica of a Murut Longhouse. It showcases the local Murut traditions of old and can be reached by a 10 minutes journey on the road towards Beaufort. Tenom is one of the final stop for trains coming from KK. The stretch of line along Sungai Padas from Tenom to Beaufort is quite scenic and worth the 2 1/2 hour trip.
Places to Stay
Hotel Sri Perdana, Tel : (6087) 734001, Price : RM30-40
Orchid Hotel, Tel : (6087) 737600, Price : RM42-48
Hotel Perkasa Tenom, Tel : (6087) 735811, Price : RM65
Getting there
By Road : Minivans are parked near the field or town square and Hotel Sri Perdana, where most are going to Keningau, KK and Tambunan. Taxis wait near the Hotel Sri Perdana, which make trips to Keningau, Ranau and KK. Express buses leave daily for KK from the train station at 7am, noon and 4pm..
Train : Tenom is one of the final stop for trains coming from KK. The stretch of line along Sungai Padas from Tenom to Beaufort is quite scenic and worth the 2 1/2 hour trip. There is no air conditioning and delays can be expected.
Batu Punggulêê Bordering Kalimantan, Batu Punggul is a beautiful jungle-topped limestone massif complete with caves. It can be long and expensive to get to but you will be rewarded with a uncrowded geological wonder. Cave exploration is fair with the usual stalactites, stalagmites and bats. The Rafflesia, the world's largest flower, can be found near the caves and the area is also home to wild orchids. It is possible to climb to the top of the massif for panoramic views of the surrounding forest. At night, there is some impressive music from the 'jungle symphony'. The trip involves a long ride over rough logging roads via Keningau to the village Matiku and Sapulut, followed by a three to five hours boat ride along the winding and jungle-lined Sungai Sapulut. The place to stay is the Batu Punggul Lodge. Accomodation on these traditionally styled Murut longhouse or native huts(Sulap) can be arranged with the Rural Development Coporation. Tel : (6088) 440158 in KK. Tours to Batu Punggul can be arranged with the KK tour Operators, such as Borneo Eco Tours or done independently. Minivans and 4WD leave from Keningau or Tawau for Sapulut. The boat rides to Batu Punggul cost RM250 per boat.
Beaufort White water rafting the Sungai Padas is the main event here. Rafting trip can be organised with KK tour operators as a day trip. See KK Tour operators above. The train trip from Beaufort to Tenom, along Sungai Padas, is quite scenic and worth the trip. Take the normal daily service operated by the Sabah State railway department. Beaufort town itself offers little but the wooden shophouses can be charming. The open-air market, locally known as Tamu is held weekly on every Friday evening till Saturday afternoon. Local produce such as fresh fruits, vegetable, fresh meat and live poultry are sold.
Places to stay.
Beaufort Hotel. Tel: (6087) 211911, Price : RM42-56
Mandarin Inn. Tel : (6087) 212800, Price : RM35-42
Getting there
By Road : Buses and minivans gather along Jln Pasar Awam in the town centre, behind the Beaufort Hotel, arrive and leave for the other major Sabah towns such as KK, Lawas, Sipitang, Kuala Penyu, Papar, Membakut and Menumbok.
Klias Wetlandê Located at the Klias Peninsula 120km south of KK, this mangrove swamp is rich in riverside wildlife and birds. Bring your binoculars as you will get a chance to see the proboscis monkeys, long tail macaque and silver languor monkey, crocodiles, as well as a variety of birds. It is recommended to engage a tour operator for this tour. A trip to Klias Wetland is usually a day trip which normally starts in the afternoon at 3pm and departs from the Kota Klias Jetty. One tour operator cum lodging is the Tempurong Seaside Lodge Tel :(6088) 773066. Price RM110 per night stay with 3 meals. It has a basic relaxing setup with seaside view of the South China Sea. To get here requiring taking the minivans or minibuses to Kuala Penyu town.
Pulau Tiga National Parkêê Located just 45km south of Kota Kinabalu, Pulau Tiga means 'Three Islands' and was created out of volcanic eruptions in 1897. Covering a total area of 15,864ha., this park was gazetted in 1978 to protect its pristine natural environment. The main Island, Pulau Tiga, is a 15sq km island with some fine sandy beaches and good snorkelling. The marine park is also a good spot for scuba diving. Please see diving link. On the summit of the island, there are several small mud
volcanoes spewing cool, mineral rich mud. The notion that this mineral rich mud is good for your skin makes mud bathing a must-do activity in this island. Pulau Tiga was also the location for the reality TV show 'Survivor' and is now nicknamed as Survivor Island. The second island, Pulau Kalampunian Damit is nothing more than a large rock, and hosts to hundreds of deadly but timid sea snakes(sea kraits). The 'Snake Island' is visited by tourists by boat but it pays to see where you are stepping and be extra careful not to disturb the snakes. The third island Pulau Kalampunian Besar is a small sand cay built up from unconsolidated coral fragments popular with the many species of birds including the Megapodes, the Great Crested Terns, pigeons and sea eagles.
Places to stay
Pulau Tiga Resort
Mailbox A236, A1103, 11th Floor, Wisma Merdeka, Jalan Tun Razak
88000 Kota Kinabalu,Sabah, Tel: +6088-240584
www.pulau-tiga.com
Getting There
To travel to Pulau Tiga, one has to take a 30-minute boat ride from Kuala Penyu, a small settlement located at the tip of the Klias Peninsula, about 2 hour's drive from KK. From KK you can also take minivans to Kuala Penyu from behind Centre Point. Other ways of getting there is by chartering a speedboat from Kota Kinabalu and cruise to Pulau Tiga or fly to Labuan Island and charter a boat from there. Both journeys take about 90 minutes.
North of Kota Kinabalu
Tuaran North of KK, 33km away is the bustling town of Tuaran. There is a distinctive nine-storey Chinese Pagoda. Close by are the Bajau stilt villages of Mengkabong Water Village and Penimbawan. The Bajau is second largest ethnic group in Sabah and make up about 15% of the state's population. They are sometimes referred to as the Sea Gypsies. Those who chose to leave their sea-faring ways become farmers and cattle breeders. These land Bajaus are nicknamed 'Cowboys of the East' for their equestrian skills. To get to Mengkabong Water Village, turn-off 2km before Tuaran. The more attractive Penimbawan can be reached by minivan to Serusup from Tuaran. You then need to charter a boat at the Serusup jetty for a 15 minute river ride up to the village.
Places to stay
Sulaman Lake Resort, Tel : (6088) 791500. Price RM60-70
Sabandar Bay Resort, Tel : (6088) 787722. Price RM260-480
Shangri-La's Rasa Ria Resort, Tel : (6088) 792888. Price RM325-850
Getting there
Minivans travel regularly between KK and Tuaran, and from Tuaran to tamparuli, Mengkabong and Kota Belud.
Kota Beludê The Tamu or Sunday Market weekly bazaar at Kota Belud has a carnival atmosphere. Every Sunday, villagers and horsemen dressed in traditional garb ride in from the countryside to trade their produce. Apart from the Bajau, the Dusun, Bajau, Irranun, Obian Muslims and Chinese traders congregates here to barter or purchase goods. It is also a social occasion to catch up on the latest news and stories. A wide array of produce can be found here including mountain-grown vegetables, wild orchids, chilli-laced dried fish, lucious tropical fruit and edible seaweed. Unfortunately, tribal handicrafts and traditional clothing is rarely sold here.
Places to Stay
SIU Motel, Tel : (6088) 976617, Price RM25-86
Getting There
The usual minivans and share-taxis is located at the bus station in front of Pasar Besar, the old market. Many ply the KK-Kota Belud route and leave when full. To get to Kinabalu Park from Kota Belud, take the minibus going to KK and get off at Tamparuli. Minivans travel from Tamparuli to Ranau, which passes the park entrance.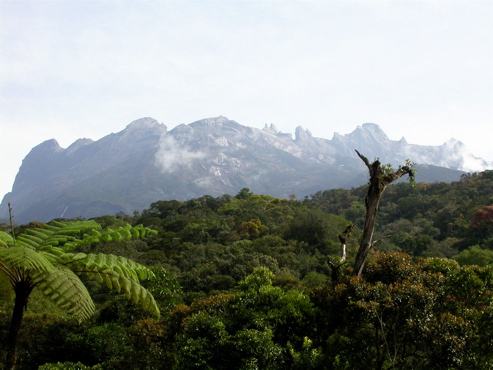 Kinabalu National Parkêêê Designated a Unesco World Heritage Site in 2002, Kinabalu Park is a botanical paradise. It has a very wide range of habitats, from rich tropical lowland and hill rainforest to tropical mountain forest, sub-alpine forest and scrub on the higher elevations. The Park contains high biodiversity with representatives from more than half the families of all flowering plants. The majority of Borneo's mammals, birds, amphibians and invertebrates (many threatened and vulnerable) occur in the Park. Towering above the park is the 4095m high Mount Kinabalu, the highest mountain between the Himalayas and New Guinea. Mount Kinabalu is one of the easiest mountains to climb. Thousands of people of all ages and fitness levels scale the many steps and pathways leading to the summit every year.
Kinabalu Park headquarters is set in gardens with a view of the mountain. Entry to the park is RM15 for Adult and RM10 for Children. The are many jungle trails surrounding the park for seeing the beautiful forests if you do not intend to climb the mountain. At 11am, a guided tour starts out from the park office and lasts for more than an hour. The guide will point out the plants and animals along the way. A fee of RM3 is charged. A mountain garden, located behind the visitors centre opens at 9am, noon and 3pm. A fee of RM5 is charged.
The climb to the summit of Mt Kinabalu normally takes two days. Most people climb to Laban Rata Resthouse at 3300m on the first day for a nights stay, and leave at 3am to the summit at dawn the next day to watch the sunrise at 6am. By 10am or 11am, you should be heading down, although most people leave much earlier, at 8am or 9am.
A climbing permit and insurance, RM3.50 is compulsory. For foreigners, the fee is RM100 for adults and RM40 for ages under 18. A guide is compulsory if you intend to go beyond Laban Rata, that is to the summit. Guide fees range between RM60-70 per day, depending on how many people are going. The guides are usually Kadazan from local villages. Porters can be hired to carry loads up to 10kg and charge RM70/80/90 to Panar Laban, Sayat Sayat and the summit.
Be prepared and build up your stamina before the climb, as it is uphill all the way. There are 2500 endless steps to Laban Rata Resthouse. It becomes steeper as you near the summit and the trails become slippery granite. The thin air thin in oxygen may cause altitude sickness for some people. There are signboards lined along the trail to show your progress and a marker every 500m. Rest shelters or Pondok can be found at regular intervals and have washrooms and drinking water.
Temperatures at higher elevations is refreshingly cool during daytime, averaging 20 degress celcius, and cold at night at around 13 degrees celcius. Temperatures can drop to freezing above 3500m. Ice sometimes form in the rock pools near the summit. You will need warm clothes such as jackets, woollen hat, gloves and long pants if you plan to reach the summit. Dress in layers so you can take off and put on clothes as necessary. Please see packing tips.
Mesilau Nature Resortêê is 20km from the park headquarters and the second entry point to Mount Kinabalu. It is a slightly longer trek but there are less crowds and has more sightings of pitcher plants. Arrange your trip with Kinabalu Nature Resorts 088-243629, www.kinabalunatureresorts.com, and your guide will meet you at Mersilau.There are domitory beds(RM30) and lodges costing RM350 for accomodation. A taxi or minivan can be hired to Mersilau from Kinabalu Park headquarters.
Places to stay
To help acclimatise to the altitude earlier, you can stay a night at the park one day in advance. You can call Kinabalu Nature Resorts Tel : (088-243629, www.kinabalunatureresorts.com) in KK, for bookings.
Park Headquarters
Medang Hostel (46 beds), Price RM12
Menggilan Hostel (54 beds), Price RM12
Twin bed cabins, RM92
Single-story deluxe cabins, (for 5 people), Price RM230
Annexed suites, (for 4 people) Price RM184
Double Story Deluxe Cabin (for 7 people) Price RM288
Duplex cabins (for 6 people) Price RM230
Rajah Lodge (for 10 people) Price RM1150
Kinabalu Lodge (for 10 people) Price RM414
Nepenthes Villa (for 4 people) Price RM288
On the mountain
Laban Rata Resthouse (54 beds), RM34 per person
Waras (12beds) RM17
Panar Laban (12beds) RM17
Gunting Lagadan (44beds) RM17
Outside the Park
Kinabalu Rose Cabin. Tel :088 889233; www.kinabalurosecabin.8m.com, Price : RM70
Kinabalu Pine Resort Tel :088 889388, RM125
Getting there
From KK, aircond express buses(7.30am) and minivans leave for Ranau or Sandakan. Tell them that you are going to the Kinabalu Park and they will drop you at the entrance road, 100m from the park headquarters. To go back to KK, just hail one of the buses and minivans coming from Sandakan or Ranau by 5pm.
Poring Hot Springsê With the Japanese love of hotspring, this help developed the Poring Hot Springs during their occupation of Sabah during WWII. The complex is part of the Kinabalu National Parks. Steaming, sulphurous water is channeled into pools and tubs, and surrounded by a pretty garden setting. The outdoor tubs are of different sizes and have hot and cold water taps to regulate the temperature. Private spa cabins charge RM15/20 per hour. Part of the Poring complex is the Tropical Garden(adult/child RM3/1.50), a butterfly farm (Adult/child RM4/2) and an Orchid Garden (adult/child RM10/5). You may also encounter rescued orang-utans here. There is the 40m Canopy Walkway (adult/child RM5/2.50) suspended from trees, offering fine views of flora and fauna. There are hiking trails around the springs, with Kipungit Waterfalls a short walk away. In another 15 minutes, you will reach Bat Caves. Another 2 hours away you will reach Langanan Waterfall. This trail is known among bird-watchers for spotting the blue-banded pitta. Poring Hotsprings is a popular place, especially during the weekends and school holidays. Admission to Poring Hot Sprints:(Adult/Child RM15/6)
Place to stay
You are advised to call Kinabalu Nature Resorts office Tel : (088-243629, www.kinabalunatureresorts.com) in KK, in advance for bookings. It is possible to just show up, but the Hot Springs is a popular place and a space is not guaranteed.
Kelicap Hostel(24 beds), Serindit Hostel(44 beds), Price RM12
Tempua Cabin, Price RM92
Enngang Cabin, RM115
Rajawalil Chalet, RM288
A camp Spot is available for RM6 per tent. Tents can be hired from hot springs park office for RM3.
Getting There
Poring is 19kkm north of Ranau. Minivans run from Ranau to Poring and also from the park headquarters at Mt Kinabalu to Poring three times daily. Leaving Poring, minivans depart from outside the park office. On weekends there are shared-taxis parked near the office.
Kudatê Kudat is a port town 190km north from KK. Here and the surrounding countryside is home of the friendly Rungus people. The beaches and waters around Kudat are quite good, especially Bak Bak, 11km from Kudat, and the fishing villages further north. There are some interesting longhouses around Kudat and the best known of these is Matunggung, on the highway south of Kudat. There are other longhouses found further inland from the highway. Tour operators in KK can arrange a homestay programme. Call the Rungus Longhouse Homestay Programme 088 621971. Performances such as mongigol(dance and music), mangatip-atip(bamboo show) and monguruali(nose flute) can be arranged. The Rungus elaborate beadwork can sometimes be bought at the Sunday Tamu or gathering at Sikuati, 23km south of Kudat.
Getting there
Several minivans a day leave KK for the 3hour++ trip to Kudat.
East Sabah
Sandakan Sandakan is a stopover to other destinations and has no major attractions. If you have time to spare, look for the busy waterfront and watch fishing boats, barges and ferries. The Sam Sing Kung Temple dates from 1887 and fronts the padang. Another building to see is the St Michael's & All Angels Church, built in the 19th century, which is located in the vicinity of the Padang. Head up to the observation pavilion for views over the town and bay. Sandakan is popularly known among Malaysians as a good place for seafood. Try the Ocean King Seafood Restaurant, a large restaurant perched on stilts jutting out from the shore. It is 5km west along the coast from the city centre.
Places to Stay
May Fair Hotel, Tel : 089 219855, Price RM36-45
Hotel London, Tel : 089 216371, Price RM40-50
Hotel City View Tel : 089 271122, Price RM60-90
Hotel Nak, Tel : 089 272988, Price RM60-80
Hotel Ramai, Tel : 089 273222, Price RM65-95
Seagull B&B, Tel : 089 218328, Price RM20
Hotel Sandakan, Tel : 089 221122, Price RM173-219
Sabah Hotel, Tel : 089 246149, Price RM320-340
Getting there
Sandakan is well served by flights, express buses, minivans and taxis, from Kuala Lumpur, KK and other major towns in Sabah.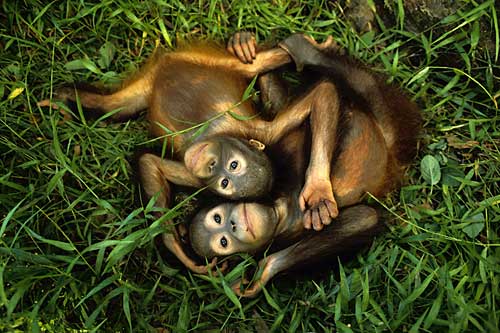 Sepilok Orang-Utan Rehabilitation Centreêê Orang Utan means 'People of the Jungle'. This centre is a top tourist attraction as the ever appealing orang-utans are a guaranteed sighting here. The centre was established in 1964 and covers 40sq km. Orphaned or injured apes are brought here for rehabilitation before returning to the jungles. The young are housed in nurseries while the bigger ones roam the rainforest. They are fed fruits, twice daily from a platform in the forest. At any one time you may see only a few turning up for feeding, as this is just to supplement their jungle food. The feeding schedule is usually at 10am and 3pm, but check at the visitor reception centre. Walk around the wooden walkway and you may encounter an orang utan or spot young orang utans playing playfully around the trees in the area. There are also walking trails leading further into the jungle with chances of seeing more of them, along with other flora and fauna. Although orang-utans are not usually aggressive, or show it outwardly, do not provoke them. There are lockers for keeping your belongings, as orang-utans have been known to relieve tourists of hats, cameras, sunglasses and even clothing. The Visitor reception centre, Tel : 089 531180; Admission RM30. 9am-12.30pm & 2-4.30pm.
Places to stay
Sepilok Resthouse, Tel : 089 534900, Price RM45/65
Sepilok Jungle Resort, Tel :089 533031; www.borneo-online.com.my/sjungleresort/ Price RM40/65
Sepilok B&B, Tel; 089 532288, Price RM45/60
Labuk B&B, Tel: 089 533190, Price RM20
Getting there
From Sandakan, take the blue bus 'Sepilok Batu 14' from the local bus stand next to the market on the waterfront. Minivans also make the trip every other hour. Regular buses marked 'Batu 14' or higher can drop you at the turn-off to Jln Sepilok, 1.5km from the orang-utan centre. You can also hire any taxi for the trip to the centre. Buses leave the centre for Sandakan until 4.30pm.
Labuk Bay Proboscis Monkey Sanctuaryê The Labuk Bay Proboscis Sanctuary offers another perfect Proboscis monkeys observation spot for any tourist who wants to have a closer look at these very rare monkeys and do not have the time to travel too far away to watch them. For those who love to watch the unique primate not found elsewhere in the world, it would definitely gives you one of the most exhilarating and memorable experience observing the Proboscis monkeys both young and adults leaping from tree to tree and eventually coming down to feed on young leaves and plants. The leaping act is superb, fast, steady, stylish and perfect. The Sanctuary is located at the centre of the mangrove forest along the coastal land near Kampung Samawang in Labuk Bay at Sandakan.
Getting there
From the airport in Sandakan, it is 38km away and takes about an hour to get there. Part of the trip will be through the graveled roads and jeep tracks of plantation estates. To get there, travel along Jalan Labuk and turn off to SPS 3 at the junction at KM23 (adjacent to the Consolidated Farms (Sabah) Sdn Bhd. The sanctuary is located 15km along the gravel road from here.
Pulau Penyu National Park(Turtle Islands National Park)ê Comprising three islands, Pulau Selingan, Pulau Bakungan Kecil and Pulau Gulisan, these islands are nestling sites for the green and hawksbill turtle. Their eggs are collected by permanent staff based on Pulau Selingan and hatched, before collectors come by to take them for sale or consumption. It is possible to see either species at anytime of the year. There is a RM10 fee charge to visitors. Visits to the islands can be arranged through a travel agency. Please see KK tour Operators.
Places to Stay
Accommodation is in chalets on Pulau Selingan. Price RM130-160.
Getting there
Tour companies will arrange for the journey from the wharf at Jln Buli Sim Sim east of Sandakan.
Pulau Lankayan (Lankayan Island)êê Lankayan Island is a virtually uninhabited island located in the Sulu Sea, just off the northeastern coast of Sandakan, Sabah. This tiny island is covered by thick tropical jungle surrounded by smooth and white sand. It has the only dive resort in Malaysia's Sulu Sea called the Lankayan Island Dive Resort and is one of the best spots for whale shark sighting. With luck, divers and snorkelers may get close to this gentle giant, although it may decide to swim away after a few minutes. During the day you can witness black-tip sharks swimming about by the beach. At night, hawksbill and green turtles may be spotted coming to shore. Among the 40 dive sites is Lankayan Wreck, the remains of an ocean-going boat that was used in illegal fishing here. Despite the remoteness, the island has all the amenities of a tropical resort. Visitors stay in bungalows, made out of local wooden materials to blend into the natural surroundings. Indeed, Lankayan is not only for discerning divers but for anyone who appreciates the tranquility of a paradise island that offers beautiful sunrise, spectacular sunsets and magnificent seascapes. Book with Pulau Sipadan Resort & Tours. www.sipadan-resort.com.
Getting there
Lankayan Island is about one and a half hour's boat ride from Sandakan.
Gomantong Cavesê The Gomantong caves are a source of the highly prized bird's nest for centuries. The Chinese believe that these bird's nest have medicinal properties and pay a premium for good quality ones. Many pregnant women would make soup out of the nest and drink them. This way the child will have good skin and behave well. During nesting season, February to April and July to September, you can watch the nests being collected from the cave roof, by men climbing long, precarious looking bamboo poles. The caves are located south of Sandakan. There is a Information centre located at the caves. Tel :089 230189. Price : Adult/Child RM30/15. 8am-noon, 2-4.30pm. The more accessible Simud Hitam(Black Cave), which contains the black bird's nest, is accessible along the trail near the information centre. The 45 minute trail, left of the office leads to the top of the mountain and to Simud Putih(White Cave). This cave contains the more valuable white bird's nest, which can fetch as much as US$500 per kilo. The area around the caves have plenty of flora and fauna. Most tour operators arrange a trip to the caves as a package with Sungai Kinabatangan.
Getting there
If traveling on your own, take the minivan from Sandakan to Sukau, and ask to be dropped at the turn-off for the caves. The ride takes about one hour forty minutes. You then need to walk the remaining 5km to the information centre. A taxi ride from Sandakan will take you straight to the centre.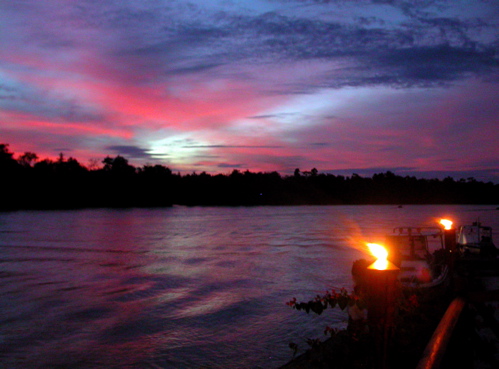 Sungai Kinabatanganêêê This is Sabah's longest river at 560km and drains over 17,000sq km of land area. A narrow corridor of rainforest line the banks of the river after logging and land clearing for plantation has taken place since the 1950's. The forests here teem with wildlife after being crowded out of their shrinking natural habitat, making it one of the best places in Malaysia to see any wildlife. There are many opportunities to view wildlife, either on river trips or on guided walks. Mammals like elephant, gaur, rhinoceros, deer, bearded gibbon, mouse deer, giant squirrel, proboscis monkey, macaque, gibbon and orang utan may show up if you are at the right place and the right time. Hornbills, pigeons, swiftlets and numerous brilliant forest birds flit about, while the waters of the river itself feed oriental darters, egrets, storms storks, herons and kingfishers. All eight of Borneo's hornbill species are seen regularly. Although logging is still ongoing, mainly upriver, in 1999 27,000 hectares in the lower Kinabatangan were declared a protected area and upgraded to bird sanctuary status in 2001. Tours to Kinabatangan can be arranged by the tour operators such as Borneo Eco Tours and many others.
Places to stay
Tour operators operate lodges near Sukau, the main village on the lower Kinabatangan. On a twin sharing basis, each lodge cost RM250-300 per night, including transportation.
Jungle Camps. Jungle Sanctuary, 019-873 4289 & Uncle Tan's Wildlife Camp 089-31917, RM150-200, 2 nights with meals and transportation.
Alternatively, stay at Sukau and hire a local guide for the tours. Tomanggong B&B, 089-230275
Getting there
Minivans travel from Sandakan to Sukau and it takes 2 hours.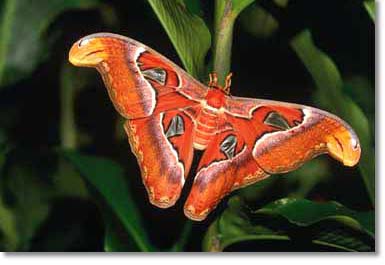 Danum Valley Conservation Areaêê Located 83km southeast of Lahad Datu in Sabah, the 438-sq. km. Danum Valley Conservation Area is one of the last remaining pockets of primary lowland rainforest in Asia. It is a rugged terrain bordered by the Danum and Segama Rivers, and forests cover over 90 percent of the area. The 60-million-year-old rainforest preserves many plant and animal species found only in Borneo. It is home to over 275 bird species, 110 species of mammals including Orang Utans, clouded leopard, five species of deer, giant flying squirrels, slow loris, gibbons, bearded wild boars, flying frogs, Bulwar pheasants, the Asian elephant and the Sumatran rhinoceros. There are a number of forest trails for which to enjoy the flora and fauna, which include swimming at refreshing waterholes. There are short trails around the Borneo Rainforest Lodge and long trails which follow Sungai Segama. One of the best climbs is up a bluff where there's an ancient hardwood coffin and the remains of bodies buried in a cliff face. Guided night walks are organised most nights with chances of seeing snakes, frogs and mammals and to enjoy the night symphony. There is also the option to take the night drives which depart the Rainforest Lodge at 8.30pm and return at 1am, where you may be able to spot most of the animals that are active at night. Many of the tour companies located in KK can arrange tours. At Lahad Datu, tour operators like the Danum Valley Field Centre Office and Borneo Nature Tours, run trips to the Danum Valley. They have offices which are located at Fajar Centre.
Places to Stay
Danum Valley Field Centre, Tel : 089-881092, Price : RM46-80
Borneo Rainforest Lodge, www.borneorainforestlodge.com. Tel : 089 880207, Price : RM690-900
Getting there
The Danum Valley is 81km from Lahad Datu. Transport provided by Field Studies Centre leaves at 3.30pm. Lahad Datu has an airport with daily flights from KK.
Tabin Wildlife Reserveêê This 1205 sq km forest reserve was created in 1984 to preserve some of Sabah's lowland dipterocarp forest and mangrove forests. This place is rich in wild life and there is a good chance to see Asian elephants and grey –leaf monkeys. Of birds species, 42 families representing 220 species have been recorded here. In 1998, the Government has privatised eco-tourism programmes for Tabin and over the last few years, increasing numbers of tourists have been coming to the reserve. Among activities permitted in the reserve are jungle trekking, wildlife viewing, photography and filming. Natural mud volcanoes are an important natural attraction for wildlife seeking salt, and these have become a bonus for visitors to see wild animals. Tours can be arranged with Intra Travel Service in KK. Independent travelers need to contact the Wildlife Department Office 089-884416 in Lahad Datu.
Getting there
Bus leaves Lahad Datu for Tomanggong in the afternoon and passes the Reserve entrance on the way. Lahad Datu has an airport with daily flights from KK.
Madai Cavesê Like the Gomantong Caves, these limestone caves are harvested for their bird's nest. At the entrance of the cave system are wooden shanties which fill up by nest collectors during collection season. The caves shelter ancestral tombs and it would be proper to seek permission from local villagers before entering. You are required to hire a local guide from the village to explore the inside of the caves. The entrance fee is RM30. The caves are near the Lahad Datu-Tawau highway. The turn off is 69km from Lahad Datu.
Getting there
All buses Lahad Datu and Semporna or Tawau pass the turn-off to the caves. Minivans can take you all the way to the caves, but you may have to walk back out to the highway.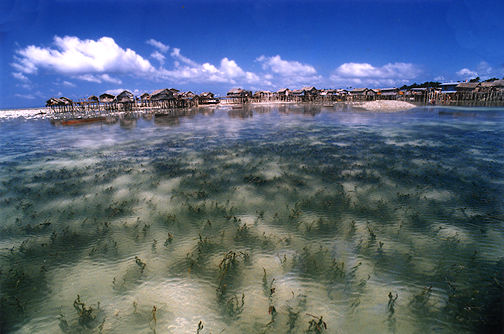 Sempornaê This mainly Bajau town is on a pretty bay sprouting sprawling stilt villages and islands with good beaches not far offshore. It is also a base for diving and snorkeling trips to Pulau Sipadan, Mabul, Mataking and Kapalai. The Dragon Inn and Semporna Tourism Centre is a large development of thatched huts on stilts over the harbour. The main event here is the yearly regatta called Lepa, where boat racers and decorated boats vie for top honours. This year, the Lepa Semporna will be held on 21st and 22nd April 2007.
Places to stay
Dragon Inn. Tel :089-781088, Price : RM83
Seafest Hotel. Tel : 089-782333, Price : RM108
Pulau Sipadanêêê The island of Sipadan is voted the top ten best diving sites in the world. It is perched on the summit of a steep underwater mountain that rises almost vertically from an abyss of 700 meters. This small island is fringed by a beautiful white sand beach which takes only half an hour to walk around. More than 3,000 species of fish have been classified here. If you do not know how to dive, you can take a course here. The best way to scuba dive is down the near vertical wall located 25m of the eastern side of the island, called Hanging Gardens. Other popular dive spots include Barracuda Point, Coral Gardens, Whitetip Avenue, Turtle Patch, South Point and Staghorn Crest. Snorkeling can be done near the jetty and around the shallow water around the island. It is easy to spot the variety of fishes and turtles. There are no accommodations on the island. In April 2000, terrorist group Abu Sayyaff kidnapped 20 hostages from the island, including a number of tourist. Since then, security has increased on this island and the surrounding waters. Diving packages and arrangements can be made with tour operators.
Sipadan Water Village Resort, Tel 089-752996, www.sipadan-village.com.my
Pulau Sipadan Resort & Tours, Tel 089-761899, www.sipadan-resort.com
North Borneo Dive & Sea Sports, Tel 089-769950; www.fortunecity.com/marina/paradise/132
Borneo Jungle River Island Tours, Tel, Uncle Chang, 019-8030988
Getting There
Boat trip for Semporna to Pulau Sipadan is included in diving packages. Hiring a fishing boat for the 45 minute trip to the island cost RM250.
Pulau Mabul êêê Mabul Island is reputed to be one of the best places for underwater macro photography in the world. Located in the clear waters of the Celebes Sea off the mainland of Sabah, it is surrounded by gentle sloping reefs two to 40m deep. Covering some 21 ha., it is considerably larger than the nearby Sipadan Island and is home to the Bajau Laut tribe, one of many ethnic groups in Sabah. Diving is the main activity on this island, and it can be done all year round. Marine life that can be seen here includes sea horses, exotic starfish, fire gobies, crocodile fish, pipefish and snake eels. There are over eight popular dive spots, each with its own specialty. Three resorts cater to scuba divers - two are on the island itself while one is on a converted oil rig platform about 500m offshore. The offshore resort is called Sipadan Water Village Resort. Sipadan Water Village is a resort beautifully constructed with Bajau architectural design. The entire resort is built over water on stilts made of Belian Wood commonly called ironwood, laid in certain points so as to minimise damage to the existing reef. In its design, Sipadan Water Village has achieved near utopia in its over-the-water layout, splendid water cottage accommodations with flowered sidewalks, wonderfully prepared Asian and Continental cuisine, and impeccable and personable service. All of the resorts provide day trips for their guests to the nearby Pulau Sipadan and Kapalai Island. To reach Mabul Island, it is a 30-minute boat ride from Semporna and 20 minutes from Sipadan Island.
Pulau Matakingêêê Mataking is an island not far from Sipadan. Located to the north of Mabul, Mataking is three times the size of Sipadan and is only a 40 minute boat ride away from Semporna on the mainland. The size of the island is about 40 acres. Indeed, it is the promised island with majestic treasures for divers, holiday makers and honeymooners alike. Back on land, the night life can be exciting watching fire flies. Green and Hawksbill turtles come up to lay their eggs in the sands of Mataking Island. During the day, bask on the snow white sandy beach and enjoy the sight of the island's coconut crab scurrying up a tree. You can also take a walk while listening to the bird's singing in exotic garden. If you prefer a bird's eye view of Mataking, climb up the King's Watchtower and enjoy the breathtaking sight. If you are more adventurous, grab a few friends and explore the lushness of the tropical island vegetation or have some fun playing beach volleyball & beach soccer. You can also stroll down the 1km sandbar that connects Mataking and Mataking Kecil at low tide. When the crystal turquoise waters of Mataking beckons, it is an offer that cannot be refused. Suit up and explore the 30 or so dive sites in and around Mataking and the surrounding islands of Pandanan, Bohayan and Buhai Dulang.
Pulau Kapalaiêêê Between Sipadan and Mabul Island lays a sandbar that sits on the reef known as the Ligitan Reefs. The reef, a very extensive stretch bordering the deep and vast Celebes Sea, is the foundation of a best-kept secret dive destination called the Kapalai Island. With all the wonderful muck diving opportunities available in the South Pacific region, Kapalai is not just another place to do it. It is where discerning divers come face to face with amazing marine creatures and skills at spotting minute and cleverly camouflaged oddities are well rewarded. Rare subjects such as cuttlefish, blue-ringed octopus, sea moths and mating mandarinfish are seen on a regular basis. Other frequently sighted creatures are the crocodilefish, lionfish and scorpionfish. Giant frogfish, ribbon eels, harlequin ghost pipefish and crab-eye gobies are seen on many of the dive sites. The jetty dive itself has plenty to offer including leaf scorpionfish, pink-eye gobies, ambonian shrimps and the comical antics of the mantis shrimp.
The sole resort occupying the island is the Sipadan-Kapalai Resort. Protruding above the water, it is elegantly built in a traditional water village style. At one end of the resort boasts a rather long sandbar of blindingly white sand where one can sunbathe in total recluse during low-tides. The resort serves great food at the open terrace and offers twin-sharing wooden chalets with en-suite baths. Guests are also able to observe the antics of squids and needlefish swimming below from the roomy balconies.
Although Kapalai is just a few minutes away by boat from Sipadan, one can expect a completely contrastable dive. Diving in Kapalai can be considered ideal for the beginners, yet diversely exciting to satisfy the most experienced diver.
Getting to the islands
Malaysia Airlines and Air Asia provide flights departing from Kuala Lumpur and Johor Bahru to Kota Kinabalu. From Kota Kinabalu you fly with Malaysia Airlines in 50 minutes to Tawau.

At the new Tawau airport you are picked up by minivan and transferred in 1,5 hours to the fishing village Semporna. If you arrive there in the afternoon it is better to stay there one night and travel to the islands on the next day.

From Semporna all operators bring their guests by speedboat to the islands.
Semporna - Mabul 30 Min.
Semporna - Kapalai 45 Min.
Semporna - Sipadan 60 Min
Homestays in Sabah
Stay in a traditional home instead of a hotel and get a feel of the kampung(village life). Please see homestay link.
For more information please contact Sabah Tourism Board; Tel : 212121, 51 jalan Gaya
or
Kota Kinabalu
Pejabat Tourism Malaysia Negeri Sabah, Ground Floor, Uni. Asia Building, No.1 Jalan Sagunting, Kota Kinabalu 88000, Sabah
Phone: +6088-248 698 / 211 732 Fax: +6088-241 764, mtpbbki@tourism.gov.my, (6)0 88 212 121
homepage > Sabah
2007 Events

Chinese New Year Carnival, Gaya Street, Kota Kinabalu

,

January

Cultural Carnival, Kota Belud

,

Jan 20,21

Fallen Heroes Memorial Service, Petagas

,

Jan 21

City Day celebration, Kota Kinabalu

,

Feb 2

Lahad Datu Cultural Carnival, East Coast

,

Feb 10, 11

World Tree Planting Day

,

Feb 22

Tourism Treasure Hunt, Kota Kinabalu, Feb 25

Sunset Symphony, Simpang Mengayau

,

March 3

Wildlife Conservation Conquest, Tabin Wildlife Reserve, Lahad Datu, March 17, 18

Cultural Carnival, Tawau

,

March 24,25

Pesta Kalimaran

,

April 7,8

Regatta, Lepa Semporna, April 21,22

Anzac Day, Sandakan

,

April 25

Wildlife Photo Hunt, Tabin Wildlife Sanctuary

,

May to July

Tadau Kaamatan (Harvest Festival)

,

May 1 to 31

International Fishing Tournament

,

May 11 to 13

Sandakan Festival

,

June 2

Dragan Boat Race

,

June 17

Pesta Rumbia (Sago Fest), Kuala Penyu, July 6-8

Nunuk Ragang Annual Visit, Ranau, July 6,7

Cultural Carnival, Sandakan, July 28

Pesta Gambus (Lute Festival), July 28, 29

Tea Adventure Race, Tea Garden, Ranau, Aug 12

50th Anniversary of Independence Day and Birthday of Sabah's Head of State Exhibition, Aug 24-Nov 18

Pesta Kelapa (Coconut Fest), Kudat, Sept 7-9

Cultural Carnival, Kudat, Sept 8,9

Malaysia Day & Birthday of Sabah's Head of State, Sept 16

Mount Kinabalu International Climbathon, Oct 6,7

Pesta Gong Matunggong, Oct 24

4 X 4 Borneo Safari, Oct 28-Nov 4

Cultural Carnival, Ranau, Nov 3,4

Pesta Jagung (Maize Fest), Kota Marudu district, Nov 10,11

7th Sabah Open Dancesport Championship

Jom Pi Taman, Agricultural Park, Tenom

Amazing Carols by Candlelight, Dec 8