Terengganu
Darul Imam (Abode of Faith)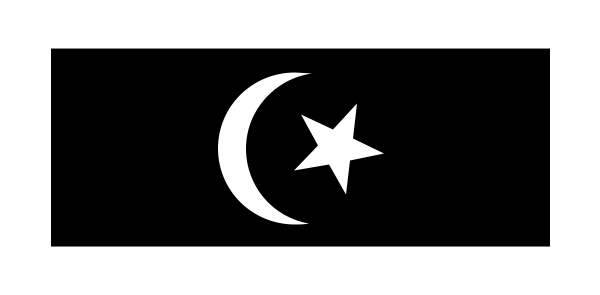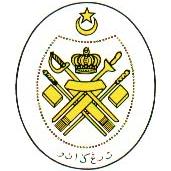 ---
Located north east of the Malaysian Peninsula, Terengganu is one of the states richest in Malay culture. It is also one of the most beautiful, with islands like Pulau Perhentian, Pulau Lang Tengah, Pulau Redang and Pulau Kapas having the best beaches in Malaysia. It is also home to the longest coastlines in Malaysia. The panoramic, white sandy beaches of Terengganu spans 244 kilometers from the District of Kemaman in the south to the District of Besut in the north. It is a wonderful place for those seeking a good time in the sun, sand and sea. One will notice the crowds and traffic congestion missing, making it a peaceful and quiet place, which is perfect for winding down. This is one of the best possible place to end your holiday in Malaysia, resting the mind and soul.
Terengganu remained fairly isolated from the rest of the country until the completion of roads from Kuala Lumpur to the east coast. Traditional activities such as kite flying, top spinning, waving of songket and batik printing are all alive and well here. Terengganu is predominantly a conservative Muslim state.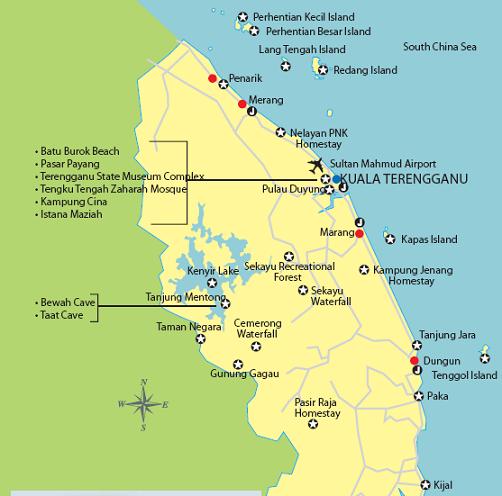 <![if !vml]>

<![endif]>
Sights - in the city of Kuala Terengganu >Go to Malaysia Map for Kuala Terengganu City Map
The State capital and the seat of the Sultan. It is a mixture of old and new and medium in size. Because of its sizable Malay community, there is abundance of Malay culture, with colourful markets and craft shops selling hand-made batik, wood carvings and songket.
Chinatown ę There are many Chinese in Kuala Terengganu, mostly descendents of early to mid 19th century immigrants, which gave rise to the Chinatown, or Kampung Cina in Malay. Many of the 195 shop houses and restaurants here are more than 100 years old and interesting to see. They form two rows in Jalan Kampung Cina, with one row with its back facing the river. In the old days, these shops facing the river used the river widely and the jetty extensions were used by boats for loading and unloading goods. Off Jalan Kampung Cina is an outdoor hawker centre where you can find cheap and tasty food. Two very old Chinese temples are Ho Ann Kiong (1801) and Tien Hok Kong (1896) is located here. These local born Chinese, similarly with the Kelantan and Melaka peranakan, are integrated with the Malay community, dressing and speaking the local Malay dialect.
Central market Located at Jln Sultan Zainal Abidin, it is a lively and colourful spot, with many kinds of food on display. The fishing boats dock right outside. Up stairs, there are batik and songket for sale.
Bukit Puteri Across the Central market is Bukit Puteri (Princess Hill), is a 200 meter hill with remains of a 19th century fort. It is a legacy of past Sultanate warfare and used to defend the state between 1831-1876. The fort has some cannons and a large bell. As it is the highest point in Kuala Terengganu, you will have a commanding view of the surrounding area. Admission is RM1. 9am- 5pm. Closed on Friday.
Pulau Duyong(Mermaid Island)ę Pulau Duyong is located just off shore of Chinatown in the estuary. Here remains one of the finest and famous traditional boat making industry in Malaysia. The boat makers are famous for their skills in building traditional boats for the local fisherman. Boat building knowledge has been passed down from generation to generation, built from memory and experience, without the use of blueprints. There used to be over 100 master boat builders but have now dwindled to around 6. One of the most famous master is Pakcik Haji Abdullah, located close to the east of Pulau Duyong. Many articles have featured him and he even appeared on TV. Today, these boat builders with their traditional Malay craftsmanship are still surviving, receiving orders from local fisherman and even foreigners. They continue to be part and parcel of Terengganu's rich and vibrant heritage of arts and craft. Visitors are welcome to visit the workshops. Pulau Duyong is also popular with its salted fish and fish crackers. From the jetty near the Seri Malaysia Hotel at the end of Chinatown, you can take a ferry ride to Pulau Duyong or if you are driving, there is a bridge that crosses over to it.
Sights - Terengganu's other attraction
The Largest Museum In Malaysia – Kompleks Muzium Negeri Terengganuęę Covering an area of 1.7 hectares, the Terengganu State Museum, located in Bukit Losong on the banks of the wide Sungai Terengganu, houses Terengganu's centuries worth of historical artifacts and artworks. The museum itself is an impressive architectural feat with majestic complexes. The highlight is the Istana Tengku Long, a wooden palace that dates from 1888 and contains displays of royal artifacts. There are also the Islamic Gallery and Crafts Gallery, to name a few. At the main entrance, the original Batu Bersurat of Terengganu is displayed to inform visitors that Islam was officially embraced as early as 1303 AD. In the museum compound, apart from the palaces, there are old traditional houses and boats prominently displayed. Tel (609) 622 1444. Adult/Child RM5/2. 9am-5pm. Closed on Friday. Located a few kilometres southwest of Kuala Terengganu, take bus 10 from the main bus station.
Highest Waterfall In Malaysia - Cemerong Waterfall The waterfall is located 30km away from AI Muktafi Billah Shah township in Dungun. Named the Chemerong Waterfall, the waterfall cascade down a 305 meters slope. It is a 1 hour trek to the falls but the route offers diverse richness of nature. The coolness and the thunderous sound of the fall soothe the weariest travelers. Ping Anchorage travels can arrange a trip to this waterfall. www.pinganchorage.com.my.
Tasik Kenyir ę The Largest Man-Made Lake In South East Asia (340 Islands and 14 Waterfalls). Tasik Kenyir is located in the interior of Terengganu and spanning 260,000 hectares, bordering Kelantan in the west and Pahang in the south. This immense lake also serves as an alternative route to the National Park for the adventurous. What were once streams, hill tops and highlands, the construction of the Sultan Mahmud Hydroelectric Power Plant, has risen the water level, creating about 340 islands, 14 waterfalls and numerous rapids. It is home to a large variety of flora and fauna, many species of freshwater fish and an exotic wildlife. Its lush tropical rainforest, remains untouched and is a perfect paradise for activities such as jungle trekking, obstacle courses, wild-life observation, kayaking and fishing. Places to stay are Tasik Kenyir Golf Resort (609) 666 8888, Musang Kenyir Resort (609) 623 1888, Kenyir Remis Rakit (609) 6812125. Trips can be organised through pinganchorage. www.pinganchorage.com.my. The main access point is the jetty at Pengkalan Gawi, on the north side. To get there, take a taxi from Kuala Terengganu. If you are not going with a tour, a boat hire cost more than RM100 per hour.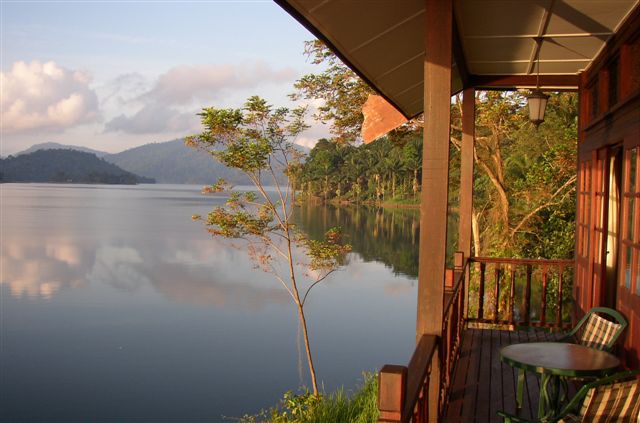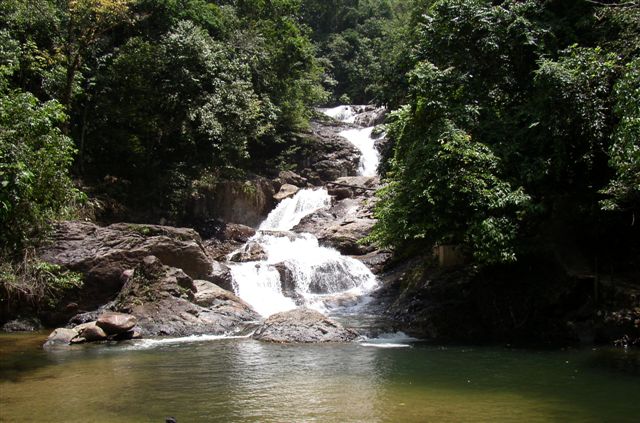 Tanjong Mentong National Park, Tasik Kenyir Tanjong Mentong is a new and interesting new gateway to the famous Malaysia's premier National Park. As a part of the National Park itself, it is interconnected with the Tasik Kenyir. As one of the oldest untouched tropical rainforests, its 130 million years old ecosystem surroundings necessitate the growth of exotic flora and fauna. From Sungai Gawi jetty, it is accessible amidst serene waterfalls, herbal islands and rapids. The coolness and the serenity of the water evoke a sense of being a part of nature itself.
The Biggest And Oldest Cengal Tree In Malaysia, Hutan Lipur Pasir Raja The forest reserves of Terengganu are rich in flora and fauna. In the Pasir Raja Forest Reserve, near the border of the National Park, stands the world's largest and oldest Cengal tree. The Malaysian Book of Record has verified the tree to be around 1300 years old. Its diameter at the base is 16.75 meters and at a towering 65 meters in height, it stands majestically above most Cengal trees are mainly used for building houses, bridges, offshore fishing boats and ocean going trawlers due to its quality and durability.
Fireflies Sanctuary, Sungai Yak Yah, Kg. Ibok, Kemamanę A recently discovered Firefly Sanctuary in Sungai Yak Yah, Kampung Ibok, Kemaman is a new attraction to beautiful Terengganu. The fireflies feed on the leaves of Beremban trees lining the river sides. During the mating season the males generate their flouresant bodies to attract the females. The responses from the females in the same manner create thousands of vibrant lights that illuminate the darkness like Christmas trees.
Seaside Towns
On your way to the beautiful islands, you can drive along the coastal roads of Terengganu. It is the best way to visit the many seaside fishing villages.
Kemasik Kemasik takes its name from the river running prominently through. It is a very basic and typical little fishing village, like many others in east coast. The only thing makes this town famous is the palm-fringed beach and some of the clearest water. The nearest accommodation is the five-star Awana Kijal Resort. www.awana.com.my. The beach here has fine white sands. It is a good place to relax and there are many sporting activities for the whole family and a golf course for the avid golfer. Swimming in the beach may not always be possible, due to currents and jelly fishes.
Paka The beach here is also good but the petroleum processing plants somewhat marred the scenery. At night, the plant's bright lights appear like a star city in the middle of the sky. The village here is quite picturesque. The place to stay is the Residence Resort (609) 827 3366.
Dungun Dungun is located at the mouth of Sungai Dungun just a few kilometers from Dungun at the main road to Kuala Terengganu. Today it is nothing more than a coastal quite fishing town in the east coast of Peninsular Malaysia. Standing in the town center are a few rows of old shop houses. Meanwhile the river itself is one of the spot for freshwater fishing and bamboo rafting. From this river, one can access to Ceralak Waterfalls by boat. There are plenty of hotels if you need to spend the night. Hotel Kasanya, (609) 848 1704, Jln Tambun or the 5 star Tanjong Jara Resort (609) 84501100 www.tanjongjararesort.com.
Rantau Abang Rantau Abang beach was once attracting large number of tourists who came to see the giant leatherback turtles coming ashore at night, during full moon and high tide, to lay their eggs. Unfortunately, they have all stopped coming ashore due to the eggs being taken for consumption and human disturbances. The tourists have also stopped arriving and the village has a faintly desolate air. However, the beach is still lovely and is perfect for enjoying the sea breeze, walks, picnics and relaxation. Swimming has its risk due to potentially dangerous undercurrents. A Turtle Information Centre is close to the town's accommodation. (609) 845 8169.
Marang Located at the mouth of Sungai Marang, this is a good stopover for travelers making their way along the east coast or to the islands of Kapas or Gemia. Marang today remains greenly with lush vegetation and old Malay village houses. The villagers are still maintaining their simple traditional life style and the remaining little old fishing village is still standing among the coconut trees. Unfortunately, the town's old shop houses were demolished in the 90's and replaced with modern concrete ones. See the unique sand dunes stretching out into the sea or the daily sunrise with silhouettes of the coconut trees and fishing village. One can also hire a boat at the Marang Jetty to explore the river and mangrove environment. The ride brings you to some intriguing wetland flora and fauna, including monitor lizards, monkeys, birds and otters. You can travel up Sungai Marang to Kampung Jenang to observe traditional rural activities like coconut sugar making, gathering of coconuts by trained monkeys or roof weaving.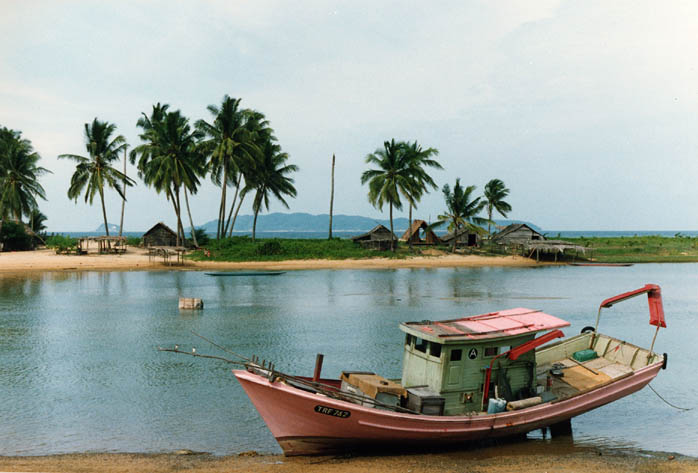 The Tropical Island Vacation
The islands are the top draw in Terengganu and one should not miss the opportunity to visit one of these paradises on earth. It is an ideal place to sunbathe. The sand are white and powdery and the water warm and crystal clear. The sea is teeming with colourful coral fishes and the coral at many areas remain beautiful and accessible. Sightings of rays, turtles, and sharks, both big and small, are not uncommon. A boat on some of these waters would seem to be floating on thin air. Most of the resorts and accommodation offer packages, which include flight, boat trip, accommodation, meals, snorkeling and sometimes, fishing trips and tour guides for jungle trekking. These packages can be bought through the many travel agencies located in Kuala Lumpur or in Terengganu itself. These exotic tropical islands also provide opportunities for activities like beach volleyball, scuba diving, windsurfing, sailing, boating and canoeing. Bigger resorts do offer some indoor games as well. The best time to visit is from March to October because it is out of the monsoon season. The northeast monsoon from November to February brings heavy rains and strong winds, which is dangerous to boats and often cause flooding on the mainland. Many of the resorts are also closed at this time. But do contact any of the resorts from time to time to see if they have decided to stay open or are preparing to open ealier.
Pulau Tenggolęę Pulau Tenggol is about a 1 hour's journey by speedboat, from the jetty. The island is 3 kilometers long and 2 kilometers wide. The reef on this island has produced the ideal playground for scuba diving, snorkeling, swimming and canoeing. This place is especially popular with hardcore divers. The rocky seabed's of Pulau Tenggol offer stretches of still untouched coral reef, where exciting encounters are common. Accommodation is available at the Tenggol Island Resort. www.tenggolisland.com. The coastal town of Dungun is the gateway to Pulau Tenggol.
Pulau Kapasęę This island is just 6km from the mainland and a 10 minutes boat ride from Marang's main Jetty. Activities for snorkeling, windsurfing, kayaking, boating and fishing, this island is also home to many variety of hard and soft corals, the waters around the island abound with sea-shells, fish and turtles. Some of the best snorkeling is found around the north of the island as, unfortunately, there is degradation to the corals due to human disturbances in some areas. The Aqua Sport Diving Centre attached to Kapas Island Resort provides scuba gear and boat for scuba diving. A WWII Japanese shipwreck located 5 nautical miles north of the island is the key attraction to divers.
During the months of April to June, you can go squid fishing in the sea. If you wish to try squid fishing (candat sotong), boat departs from Marang around 7.00pm and reach the jigging point near Kapas Island in 45-60 minutes. The squid are attracted to the light and tent to cluster around boats where fluorescent lamps are lit. Due to its close proximity to the mainland, it can be over popular with day-trippers during weekends and public holidays. The best time to go is during weekdays.
There are plenty of choices for accommodation on the island, ranging from camping site, guesthouse, bed and breakfast, chalet and resorts. They are mainly run by the villagers in Marang. Mak Cik Gemuk Beach Resort (609) 624 5120 is located at the northern end and offers basic room. Zaki Beach Chalet offers A-frame chalets. 0139359840. Kapas Island Resort (www.kapasislandresort.com) is a more expensive chalet accommodation. Duta Puri Island Resort (609) 624 6090 offers an Indonesian style chalet. Lighthouse 019-2153558 offers budget accommodation at the southernmost tip of the bay. Boats to Pulau Kapas can be hired from agencies located near Marang's main jetty. (Not to be confused with Merang Jetty)
Pulau Gemiaęę This tiny and lesser known island is located 800 meters north of Pulau Kapas. It has various recreational activities such as snorkeling, scuba diving, island hopping & kayaking amongst others offered by the one resort available, Gem Island Resort. Pamper yourself at the Tusita Wellness Spa where you can choose from the impressive spa menu for the desired treatment. Pulau Gemia is used as a turtle hatchery, a joint project with the Fisheries Department with Gem Island Resort. Boats to the island depart from Marang's main jetty. Gem Island Resort (609) 6695910.
Pulau Redangęęę Located at the northern part of Terengganu and about 50km from the mainland, Pulau Redang is the biggest and most developed island in Terengganu. It is also one of the most beautiful. It is part of the Redang Archipelago, a protected marine park, consisting of Pulau Redang, Pulau Pinang, Pulau Ling, Pulau Ekor Tebu, Pulau Kerengga Besar, Pulau Kerengga Kechil, Pulau Paku Besar, Pulau Paku Kechil and Pulau Lima. Most of these islands remain inhabited. Pulau Redang offers excellent diving and snorkeling. Human disturbances have contributed to limited damage but there are still many beautiful beaches and places to snorkel, like Teluk Dalam, Teluk Panjang and Teluk Kalong. There are more activities on this island as compared to the others, if you choose to stay in one of the bigger resorts. It is ideal for a family get away or a couple on a holiday. Places to stay include Coral Redang Island Resort, www.coralredang.com.my. Redang Pelangi Resort, www.redangpelangi.com. Redang Bay Resort, www.redangbay.com.my. Laguna Redang Island Resort, www.lagunaredang.com.my. Redang Lagoon Chalet offers affordable wooden chalet accommodation, Tel : (609)6665018. Redang Reef Resort (609) 6226181 is also a wooden chalet accommodation. In the south, there is Redang Kalang Resort, www.redangkalang.com. Berjaya Beach Resort is located at the north, www.berjayaresorts.com.my. The boat ride from Merang Jetty(not to be confused with Marang Jetty) to Redang Island takes less than an hour. Berjaya Beach resort ferries to Redang leave Kuala Terengganu daily at 10.30am and 3pm. Please note that priority is given to their guests. Redang Island has a new airport strip near the Berjaya Beach Resort. A flight from Kuala Lumpur's Subang Airport arrives 3 times weekly. Contact Berjaya Air www.berjaya-air.com.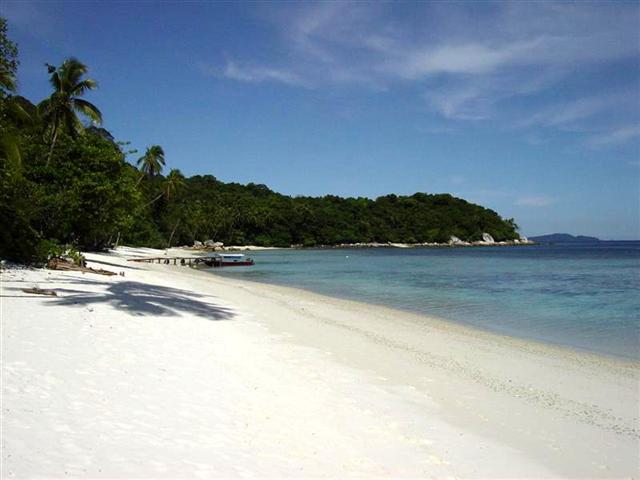 Pulau Lang Tengahęęę This is truly a hidden gem, with just two resorts on the island. The snorkeling is one of the best and the corals are practically at your door step, such as the ones at the Redang Lang Island Resort. Being less famous and developed than its neighbors Pulau Redang and Pulau Perhentian, means that there are much less people too. This would be the preferred destination if relaxation is high on your agenda. Activities include jungle trekking, beach games, barbeque at the beach, bar and swimming in the open sea. Turtles, sharks and baby sharks are common sighting due to less crowds. From Pulau Lang Tengah you can also drop by Pulau Redang or Pulau Perhentian on a day trip. Places to stay are the more basic Redang Lang Island Resort, www.malaysiaislandresort.com and Blue Coral Island Resort, www.malaysiaislandresorts.com. Ferries to Lang Tengah leave from Merang jetty in the morning at 10am and noon.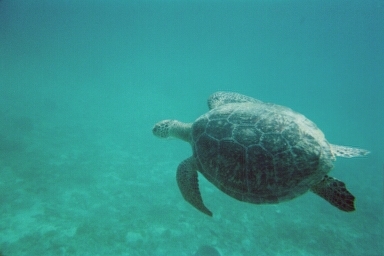 Pulau Perhentian ęę Pulau Perhentian or Perhentian island consists of 2 islands, Perhentian Besar(Big) and Perhentian Kecil(Small). Both islands, just 20km off the coast, can be reached in 30 minutes by speed boat or 1 and a half hour on the slow boat. They are beautiful islands but indifference and irresponsibility by boaters and visitors have cause damage to some of the corals. Pulau Perhentian Kecil has a village and many affordable chalets and lively bars and restaurants whereas Besar has both affordable chalets and higher standards of accommodation. Most of the usual activities like snorkeling, diving, fishing, jungle walks and lazing around can be found on both islands. Beer is available selectively but tends to be overpriced.
Places to stay in Pulau Perhentian Besar are Perhentian Island Resort, www.perhentianresort.com. Coral View Island Resort, Tropical Reef chalet, Mama's place, Paradise Island Resort, Cocohut Chalet, ABC Chalets, Abdul Chalets, Everfresh Beach Resort, Fauna Beach Chalets, Samudra Beach Chalets, Arwana Resort www.pulauperhentian.com.my, Tuna Bay Island Resort, www.tunabay.com.my. Flora Bay Resort, www.florabayresort.com. Wanderer's Inn, 012-290 9300. Samudra Beach Chalets.
Places to stay in Pulau Perhentian Kecil are Rock Garden Chalet, Lemon Grass, Chempaka Chalets, 010-9857329. Long Beach Inn, 019-981 8999. Matahari Chalets, 019-9568726. Panorama Chalets, 010-9340123. Simfony Village, 019-9479421. BubuResort, www.buburesort.com.my. Moonlight Villa, 019-961 7898. Suria Resort, www.suriaresorts.com. Maya Beach Resort, 019-9379136. Aur Bay Chalets, 010-985 8584. Fatimah Chalets, 019-963 0391. D'Lagoon Chalets, 019-9857089. Mira Chalets, 010-964 0582. Watercolours Resort. Lilly Chalet, Petani Beach Chalet, www.pulauperhentian.com.my.
Ferries to Pulau Perhentian can be taken in Kuala Besut. The fast boat makes three journeys to/from Kuala Besut per day and the slow boat, two. Kuala Besut is 75 minutes away from Kuala Terengganu.
Getting there
By Air : from Kuala Lumpur (KUL) : Fly into Kuala Terengganu (TGG) airport. Choose either Malaysia Airlines or Air Asia. Get into an airport taxi and head to your destination. To Merang Jetty, the journey should take about 35 minutes from airport to jetty.
By Car : From Kuala Lumpur in the West Coast, use the Karak highway and the Karak-Kuantan Highway. At the end of the Karak-Kuantan highway, if you choose to visit the coastal towns, then take the more scenic coastal highway. To get to Marang Jetty or further north to Kuala Terengganu, without visiting the coastal towns or if you want a faster route, use the Bukit Besi & Jerangau road. It drives through mainly oil palm plantations and fruit orchards. Duration of journey from Kuala Lumpur could be approximately 4 1/2 to 5 hours.
By Bus & Taxi : Buses and taxis to Kuala Terengganu can be taken from many of the different state's main bus stations. For Kuala Lumpur, the main bus station is Puduraya, Jalan Tun Perak. Transnational is government owned and considered the biggest and most reliable.
Homestays in Terengganu
Stay in a traditional Malay home instead of a hotel and get a feel of the kampung(village life). Please see homestay link.
Kelantan and Terengganu working hours:
Sat-Wed: 9:30am-4.00pm

Thur : 9:30am-11.30am
Fri : Closed
State Tourist Office : (609) 622 1553; Jalan Sultan Zainal Abidin. 9am – 5pm. Closed on Fridays.
Tourism Malaysia Office : (609) 622 1433, Menara Yayasen Islam Terengganu, Jln Sultan Omar; 9am- 5pm.
homepage > Terengganu
2007 Events

<![if !supportEmptyParas]> <![endif]>

Terengganu Beach Extreme Challenge, Kemaman - Besut, Feb 15—18

<![if !supportEmptyParas]> <![endif]>

Terengganu Masters 2007, Tuanku Mizan Golf & Country Resort, Kuala Terengganu

,

March 14—18

<![if !supportEmptyParas]> <![endif]>

International Swimathon, Pulau Kapas—Marang

,

April 14,15

<![if !supportEmptyParas]> <![endif]>

Kenyir International Mountain Bike Challenge 2007, Pengkalan Gawi, Tasik Kenyir

,

April 26-29

<![if !supportEmptyParas]> <![endif]>

Fiesta Candat Sotong 2007, Pulau Redang

,

May 11-13

<![if !supportEmptyParas]> <![endif]>

Terengganu Carnival 2007, Batu Buruk Recreational Park, Kuala Terengganu

,

May 25—June 2

<![if !supportEmptyParas]> <![endif]>

Kenyir Lake International Triathlon 2007, Pengkalan GAwi, Tasik Kenyir

,

June 3

<![if !supportEmptyParas]> <![endif]>

Terengganu Keropok & Traditional Food Festival, Dataran Shahbandar, Kuala Terengganu

,

July 6-8

<![if !supportEmptyParas]> <![endif]>

Terengganu Songket, Batik & Craft Festival 2007, Pusat Dagangan Terengganu, Kuala Terengganu

,

Aug 2-7

<![if !supportEmptyParas]> <![endif]>

Sultan's Cup Terengganu Endurance Challenge, Lembah Bidong, Merang, Setiu, Terengganu, Aug 3-4

Perhentian Island Challenge 2007, Pulau Perhentian, Besut, Aug 24-26

Bazar Ramadan, All districts in Terengganu, Sept 7-Oct 5

Monsoon Cup, Teluk Warisan, Pulau Duyong, Nov 28-Dec 2

Terengganu International 4WD Rainforest Challenge 2007, Chukai—Pasir Raja—Tasik Kenyir, Kuala Terengganu, Dec 1—10