Caving
---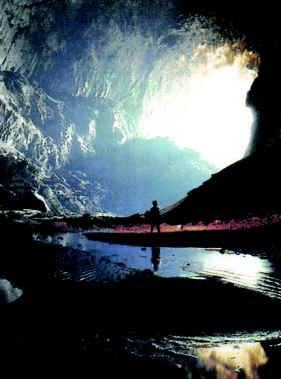 Malaysia's many limestone outcrops provide the right ingredient for the formation of many caves. Many are made accessible offering impressive sights and adventurous caving of crawling, climbing and swimming though passages.
Caves in Malaysia
Batu Maloi Cave, Negeri Sembilan Thirty five kilometres from Kuala Pilah, the Batu Maloi Cave is situated in the Mount Tampin Forest Reserve. This cave, formed beneath the masses of large rocks is one kilometre in length. A clear shallow stream makes its way around the stones and boulders that make up the cave floor. The challenge of exploring this granite cave with its narrow and winding passage cave can prove to be quite perilous, especially in the dark. Thus, it is advisable for you to explore the cave in groups of at least three with an experienced guide. Be prepared for any danger as a sudden heavy rainfall could result in the water level rising very fast in the cave -- quite a scary scenario for the inexperienced. On the way to the cave, you will pass a stream of which the water level is controlled by a watergate. The smooth flowing stream with its shallow sandy floor, beckons you to enjoy a splash in its clear cool waters.



Gua Musang, Kelantan Gua Musang is another inland town with limestone hills and caves. It is possible to explore the caves but it is very steep and hazardous. A guide is recommended, which you can find at travel companies here. Nenggiri River is a favourite among those who enjoy river rafting. Archaeological sites can be found in caves, such as Gua Cha, Chawan and Jaya, which are situated along the river.
Getting there
By Car :From Kuala Lumpur, Malaysia's capital, the overland route takes visitors eastward along the Karak Highway, turns off from Karak Highway at Bentong and proceeds northwards to Raub and then to Gua Musang.
An alternative route exits the Karak Highway at Temerloh and passes through Jerantut, Benta and Gua Musang
By Rail :Leaving Kuala Lumpur, train travels to Seremban - Gemas - Jerantut - Kuala Lipis - Gua Musang.



Gua Charas, Pahang Located at Panching 26km north of Kuantan is Gua Charas. The caves owe their fame to a Thai Buddhist monk who came to meditate here 5 years ago. It is a steep climb up a stairway to the caves' entrance and one need to be careful. There is a colossal sleeping Buddha Cave off to the right. The cavern seems to go on forever.
Getting there
To get here, take a Sungai Lembing-bound bus no.48 from the local bus station in Kuantan and get off at the small village of Panching, just past the sign reading 'Gua Charas 4km'. You can either walk the 4km or pay someone RM2 to give you a ride on their bike.



Gua Kelam, Perlis (Cave of Darkness) Gua Kelam is a 370m cave situated in a limestone hill 1km walk from Kaki Bukit. The cave got its name due to its location in Kaki Bukit and the darkness that frequently envelopes the cave. To travel into the cave, there is a suspension bridge that runs the entire length of it. A stroll through this cavern with its enchanting dim light you can hear a river running through the cave and it emerges in a cascade at a swimming spot. Admission is RM1. 9am-6pm. There is a 2km jungle trek near the mouth of the cave going through some steps and crossing over the hill over the other side.



Gua Tempurung, Perak This is a limestone cave which offers an interesting visit. It stretches 1.3km and made up of 5 domes with various formations of stalactites and stalagmites. Take the dry guide which takes you through trails in the cave. The guide will point out to you the many different shapes that resemble humans or animals and even an "aircond room". Unfortunately, some of the guides may not explain things in English and may leave English speaking tourists dumbfounded. If possible, try to get a local to explain to you or ask the guide if he can explain it in English. If you choose the dry and wet trials, this package extends from the dry trial to include going through streams of water and mud, sometimes actually swimming. It is quite an unforgettable experience. Do bring extra clothes for change.
Tours available are:
Catwalk Tour, Golden Flowstone Tour, an easy and exciting tour for about 40minutes. A journey from the entrance to the golden Flowstone (Platform 2) and back. Fee: adult-RM6.00 and children RM2.50
Top Of The World, a slightly strenuous journey for about 1 hour 45 minutes from the entrance to the Top of The World Cavern (platform 5) and back. Fee: adult-RM9.00 and Children RM4.50
Catwalk & River Adventure, Top Of The World & Short River Adventure, the challenging two and a half hour tour to The Top Of The World (platform 5), and back through the underground river. Fee: adult RM11.00, Children RM 6.50.
Grand Tour, a complete catwalk journey from the entrance with full-length underground river adventure. It is a very challenging and strenuous tour, takes about 3.5 hour. Entrance fee: adult-RM22.00 and children-RM11.00
Call for enquiries : -
APT Consortium Sdn. Bhd, No. 8A, Laluan Rokam 15, Pekan Razaki, 31350, Ipoh, Perak. Tel: 05-313 3595
Getting there
From the North-South Expressway, exit at Gopeng Interchange, and follow the Federal Route 1 which is located 25 km south of Ipoh. Drive towards Kampung Gunung Mesah Hilir for about 5 km and follow the Gua Tempurung sign to the cave.



Tambun Cave, Perak Neolithic rock paintings are a definite attraction in the Tambun Caves situated at Tambun, which is just outside Ipoh. The 5,000-year old paintings, which were first discovered in 1959 by more recent rock artists, speak of early dwellers of the Malay Peninsula. Most of the paintings are quite clear; there are wild boar and a dugong, a tapir and some deer. The deer are particularly interesting, they all have the appearance of pregnant does, and one even has a small infant drawn inside its swollen belly. At one time, this gallery of pictures extended for more than a hundred feet, but time and the weather have obliterated a great number. Enough remain to demonstrate that at some time men living in Lembah Kinta, although unsophisticated, were able to paint and draw vividly and realistically. Perched high among hill peaks, visitors to these caves can enjoy a panoramic sunset view of Ipoh City.
Getting there
By car, From the North-South Expressway, exit at the Tambun Interchange.



Wang Kelian State Park & Gua Wang Burma, Perlis This state park lies in Mata Air Forest Reserve, covering 1,000 hectares. It is a place rich in natural flora and fauna. There is a 6km jungle trek from the camp site leading to the Gua Wang Burma, an intriguing limestone formation. Further up to the top lies the Malaysia/Thailand border. Other attractions include the Wang Kelian Sunday Market, which straddles the Malaysia-Thailand border. Vendors from both countries sell their wares and a passport is not needed, provided you remain in the market area. It is opened everyday. All visitors must register at the Park Visitor Centre and pay RM2. Visitor Centre opens from Mon- Fri, 9am-12pm, 2pm-4pm.
Getting there
To get here, from Kangar town, drive north towards Kaki Bukit and follow the sign to the state park.



Batu Caves, Selangor This is a limestone outcrop which was little known until an American naturalist stumbled upon it about 100 years ago. Later a small Hindu shrine was built in the vast open space, later known as Temple cave. The main cave is reached by a straight flight of 272 steps. Several other caves exist in the same formation, including a small one at the base of the outcrop, reached by crossing over a turtle pond. The caves contain elaborately painted sculptures of various Hindu gods. The most spectacular Hindu festival in Malaysia is Thaipusam, a wild orgy of seemingly hideous body piercing. This is celebrated every year in the Hindu month of Thai, which is January or February. At Batu Caves, million of devotees and visitors flock to honour Lord Muruga. His chariot takes pride of place as it makes its way from the Sri Mahamarimaman Temple in KL's Chinatown to the Batu Caves. The greatest spectacle is the kavadi carriers, which are great cages of spikes that pierce the skin of the carrier and are decorated with peacock feathers, pictures of deities and flowers. Some go as far as to pierce their tongues and cheeks with hooks, skewers and tridents. Women and children mostly carry milk pots as offerings. They chant 'vel, vel' as they make their way up the 272 steps to the temple in the main cave. Entrance to Batu Caves is free. Car park charge is RM2.



Gomantong Caves, Sabah The Gomantong caves are a source of the highly prized bird's nest for centuries. The Chinese believe that these bird's nest have medicinal properties and pay a premium for good quality ones. Many pregnant women would make soup out of the nest and drink them. This way the child will have good skin and behave well. During nesting season, February to April and July to September, you can watch the nests being collected from the cave roof, by men climbing long, precarious looking bamboo poles. The caves are located south of Sandakan. Information centre. Tel :089 230189. Price : Adult/Child RM30/15. 8am-noon, 2-4.30pm. The more accessible Simud Hitam(Black Cave), which contains the black bird's nest, is accessible along the trail near the information centre. The 45 minute trail, left of the office leads to the top of the mountain and to Simud Putih(White Cave). This cave contains the more valuable white bird's nest, which can fetch as much as US$500 per kilo. The areas around the caves have plenty of flora and fauna. Most tour operators arrange a trip to the caves as a package with Sungai Kinabatangan.
Getting there
If travelling on your own, take minivan from Sandakan to Sukau, and ask to be dropped at the turn-off for the caves. The ride takes about one hour forty minutes. You then need to walk the remaining 5km to the information centre. A taxi ride from Sandakan will take you straight to the centre.



Madai Caves, Sabah Like the Gomantong Caves, these limestone caves are harvested for their bird's nest. At the entrance of the cave system are wooden shanties which fill up by nest collectors during collection season. The caves shelter ancestral tombs and it would be proper to seek permission from local villagers before entering. You are required to hire a local guide from the village to explore the inside of the caves. The entrance fee is RM30. The caves are near the Lahad Datu-Tawau highway. The turn off is 69km from Lahad Datu.
Getting there
All buses Lahad Datu and Semporna or Tawau pass the turn-off to the caves. Minivans can take you all the way to the caves, but you may have to walk back out to the highway.



Batu Punggul, Sabah Bordering Kalimantan, Batu Punggul is a beautiful jungle-topped limestone massif complete with caves. It can be long and expensive to get to but you will be rewarded with an uncrowded geological wonder. Cave exploration is fair with the usual stalactites, stalagmites and bats. The Rafflesia, the world's largest flower, can be found near the caves and the area is also home to wild orchids. It is possible to climb to the top of the massif for panoramic views of the surrounding forest. At night, there is some impressive music from the 'jungle symphony'. The trip involves a long ride over rough logging roads via Keningau to the village Matiku and Sapulut, followed by a three to five hours boat ride along the winding and jungle-lined Sungai Sapulut. The place to stay is the Batu Punggul Lodge. Accommodation on these traditionally styled Murut longhouse or native huts(Sulap) can be arranged with the Rural Development Corporation. Tel : (6088) 440158 in KK. Tours to Batu Punggul can be arranged with the KK tour Operators, such as Borneo Eco Tours or done independently.
Getting there
Minivans and 4WD leave from Keningau or Tawau for Sapulut. The boat rides to Batu Punggul cost RM250 per boat.



Mulu Caves, Sarawak At 529 sq km, Gunung Mulu National Park is Sarawak's largest national park. Designated a Unesco World Heritage site, this park is an unspoilt wilderness offering caving, trekking and wildlife-viewing. Mulu is known for many things. For one, there is the Mulu Caves, a series of caves and caverns with the largest called the Sarawak Chamber, which is large enough to park eight 747 Jumbo jets! It is also home to the Deer Cave, which is the world's largest cave passage. It is a gaping cavern in the mountainside, huge beyond comprehension. As the sun sets(between 5pm to 7pm), thousands of free-tailed bats fly out of the caves, creating a dark and mysterious atmosphere as these nocturnal creatures cloud the sky before dispersing in their hunt for a night meal. This is one of the highlights of Mulu not to be missed. The Deer, Lang, Clearwater and Wind Caves are all known as the Show Caves. Many others are closed to the public for preservation or deemed too dangerous. Deer Cave and Lang's cave officially open in the afternoon and is lighted. Both are located a 3km away from Park Headquarters, and are safe with walkways and wooden steps. Lang Cave has stalagmites and stalactites to mesmerise you whereas Deer Cave is awe inspiring with is huge cave passage. At 2160m long and 220m deep, they have the world's largest cave passage. Clearwater Cave & Wind Cave officially open only in the morning and are located an hour's walk away from park headquarters, following a trail next to Sungai Melinau. Clearwater Cave has a pool of clear water near the cave entrance, sourced from an underground river. Wind Cave has some impressive caverns and beautiful limestone formations. The total cave system is 51km long and 355m deep. A Park fee of RM20 is chargeable.
It is possible to explore the nooks and crannies of the Show Caves away from the pedestrian walkways. The park offer guides for adventure caving but needs at least a day's notice. Price ranges from RM200 to RM300 for groups of up to five people. Tour companies also offer such caving expeditions, which may include crawling, climbing and swimming through many passages.
Getting there
Miri is the jumping-off point. From Miri, visitors can take Malaysia Airlines flight (15 minutes) or take the express boat from Kuala Baram (three hours) to Marudi. From Marudi, take a commercial express boat to Kuala Apoh or Long Panai on the Tutoh River (a tributary of the Baram River). The express departs Marudi at noon daily and returns to Marudi in the early morning of the next day. The trip takes about three hours. Transport hassles are one reason many travelers resort to tours. Trekking on your own will seem expensive because guide fees and boat hire rates are based on groups.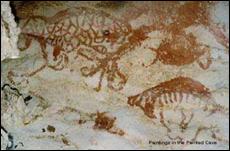 Niah Cave, Sarawak The cave system is located at the Niah Caves National Park. The park is dominated by a 394m-high limestone massif, Gunung Subis. Park Headquarters is located at Pangkalan Lubang. (Tel : 085 - 737450 / 737454). To get to the caves from park headquarters, you need to take a boat across the river Niah. Boat ride cost RM0.50cents. Once you are across you need to walk the 3km-long boardwalk to the caves. Along the way, you will come across the Niah Archaeology Museum(free admission, 9am-6pm) and much later, the village of Rumah Chang, where there are a couple of longhouses. In time you will reach the impressive Great Cave. It measures 250m across at the mouth and 60m at its greatest height. There are many bats inhabiting the caves and will fly out during sunset for feeding. Niah caves are nesting grounds for swiftlets, which supply the expensive bird's nest soup. These are collected by the Penan during harvest season. In 1958, archeologists discovered evidence of human occupation of the caves area dating back some 40,000 years. Rock paintings and death ships(burial coffins) were also found in what has become known as Painted Cave. To get to Painted Cave, you need to follow the pathway all the way through the Great Cave, out into the forest then to the opening of the cave. The area of the rock paintings and death ships are fenced off, so binoculars will be useful here. A permit and park fee of RM10 for adult/RM5 for child is chargeable at the park headquarters. It opens from 8am-5pm.
Places to Stay
Park Hostel, Price : RM15-42
Park Chalets, Price : RM105-158
Camping, Price : RM5
Rumah Chang Niah Homestay Program, Tel : 085-434181
Batu Niah
Niah Cave Hotel, Tel : 085-737726, Price : RM22-30
Park View Hotel, Tel : 085-737021, Price : RM38-45
Niah Cave Inn, Tel : 085-737333, Price : RM52-58
Getting there
From Miri to Batu Niah, Syarikat Bas Suria (tel: (6) 085-434317/412173) has a regular bus service to batu Niah from Miri Bus Station. The journey 1 hr 40 mins to 2 hrs. Share taxis from the Bus Station are available as there are regular taxis, which can usually be chartered on a daily basis. self-drive cars are also available (ask at your counter or check in the yellow pages).
From Bintulu to Batu Niah, Syarikat Bas Suria (Tel: (6) 086-335489) has a regular bus service to Batu Niah from Bintulu Bus Station. The journey time is about 2 hr to 3 hrs drived. Share taxis from the Bus Station are available as there are regular taxis, which can usually be chartered on a daily basis. self-drive cars are also available (ask at your counter or check in the yellow pages).
From Batu Niah to park headquarters at Pangkalan Lubang, take a taxi or boat costing RM10. We recommend the boat ride which river throuhg jungle-clad limestone cliffs.



Wind Cave & Fairy Cave, Sarawak
These two cave systems are located a few kilometres south of Bau, southwest of Kuching. This makes an interesting day trip from Kuching. The Wind Cave is a network of underground streams on the banks of the Batang Kayan. There are boardwalks through the caves which make for an easy walk. About 5km further south, there is the Fairy cave. For a long time, the Chinese have used it as a prayer site to the many cave formations. It is a large cave on which you can spend quite some time in.
Getting there
From Kuching take STC bus No.2 to Bau. From Bau, take a taxi to the Caves.



homepage > Caving