White water rafting
---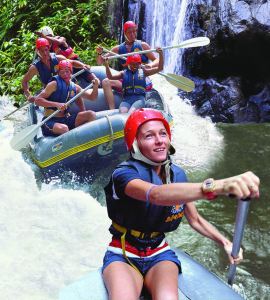 For a truly unforgettable experience, give white water rafting a try. But understand the inherent risks before going ahead. Blessed with many fine rivers, Malaysia provides many venues for white water rafting. Experiences range from the high adrenaline Class 5 rapids to the more tranquil family rides. Some rivers are very remote, as they travel through Orang Asli (aborigines) settlements and ancient forests full of bird and animal life, and some flow past limestone caves and prehistoric archaeological sites. White water rafting can be experienced on day trips, or as part of a longer group trek.
Grades of Whitewater
All whitewater is graded using an international system and can range from safe to life threatening. Whitewater rafting is not a day at the beach. Some of the more common injuries include getting hit by a paddle, dislocating a shoulder, breaking glasses on rocks, breaking a hand and cuts from hitting debris in the water. That is just a list of all the bad things that could go wrong, but mishaps can be avoided if you stay alert and listen to instructions and of course, choosing a lower class river.

Class 1 – no rapids, flat water
Class 2 - mild rapids, suitable for children and anyone seeking an enjoyable experience
Class 3 – larger rapids, requiring a little more skill but with little real danger
Class 4 – powerful rapids, needing more advanced techniques
Class 5 – heart-stopping rapids, for the brave only
Class 6 - Extreme
Sungai = river
West Malaysia
Sungai Selangor, Selangor
The run contains at least 10 sets of rapids ranging from Class 2 ˝ to 5, depending on the water level. This is a participating rafting run and passengers are to paddle as instructed by the guides. The instructions are limited and simple and mostly only consist of 'forward' and 'backward'.



Sungai Kampar, Perak
A milder version of Selangor River, excellent quality water in its pristine surrounding. The river has lines ranging for mild to slight wild with rapids of Class 2+ on average water level and Class 3 during high water. Very suitable for rafting and kayaking. Other various activities also available. Duration of run is approximately 2 hours from put-in to pull-out point




Sungai Sungkai, Perak
This Class 2+ to 3 river is located approximately 2 hours drive north of Kuala Lumpur. The accessible stretch for kayaking only is about 12 km long with continuous relatively easy rapids. The riverbed is strewn with boulders and hence it is a relatively technical descent. The best season is from late September to middle of January although there is a fairly good flow all year around.




Sungai Slim, Perak
A creeky river which runs through canyons and has rapids ranging from Class 1 to Class 4 is only 1.5 hours from Kuala Lumpur. However, you will have to drive another hour on a 4WD to the Put-In Point. Only suitable for kayaking.



Sungai Itek, Gopeng, Perak
A fantastic introduction to white water rafting. The cascading rapids are exciting but easy with beautiful scenery of fruit orchards along the river. Class 1-3.



Sungai Singor, Hulu Perak, Perak
Get ready for an exhilarating, adrenaline rushing ride in this Class 1-6 river. Experience the extreme challenge of white water rafting at Sungai Singor. Enjoy the rugged and unspoilt scenery as you conquer this wild and untamed river.



Sungai Jeram Besu, Pahang
An excellent introduction to whitewater for most people. It is located about 3 hours drive from Kuala Lumpur to Kuala Lipis. It has mostly class 1 and class 2 rapids with only one class 3 rapid. It is suitable for rafting and also kayaking. The run is about 5km long and takes 2 – 2.5 hours to complete.



Sungai Tembeling, Pahang
For rafters with more time and spirit of the outdoors, Sungai Tembeling offer a good choice. Located in Taman Negara, rafting here is combined with a short trek into the forest and camping out on the Sungai Tembeling sandbars.



Sungai Telom, Pahang
This river has its tributaries in the Cameron Highlands of Pahang. Although it has been dammed at upper reaches, it drains a vast upland and soon gets enough water to kayak again. The river is a very challenging class 4 to 4+ river with an occasional class 5. It follows a beautiful river valley through mainly old secondary forest. The only access is via Cameron Highlands by 4-wheel drive and a 3 hours hike into the put-in point. The pull-out point is approximately 50 km further down stream and camping halfway through the excursion is necessary. The entire trip is a 4 days / 3 nights stint and the best season is from February to September when the flow is relatively moderate.



Sungai Anak Jelai, Pahang
This river isn't huge but it does have Class 2 rapids. It's ideal for family rafting with fast clear water. Sungai Anak Jelai eventually joins Telom River.



Sungai Nenggiri, Kelantan
Sungai Nenggiri in Ulu Kelantan offers an exciting white water rafting in spectacular remote scenery. Some of Malaysia's richest archaeological caves are to be found along the river : Gua Cha, Gua Chawan and Gua Java. The only way to see the caves is by river, and because there are no roads leading to them, the caves have been left relatively undisturbed. This Class 2+ 'big water' river is located in Gua Musang, about 4 hours drive north-east of Kuala Lumpur. It is a 3D/2N expedition with relatively easy rapids flowing through dense forest and may have a good chance of seeing wildlife such as elephants, etc. You will enjoy spending a night, camping in the Orang Asli village and a visit to the historical Gua Cha cave.



Sungai Sedim, Kedah
At Sungai Sedim, the skills of white-water rafters are taken to the limit as the ravaging waters take whoever dares to test its patience. The river offers a 17km stretch comprises 13 extreme rapids ranging from Class 1 to Class 4.The best location for this macho sport is Kampung Lindungan Raja in the Kulim district, about 2 hours drive south from Alor Setar. Besides white-water rafting, kayaking and jungle-trekking up nearby Gunung Bintang and Gunung Inas are two other activities associated with this place. There is also a tree top canopy walk located here.



Sungai Singoh, Perak
High adventure river with class 5 rapids and waterfalls, located in the region of Tasik Temenggor, one of Malaysia's largest man-made lakes. The run is approximately 13km.
For more information and details on trips and packages to these venues, please contact the following companies :-
Tracks Adventures at www.tracksadventures.com
Nomad Adventure at www.nomadadventure.com
Khersonese Expedition at www.raftingmalaysia.enetmyne.com



East Malaysia
Sungai Padas, Sabah
Sungai Padas is Sabah's most popular rafting destination. For thrill seekers only, it is 9 km of class 3 to 4 rapids through the Padas Gorge. Padas is a day trip, and includes rapids with names like Headhunter, Adrenaline Flow, and Merry-Go-Round. Heavy rains during the wet season can cause this river (and Kiulu) to flood, temporarily putting a halt to any rafting trips.



Sungai Kiulu, Sabah
This river provides a milder class 2 alternative to Padas with gentle rapids passing lush green jungle forests, orchards and villages. During the dry season the water level of the river is too low for rafting.
For more details on trips and packages to these venues, please contact the following companies :-
Riverbug or Traverse Tours Sdn Bhd at www.traversetours.com
Borneo Eco Tours at www.borneoecotours.com
Borneo Adventure at www.borneoadventure.com



homepage > White Water Rafting