Perlis
Indera Kayangan (Land of Dreams)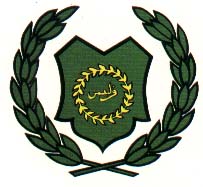 ---
Perlis is the smallest and northern most State in the Peninsular Malaysia. Measuring only 810 sq km, the State is bounded on the north by Satun in Thailand, the east and south by Kedah and on the west by the Straits of Malacca. Perlis was originally part of Kedah and share many similarities. It is largely an agrarian state, with miles of green padi fields and the occasional limestone outcrop.
As is was once part of Kedah, it was once ruled under Siam after they conquered it in 1821. As was the case in Kedah, power was transferred from the Thais to the British under the 1909 Anglo-Siamese Treaty, and the British installed a Resident at Arau. During WWII the Japanese returned Perlis to Thailand. At the end of the War, it was again returned to British Rule, until it became part of the Malayan Union, and then the Federation of Malaya in 1957. There are many Thais in the Malaysian border, so much so that you could even use the Thai money to make purchases at shops located in Malaysia.
Perlis is predominantly a conservative Muslim state, with the state government wanting to implement hard-line Islamic policies such as nightly curfew for the under-18s and others.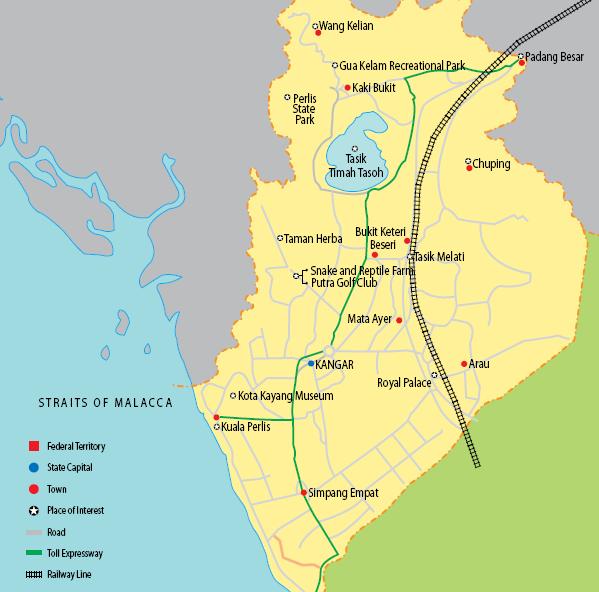 <![if !vml]>

<![endif]>
Sights - in the city of Kangar > Go to Malaysia Map for Kangar City Map
Kangar, 45km northwest of Alor Setar, is the state capital of Perlis. It is a quiet modern town and serves more of a stopover to other places of interest in Perlis.
Syed Alwi mosque Located at Jln Kangar, this attractive mosque was built in 1910, it features Malay and Islamic architecture.
It has many restaurants and shops near the bus station where you can have a meal and relax.
Places to stay
Hotel Ban Cheong, (604) 976 1184, Price : RM20-40
Malaysia Hotel (604) 9761366, Price : RM33-63
Federal Hotel, (604) 9767755, Price : RM50-100
Sights - Perlis's other attraction
Kuala Perlisê Located at the estuary of Sungai Perlis, about 13km form Kangar, it is a fishing town known for its grilled fish, assam laksa and fresh seafood. There are opportunities to watch spectacular sunsets or the fishermen returning with their catch. The older part of town has interesting houses and mosques built on stilts over the mangrove swamps. Kuala Perlis is one of the two major departure points for the Langkawi Island, Penang as well as Phuket Island. Ferries to Kuah, Pulau Langkawi, leave hourly between 8am and 6pm. Private car parks are located between the jetty and the bus station.
Padang Besar Located at the Malaysia Thailand border, the town is a favourite shopping place for the locals as it is filled with duty-free shops, textiles, clothing, handicraft, foodstuff, fruits and souvenirs. It is also a major stopover along the rail route between Singapore, Malaysia and Thailand.
Taman Negara Perlis The small state park of Taman Negara Perlis in the northwest of Perlis runs along the Thai border, covering about 5000 hectares. It comprises the Nakawan Range –the longest continuous range of limestone hills in Malaysia, and the Mata Air and Wang Mu Forest Reserves. It is an area rich in wildlife.
Gua Kelam (Cave of Darkness)ê Gua Kelam is a 370m cave situated in a limestone hill 1km walk from Kaki Bukit. The cave got its name due to its location in Kaki Bukit and the darkness that frequently envelopes the cave. To travel into the cave, there is a suspension bridge that runs the entire length of it. A stroll through this cavern with its enchanting dim light you can hear a river running through the cave and it emerges in a cascade at a swimming spot. Admission is RM1. 9am-6pm. There is a 2km jungle trek near the mouth of the cave going through some steps and crossing over the hill over the other side.
Snake Farmê If you would like to carry a python and see some other interesting snakes and reptiles, head to the Snake Farm located at Sungai Batu Pahat. It is about 10km north of Kangar and is the only snake farm in Malaysia. There are over 150 snakes and 34 different species. 25 species are local snakes and 9 from out of Malaysia. There are a few snake handlers who will assist you with handling of snakes or put up a show in the mini theater. Admission for Adult/Child is RM2/RM1. Sat – Thurs. 9am-5pm. Fri 9am-12.15pm, 2.45pm-6pm. Tel: 604-9768511.
Bukit Ayer Situated 13 km from Kangar just a few kilometers from the Snake Farm. This is a recreational forest with waterfalls and clean rivers, creating a pleasing atmosphere. There is a pool for children to swim and a places for picnicking. Well-defined paths allow easy access through the park where the sights and sounds of tropical rainforest await visitors.
Tasik Melati (Melati Lake) Located 8km north of Kangar, Tasik Melati is a small but attractive lake. It is quite shallow and has 150 sandbar islands reachable by boat. There is a concrete walkway on the lake which brings you closer to the clear water and floating lotus. With the limestone hill background, it is an a ideal place to relax, walk about or do some boating. There is also a 3km jungle trek from Tasik Melati to Bukit Pelarit for viewing the local flora and fauna.
Wang Kelian State Park & Gua Wang Burmaê This state park lies in Mata Air Forest Reserve, covering 1,000 hectares. It is a place rich in natural flora and fauna. There is a 6km jungle trek from the camp site leading to the Gua Wang Burma, an intriguing limestone formation. Further up to the top lies the Malaysia/Thailand border. Other attractions include the Wang Kelian Sunday Market, which straddles the Malaysia-Thailand border. Vendors from both countries sell their wares and a passport is not needed, provided you remain in the market area. It is opened everyday. To get here, from Kangar town, drive north towards Kaki Bukit and follow the sign to the state park. All visitors must register at the Park Visitor Centre and pay RM2. Visitor Centre opens from Mon- Fri, 9am-12pm, 2pm-4pm.
Homestays in Perlis
Stay in a traditional Malay home instead of a hotel and get a feel of the kampung(village life). Please see homestay link.
Getting there
By Car : Located at the northern-most edge of Peninsula Malaysia, the state of Perlis is easily accessible via the North-South Highway, which links Kangar, the state capital of Perlis, to Kuala Lumpur.
By Air : There is no direct air service to Perlis. Visitors have to fly into Alor Setar, Kedah State and then take a 45-minute taxi ride to Kangar.
By Bus : You can get to Kangar using several interstate, air-conditioned bus services such as Transnasional (Tel: 603-20703300) and Sutera Express (Tel: 03-20267199) departing from the Puduraya bus station in Kuala Lumpur. These buses will stop at the Express Bus Station on Jalan Bukit Lagi in Kangar.
Kangar Bus Station
No. 9A, Hentian Jalan Bukit Lagi
Tel: 04-9765281, 04-9772078
Kedah State Tourism Office also handles Perlis state tourist affairs. Tel: 604-7312322 or 604-7301322.
homepage > Perlis
2007 Events

<![if !supportEmptyParas]> <![endif]>

International Long Boat Race, Kuala Perlis

,

Jan 24,25

<![if !supportEmptyParas]> <![endif]>

Kabadi Championship, Kangar

,

Mar 24,25

<![if !supportEmptyParas]> <![endif]>

Harumanis Festival, Sungai Batu Pahat, June 5,6

<![if !supportEmptyParas]> <![endif]>

Songkran Festival, Kangar

,

April 13

<![if !supportEmptyParas]> <![endif]>

Northern Region National Water Festival, Kuala Perlis, Apr 27-29

<![if !supportEmptyParas]> <![endif]>

Colours and Flavours of Malaysia, Kangar

,

June 9,10

<![if !supportEmptyParas]> <![endif]>

Perlis Open Cycling Championship 2007, Kangar, Oct 24-27

<![if !supportEmptyParas]> <![endif]>

International Snake Handling and Tamaing Competition, Sungai Batu Pahat, Nov 10,11

<![if !supportEmptyParas]> <![endif]>

International Cross Country Run, Wang Kelian

,

Nov 18

<![if !supportEmptyParas]> <![endif]>

Loy Kratong Festival, Jejawi

,

Nov 22-24