Pulau Pinang
United & Loyal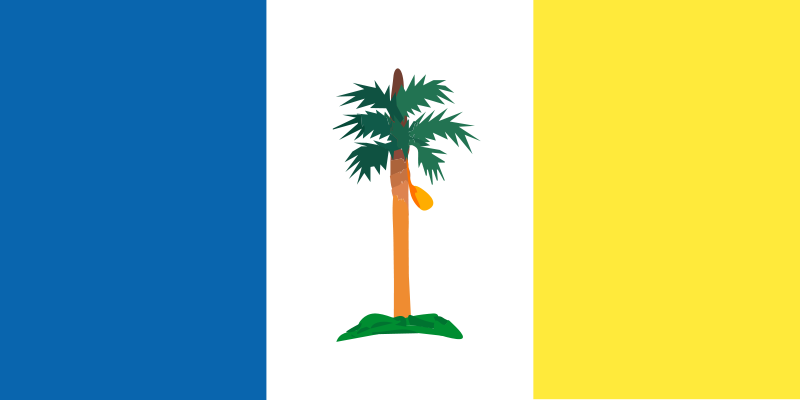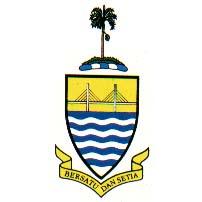 ---
Pulau Pinang or Penang is the name of an island in the Straits of Melaka, and also of one of the states of Malaysia, located on the north-west coast of peninsular Malaysia. It is nicknamed Pulau Mutiara or Pearl of the Orient. Penang is the second smallest state in Malaysia after Perlis, and the eighth most populous. A resident of Penang is colloquially known as a Penangite.
Penang is the oldest of the British Strats settlements in Malaysia, predating both Singapore and Melaka. Captain Francis Light, on behalf of the East India Company, acquired possession of the Island from the local sultan in return for protection against enemies. He set foot on the unihabited island in 1786 and established a free port for trading. Soon after, the small town of Georgetown, named after the Prince of Wales, was established. By 1800 Light managed to negotiate a strip of the mainland adjacent to the island and was called Province Wellesly, after the governor of India.
Its main centre, Georgetown, attracts the most tourists with its impressive temples, old Chinese shops and houses, colonical architecture and mosques. Other attractions include the beaches of the northern coast, charming Penang Hill and the huge Kek Lok Si Temple.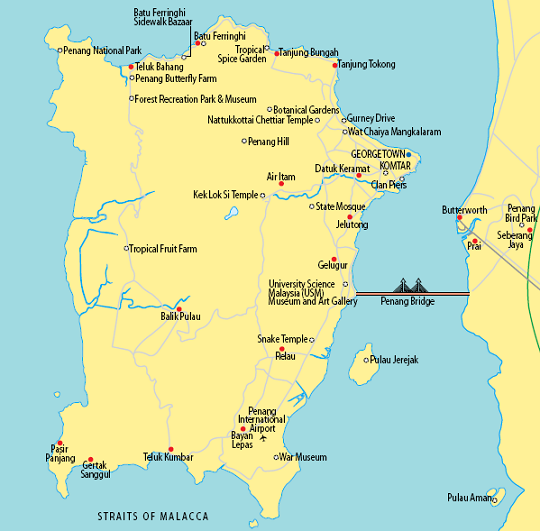 <![if !vml]>

<![endif]>
Seberang Perai
Seberang Perai is not a travellers destination but the crossing point to Pulau Penang by ferry at Butterworth or the Penang bridge.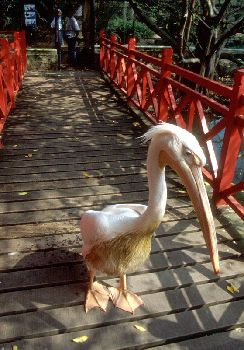 Taman Burung Pinang The Penang Bird Park is the only draw on the mainland with its landscape park consisting of 3000 birds from 300 species of local birds and those from other Southeast Asian countries. Located just 7km from Penang bridge, you could just pop by before heading to Pulau Pinang. The Penang Bird Park is also home to several species of deer including the Mouse deer, the smallest deer in the world, as well as other wildlife species including the Giant Arapaima fish, pythons, monitor-lizards and tortoises.
9.00am - 7.00pm including Mon-Sun & all Public Holidays. Tel 604-399 1899. Admission fee Adults/Child, RM10/5, Students in school uniforms, RM2.
Pulau Penang
Sights – In the City of Georgetown > Go to Malaysia Map for Georgetown Map
Georgetownêêê There is a free bus shuttle(7am-7pm, Mon-Fri, -2pm Sat), which runs between the jetty and Komtar building. It goes through the colonial core of Georgetown. The Fort of Cornwallis is a good place to start a tour of the colonial district. It was here where Captain Light first set foot on the uninhabited island in 1786 and established a free port. Originally a wooden structure, it was replaced with the present stone structure with convict labour in 1808 to 1810s. Today only the outer walls of the fort are standing with old cannons stationed around. Opposite the southeastern corner of Fort Cornwallis is the Victoria Memorial Clocktower. It was donated by a local Chinese millionaire to honour Queen Victoria's Diamond Jubilee in 1897. It stands at 60 feet tall – one foot for each year of her reign. The padang or playing field is surrounded by many interesting buildings such as the City Hall. On the southern side of the padang is the neoclassical State Assembly bulding, and northwest along Lebuh Light is the Supreme Court. Behind the Supreme Court, St George's Church on Lebuh Farquhar is the oldest Anglican church in South East Asia. This church was built in 1816 with convict labour. Also on Lebuh Farquhar is the double-spired Cathedral of Assumption. In the protestant cemetery on Jln Sultan Ahmad Shah, you will find the graves of Captain Francis Light and Thomas Leonowens, the young husband of Anna – the schoolmistress to the King of Siam, made famous by the movie the King and I. Next on the list of places to visit is the Penang Museum(Lebuh Farquhar, admission RM1, 9am-5pm, Sat-Thu) with various interesting exhibits on the history of Penang. There is a bronze statue of Captain Light and a old Penang Hill funicular railcar converted into a shop outside the museum.
One of the best Chinatown in Malaysia is located here. In the older parts of Georgetown, there are many crumbling old shophouses, trishaws, and ancient trades. It is a compact city and travel can be done by foot or hire a trishaw to take you around for RM1 per km or RM15 an hour. You can follow the Heritage Trail walking tours, that take in temples and mosques in Chinatown. Pick up a pamphlet of the routes at the tourist office or the Penang Heritage Trust. The large Chinatown stretches form Lebuh Pantai to Jln Penang. It is centered on Lebuh Chulia with the surroundings offering plenty of interest such as old Chinese shop-houses, antique shops, a temple ceremony or night markets.
The restored Penang Teochew Association located on Chulia Street is worth visiting. It won a Unesco Asia-Pacific Heritage Conservation Award 2006 after USD250,000 was spent on the restoration of this temple. Not to be missed also is the 200 year old Temple of Kuan Yin,on Lebuh Pitt(Jln Masjid Kapitan Keling). Built by the first Hokkien and Cantonese settlers in Penang, it is often filled with worshippers here. The Hainan Temple in Lebuh Muntri, completed in 1895 and remodeled in 1995 is worth visiting. There are dragon pillars and ornate carvings to be admired. There are also much activity going on in this functional heritage building.
Khoo Kongsi The Khoo Kongsi in Lebuh Cannon is one of the finest of many Chinese clan house in Georgetown. This is the meeting place of the Khoo clan, consisting of houses, temples, a opera stage, shops and other buildings. (Admission RM5, 9am-5pm). The construction of its structure stated in 1894 and finished in 1901. Recently renovated, there are many colourful dragons, statues, paintings, intricate carvings, coloured tiles and age old Chinese architecture to be admired.
Khoo Kongsi Leong San Tong Detail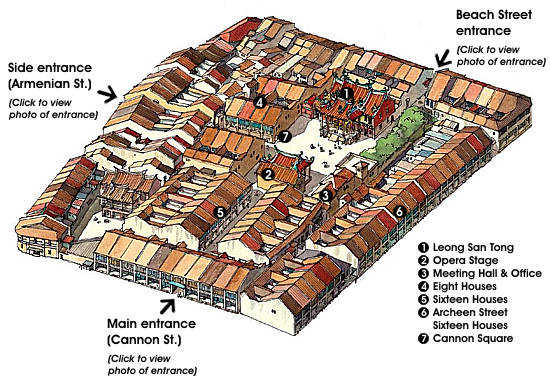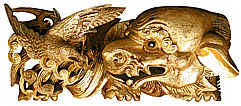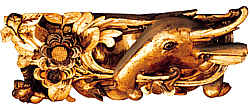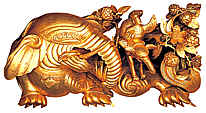 Other major Hokkien clans that can be found in Penang are the Cheah Kongsi, Yeoh Kongsi, Lim Kongsi and Tan Kongsi.
To get to Cheah Kongsi, you need to pass through an ornate archway at 7 Armenian St, through a narrow passageway, and you will find the ancestral temple located in a pleasant courtyard. Yeoh Kongsi is situated at 2 Chulia St. whereas Lim Kongsi and Tan Kongsi is situated at Beach St.
Cheah Kongsi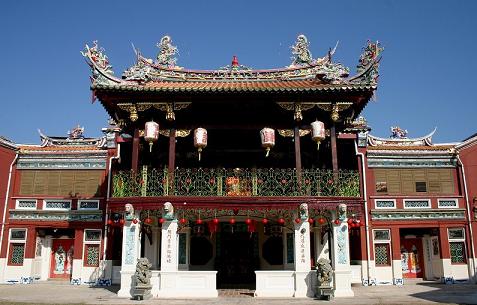 A short walk from the Khoo Kongsi, the Malay Acheen St Mosque is unusual for its Egyptian-style minaret when most Malay mosque have Moorish designs. It was built in 1808 by a wealthy Arab trader. The Syed Alatas Mansion was the residence of Syed Mohd Alatas, a powerful Acehnese merchant of Arab descent. He led the Acehnese community during the Penang riots of 1867 and organised resistance to the Dutch siege of Aceh in 1870s. Restored in 1994, This mansion is open to the public. Free Admission, 9am-5pm, Mon-Fri, 9am-1pm Sat.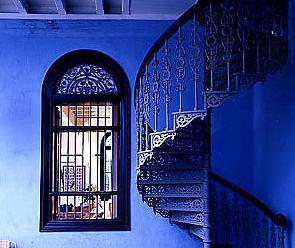 Cheong Fatt Tze Mansion In Lebuh Leith is the highly recommended magnificent 38-room, 220-window Cheong Fatt Tze Mansion. It was commission by Cheong Fatt Tze, a local merchant-trader who was a rag-to-riches success story. Built in the 1880s, it is a rare surviving example of the grandiose architectural style preferred by wealthy overseas Chinese trying to imitate the opulence of the Ching dynasty. The building was restored recently with a cost of USD2 million and won top honours for the "Most Excellent" Unesco Conservation award 2000. Hourly tours run at 11am and 3pm Mon-Fri and 11am Sat-Sun. They have an excellent website too at www.cheongfatttzemansion.com.
Peranankan Houses Not to be missed are the Peranakan houses of the 19th century Straits Chinese immigrants who married the local Malays. The male is known as Baba and women Nyonya. At 29 Lebuh Gereja(Church Street), a beautifully restored mansion is open to the public. Over 1,000 items are on display, which include honeymoon bed, love chair, other furniture, age old outfits, silverware and porcelain. Tel : (604) 264 2929, Admission Fee, Adult RM10. Children below 12 free. Mon – Sat, 9am-5pm. Tours start 11.30am daily. Closed on Sun and public holidays.
Located at 100 Cintra Street, you will find a charming and beautifully restored Peranankan house dating back to 1881. This house contains furniture, costumes, porcelain and household items from the past. Admission Fee, Adult/Child RM5/1
Little India Visiting little India is part of the cultural experience where life is a daily ongoing affair for the many Indians living and working here. There are numerous shops selling food and items mixed with Hindi music blaring from speakers located at storefronts. Little India with its stores, colourful temples and restaurants are located at Lebuh Pasar. Sri Maraimman Temple Located at Lebuh Pitt, is Georgetown's oldest South Indian temple, having been completed in 1883. It has an elaborated sculpted and painted structure. Penang's Thaipusam procession begins here every January or February.
Masjid Kapitan Keling was built by Penang's first Indian Muslim settlers way back in 1801. The mosque's domes are yellow, which is a typical Indian-influenced design and has a single minaret. It is located at the junction of Lebuh Pitt and Lebuh Buckingham.
Wat Chaiya Mangkalaram This colourful Temple of the Reclining Buddha has a 33m-long reclining Buddha housed in a long temple. There is a hive of activity here as worshipers throng the temple and the opposite Dhammikarama Burmese Buddhist Temple. The Burmese Temple is Penang's first Buddhist Temple, built in 1805. They are located at Lorong Burma off Jalan Burma.
Getting to Georgetown
By Car : To drive to Penang, from Kuala Lumpur, get onto the North-South Expressway heading north. Get onto the Penang Bridge (Tol is RM7 for cars), then head for Georgetown. Alternatively drive to the ferry terminal at Butterworth and take the ferry across to Georgetown.
Plane : Daily flights via Malaysia Airlines (www.malaysiaairlines.com, tel:1 300 88 3000 ) and AirAsia (www.airasia.com, tel: 1-300-88 9933) to / from Penang to major cities in Malaysia. Penang's Bayan lepas International Airport is roughly 20km (45-minnute drive) from the Georgetown city centre.
By train : You can take the train from Kuala Lumpur to Penang, where it stops at the Penang Railway Station, close to the ferry terminal. For more information, visit www.ktmb.com.my or call their call centre at +603-22671200.
By Boat : Ferries can be boarded at Butterworth, in the mainland portion of Penang. Among Ferry Services available are:
Langkawi Ferry Services (Tel: +604-2643088
Ekspress Bahagia (Tel: +604-2636255)
From the Ferry Terminal you can easily get a taxi ride into Georgetown city centre.
Sights - Penang's Other Attraction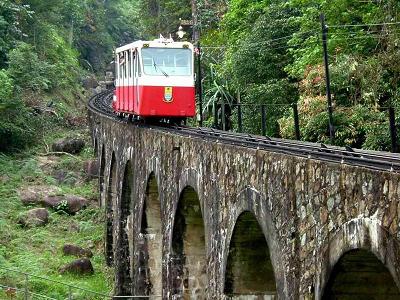 Penang Hillê Located 821m above Georgetown, It was first cleared by Captain Light in order to grow strawberries and thus, originally known as Strawberry Hill. This cooling hillstation offers views of the island and across the sea to the mainland. There are gardens, a restaurant, a kiosk, a hotel and a Hindu temple and mosque at the top. A funicular has been transversing the hill since 1923(RM3/4, every 15 min, 6.30-9.30pm, Sun-Thu, till11.15pm Fri & Sat). The old Swiss-built funicular has since been replaced by a more-modern one. Old bungalows originally built for British officials and the rich can be seen along the way. The climb can also be done by roads and walking trails. For instance, the trail leaving the upper funicular station to the Botanical Gardens take 3 hours. It is best visited on weekdays to avoid the long queues on weekends and public holidays.
Places to Stay
Bellevue Hotel, Tel 04-8299500, Price : RM120-160 (Hill top)
Getting there
Buses : Buses run from Komtar or Lebuh Chulia to Air Itam, short distance away from the funicular
Taxis : From the ferry terminal, a taxi is required to reach the funicular.
Kek Lok Si Temple This is the largest Buddhist temple in Malaysia and was founded by immigrant Chinese back in the 1890's. Funded by Penang Straits Chinese, its completion took over 20 years. As it is located on top of a hill, getting to it requires you to climb a series of steps lined with shops selling a array of stuff, from T-shirts, food to toys. After passing the turtle pond, you will reach Ban Po Thar, a seven-tier high tower. A admission fee of RM2 is charged before you can move further into the Temple complex. Above the Temple is the large figure of Kuan Yin, the goddess of mercy.
Getting there
From Georgetown, take a Transit Link bus No 1, or No 101, or Lim Seng bus No 91, or minibus No 21 from Lebuh Chulia to the Air Itam Terminal.
Botanical Gardens The gardens are popular among the locals and some visitors for a morning or evening stroll. The gardens are also known as the Waterfall Gardens after a stream coming through here from Penang Hill. There are many monkeys here looking for a free meal or two and can be quite aggressive. They are fed twice in the morning and late afternoon by garden staff. There is a path that leads to the top of Penang Hill.
Getting there
Take bus No.7 form Kompar along Lebih Chulia to the entrance. Free Admission, 5am-8pm.
Museum & Art Gallery This is located on the Universiti Sains Malaysia campus. It has a collection of traditional Malaysian and Indonesian musical instruments, Orang Asli and Baba-Nyonya items. It also features some fascinating contemporary Malaysian art and photography.
Getting there
To get here, take any Yellow bus except No.82 from Georgetown and get off at the university stop.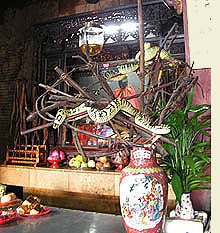 Snake Temple This small temple has been inhabited by the green tree snake and Wagler's pit vipers for quite some time. The temple's snake population are believed to have come there of its own accord and perhaps the only temple of its kind in the world. The vipers are believed to be rendered harmless by the sacred smoke, but as a safety precaution, the snake have also been de-venomed. The temple of the Azure Cloud, as it is actually called is dedicated to Chor Soo Kong, a Buddhist priest and healer. It was built in 1850 by a grateful patient. The venomous snakes can sometimes be seen coiling round the pillars, beams and potted plants within the temple compound. Although with many visitors and worshippers, the number of snakes have dwindled. You are encouraged to pat the passive snakes and people will offer to take a picture, for a price. Nonetheless, ignore them and just go about your visit. Free Admission, although you will be asked to make a donation.
Getting there
Yellow Bus No.66 and Minibus No.32 travel from Komtar and past the temple, which is located at Bayan Lepas.
Fishing Villages Not too long after the Snake Temple is the turn off to the fishing Village of Batu Maung. Here you can see a seaside temple with a shrine dedicated to Admiral Cheng Ho.
Getting there
Buses no.69 and 303 travel pass here from Komtar.
Back to the main road and much further ahead to Teluk Kumbar is the turn off to fishing village of Gertak Sanggul.
Balik Pulau This is a main town located central of Penang Island. There are restaurants and food stalls here where you can sample their culinary specialty, the laksa balik pulau. There is a old Holy Name of Jesus Church here, built in 1854, with its twin spires against the backdrop of the jungle.
Getting there
Komtar yellow buses 66 and 85 travels here from Georgetown.
Tropical Fruit Farm A tourist destination as much as a fruit farm, it host over 140 types of tropical and sub-tropical fruit trees. Fruit sampling and an educational tour of place is included in the price of the ticket, which is RM20. It is located in Sungai Pinang after Balik Pulau in an area of Malay villages and plantations. Tel : 04-8665168. 9am-5pm.
Getting there
Most travellers come on organised trips. The infrequent yellow bus 76 travels from Teluk Bahang in the north to Balik Pulau, passing Sungai Pinang and the Tropical Fruit Farm.
Forest Recreation Park & Museum Travelling north towards Teluk Bahang, you will pass by the Teluk Bahang dam before arriving at the Forest Recreation Park & Musuem. Activities here include jungle trekking and relaxing at some of the small waterfalls. There is also a campsite for those wishing to stay in the jungle. Located close by is the Penang Butterfly Farm where several hundred butterflies flutter in an enclosure. There are also glass cages containing monitor lizards and other reptiles. Tel 04-8851253, Admission Adult /Child, RM12.50/6.25, 9am-fpm Mon-Fri. Going towards the coast, are the Orchid Garden with various of types of orchids in bloom and a Craft Batik factory, selling batik shirts, pants and sarongs.
Batu Ferringhi & Teluk Bahang êê These two strips of beach are host to numerous hotels, resorts and restaurants. Although the beach and sea is not comparable to the best in Malaysia, the sea and the atmosphere is certainly more alluring than any hotels in Georgetown(excluding the E&O hotel). Besides, there is an interesting night market or sidewalk bazaar at Batu Ferringhi to browse though the many stalls selling goods. It can get crowded on weekends and public holidays as day trippers take a holiday, some all the way from Kuala Lumpur. Things to do other than sunbathing include swimming, beach volleyball, jet skiing, waterskiing, parasailing and deep-sea fishing. For budget travellers, there are hostels and guest houses, some with sea-facing views.
Getting there
Buses from Komtar Bus 93, Transitlink 202 goes to Batu Ferringhi and Teluk Bahang, Minibus 88A, 31A goes to Batu Ferringhi only.
Places to stay
Batu Ferringhi
Shalini's Guest House. Tel : 04-881 1859, RM25/45
ET Budget Guest House. Tel : 04-881 1553, RM20-60
Ali's Guest House. Tel : 04-881 1316, RM30-65
Baba Guest Hosue. Tel : 04-8811686, RM25-60
Beng Keat Guest House. Tel : 04-881 1987, RM27-60
Ah Beng Guest hosue. Tel : 04-881 1036, RM50-60
Popular Ferringhi Motel. Tel : 04-881 3333, RM70/90
Lone Pine Hotel. www.lonepinehotel.com, RM385
Shangri-La Rasa Sayang Resort, www.shangri-la.com RM480
Shangri-La Golden Sands Resort, Tel : 04-881 1911, RM324
Holiday Inn Resort, www.penang.holiday-inn.com, RM324
Casuarina Beach Resort, www.casuarina.com, RM420
Teluk Bahang
Miss Loh's Guest House, 04-8851227, RM8/20
Fisherman Village Guest House, 04-885 2936, RM20
Hotbay Motel, 04-885 1323, RM50
Penang Mutiara Beach Resort, 04-8852828, RM650
Tanjung Tokong & Tanjung Bungahê More resorts and hotels are found at this seaside front, with a mix of mostly 3 stars hotels, Mid range establishments and big hotels. Located in close proximity to Gurney drive and Georgetown.
Places to stay
Motel Sri Pantai, www.sripantai.com, RM99/120
Sandy Bay Paradise, www.paradisesandybeach.com, RM200-580
Crown Prince, www.crownprincehotel.net, RM138-490
Novotel hotel
Gurney Drive This place is famed for its foodstalls close to the seaside. In the good old days, the hawker stalls actually lined the road next to the seaside. Now they have been moved and clumped together in a large opening next to seaside road. Many of Penang's popular hawker fare can be found here although many will attest that not all are the best tasting, when compared to selected places located throughout Georgetown and Penang. Nonetheless, the food are still pretty good and the occasional seaside breeze is an added bonus.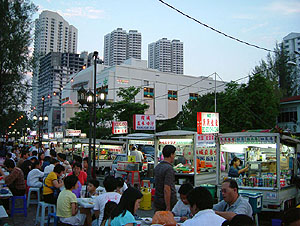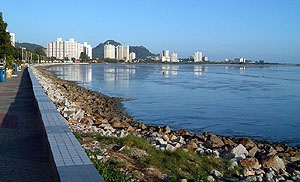 Homestays in Penang
Stay in a traditional Malay home instead of a hotel and get a feel of the kampung(village life). Please see homestay link.
For more inquiries please contact the Penang Tourist Guides Association at 261 4461 : Pejabat Tourism Malaysia Negeri Pulau Pinang, 56th Floor, KOMTAR, Penang 10000, Phone: +604 264 3494 / 263 4941 Fax: +604 262 3688
homepage > Penang
2007 Events
<![if !supportEmptyParas]> <![endif]>
Battle of the Chefs : 11th International Sabon Gastronomy, Bayview Beach Resort, Batu Ferringhi Apr 17-19
International Arts Festival, Dewan Sri Gallery, Penang State Museum, George Town. Apr 1-30
Penang International Floral Festival, Penang Botanical Gardens, George Town. May 27-June 3
27th Penang International Dragon Boat Festival, Teluk Bahang Dam, Teluk Bahang, June 8-10
i Foodex, Penang International Sports Arena (PISA), Bayan Baru, June 22-24
Penang Bridge International Marathon, USM and Penang Bridge, Minden June 24
Penang Bon Odori Carnival, Esplanade, George Town, July 21
Penang World Music Festival, Botanical Gardens, July 20-22
Mega Shopping Carnival, Major shopping complexes in Penang, Campbell St. and Little India, Georgetown, Aug 1- Sept 30
Penang Biathlon, Penang Municipal Park, George Town, Aug 5
Penang World of Percussion, Esplanade, George Town, Aug 10-12
Merdeka Eve Classical Film Festival, Paradise Sandy Beach Resort, Tanjung Bungah, Aug 24-31
Penang International Mountain Bike Challenge, Penang Municipal Park, George Town, Sept 1 and 2
Penang International Lantern Festival Auto City, Juru, Sept 15 - Oct 14
14th Penang International Dance Sport Championships, Bayview Beach Resort, Batu Ferringhi, Nov 24
International Jazz Festival, Bayview Beach Resort, Batu Ferringhi, Dec 1 and 2
Penang Festival, Pesta Pulau Pinang site, Sungai Nibong, Dec 1-31
Chingay Competition, Padang Brown to City Hall, George Town, Dec 23 and 25