Pahang
Darul Makmur (Abode of Tranquility)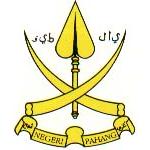 ---
Pahang is the largest state on Peninsular Malaysia, occupying the huge Pahang River basin. It is bordered to the north by Kelantan, to the west by Perak, Selangor, Negri Sembilan, to the south by Johor and to the east by Terengganu and the South China Sea. Kuantan is the state capital of Pahang, a bustling city and one of the stopover points when traveling north or south on the east coast of Peninsula Malaysia. It is located at the Kuantan River mouth and faces the South China Sea.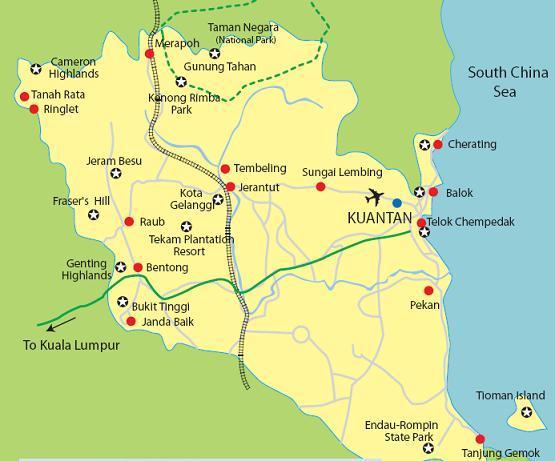 Sights - in the city of Kuantan > Go to Malaysia Map for Kuantan City Map
Sultan Ahmad Shah State Mosque is Pahang's state mosque with blue and white decoration with marble interior and blue and yellow stained glass windows, and was constructed between 1991 and 1993. After taking a stroll along the riverbank at Sungai Kuantan, hop on to a ferry from the jetty located near the local bus station to Kampung Tanjung Lumpur. It is a small fishing village located at the estuary of Sungai Kuantan and known for their ikan bakar or grilled fish. If you can catch them at the right time, you may be able to see fisherman coming back with their catch. The Kuantan area produces some good local handicrafts like batik, wood carvings and hand-woven fabrics created by using a traditional loom called 'kek Siam'. Some shops are located near the jetty at Jalan Besar.
Places to stay
Hotel Meian (609) 552 0949
Oriental Evergreen (609) 513 0168
Hotel Makmur (609) 514 1363
Classic Hotel (609) 516 4599
Hotel Grand Continental (609) 515 8888
Citiview Hotel (609) 555 3888
Shahzan Inn (609) 513 6688
MS Garden Hotel (609) 555 5899
Mega View Hotel. www.megaviewhotel.com
Getting There
By Car : Kuantan is connected to Kuala Lumpur via the East Coast Highway and Karak Highway. The
journey is about 3 hours. It takes 5 hours drive from Singapore.
By Air : Malaysia Airlines flies to Sultan Haji Ahmad Shah Airport Just 15 minutes drive from Kuantan
Centre. It has direct flights from Kuala Lumpur and Johor Bahru among others.
By Bus & Taxi : Terminal Makmur (bus & taxi station).
Sights - Pahang's other attraction
Teluk Chempedak Situated just 6km from Kuantan, Teluk Chempedak is an enclosed bay with a nice stretch of beach. Popular with the locals, activities include swimming, surfing and jet skiing can be done here. Explore the nearby jungle for Malaysia's flora and fauna, with a few different species of plant life, insects, small animals and monkeys inhabiting the small area. Watch out for the unruly monkeys.
Getting there
From Kuantan town, take the coastal road and follow the sign to Teluk Chempedak. If you opt for public transportation, catch the No. 39 bus from local bus station at Kuantan and it will take you to Teluk Chempedak.
There are also other scenic beaches popular with vacationers in the town's vicinity, such as Batu Hitam and Balok. Balok, about 15km north of Kuantan, is a great place to go wind surfing. An international windsurfing competition called 'Monsoon Madness' is held here every year. Competitors come from as far as Canada, Italy and Germany. See water sports section.
Pekan While Kuantan is the administrative capital of the State of Pahang, Pekan is its Royal capital. The ruler of Pahang, His Royal Highness the Sultan, resides at the palace in Pekan.
Cheratingê Along with Redang, Perhentian and Tioman Islands, Cherating is one of the most popular stops on the east coast. You can swim, sunbathe, and wind surf, or just work on the perfect tan. Cherating is a travelers' kampung or village, complete with budget shacks by the sea, a handful of bars, some good restaurants and a decent beach, make Cherating a laid-back destination worth exploring. Some people visiting Cherating settle down and stay for weeks. While the beach can't compare with the white-sand beaches of the Perhentians, the mellow atmosphere of the town keeps people around. Cherating is a good place for surfing and surfers from all over the world return to Cherating, friends' worlds apart make their rendezvous in this understated hamlet to let the South China Sea for some decent surfing. Cherating is also a good base from which to explore the surrounding area. Most of the guesthouses and two travel agencies on the main road can arrange tours to Gua Charas, Tasik Chini and two-hour river cruises on Sungai Cherating.
Places to stay
Shadow of the Moon at Half-Past Four (609) 581 9186
Matahari Chalets (609) 581 9835
Maznah's Guest House (609) 581 9072
Cherating Cottage (609) 581 9273
Payung Guesthouse 019-917 1934
Kampung Inn (609) 581 9344
Tanjung Inn. www.tanjunginn.com.my
Cherating Bayview Resort (609) 581 9248
Ranting Resort (609) 581 9068
Legend Resort (609) 581 9818
Residence Inn Cherating (609) 581 9333
Cherating Bay Resort (609) 581 9988
Club Med. www.clubmed.com.my. Winner of the highly coveted "Best 5 Star Resort" in the Hospitality
Asia Platinum Awards 2005 - 2006.
Getting There
Cherating is less than 50km north of Kuantan and best reached by car or taxi.
Tasik Chini Tasik Chini is Malaysia's second largest natural lake. It is actually formed by a group of 12 lakes among 12,000 acres of lush tropical wilderness. Around the shores live the Jakun Orang Asli(Aboriginal People) who believe the lake is home to the 'Naga' or Dragon. If you visit this lake during June to September, you will see the lotus blooming. You can rent canoes and paddle around the lakes. Tasik Chini itself is a habitat for over 144 species of fishes, which include the toman. The best time to fish is during monsoon seasons mid year and end of the year, when rain brings the water level up. There's a low-key resort at the lakes, but you'll get a better feel for the area by staying at the nearby village of Kampung Gumum.
Take a taxi from Kuantan directly to Kampung Gumum. Alternatively, take a bus from Kuantan or Pekan to Felda Chini. From here, hire a private car and drive to Kampung Gumum or the lake Chini Resort.
Sungai Lembing A serene town tucked away about 40km northwest of Kuantan, Sungai Lembing offers a glimpse into Malaysia's bygone days during the British and Japanese eras. At its heyday, Sungai Lembing had the largest subterranean tin mine in South East Asia. There is a museum here which showcases the town's rich past.
Gua Charas Located at Panching 26km north of Kuantan is Gua Charas. The caves owe their fame to a Thai Buddhist monk who came to meditate here 5 years ago. It is a steep climb up a stairway to the caves' entrance and one need to be careful. There is a colossal sleeping Buddha Cave off to the right. The cavern seems to go on forever. To get here, take a Sungai Lembing-bound bus no.48 from the local bus station in Kuantan and get off at the small village of Panching, just past the sign reading 'Gua Charas 4km'. You can either walk the 4km or pay someone RM2 to give you a ride on their bike.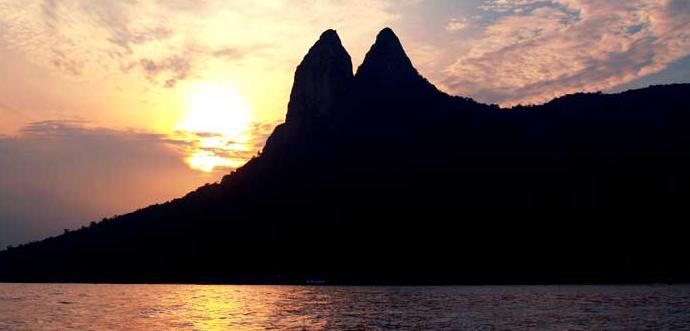 Tiomanêêê Tioman Island is the largest of the east coast islands and part of the Seribuat Archipelago, which consist of 64 islands. The tortoise shaped island is 20km long and 11km wide. Visitors can snorkel and scuba dive in the clear waters, work on their tan or laze around on white sand beaches and explore the rugged trails of the interior. The island was the set for the 1950s Hollywood movie South Pacific as the mythical 'Bali Hai'. In the 1970s, Time magazine rated it as top 10 world's most beautiful beaches. Since then, and with more visitors, it has developed into a tourism geared centre with ample accommodation, airport, ship marina, more roads, and even a casino. All this will inevitably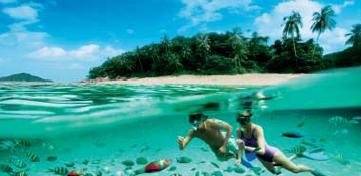 cause some strain to the natural condition of the island. Nonetheless, it still contains a fascinating array of fauna and flora and the underwater world offering good diving opportunities. Most resorts can arrange for speedboats or sea buses to take you to the beaches and small uninhabited islands nearby, such as Pulau Tulai, aka "Coral Island" at northwest and Renggis Island at west, where the snorkeling is at its best. Pulau Tioman is a duty-free zone but food and other goods are priced higher due to the fact that they have to be shipped from the mainland. There are at least 9 villages and about 3,000 residents who live and work on the island as fishermen and resort workers. A majority of Tioman's residents are Malay.
Among the prominent villages are:-
Tekek Village
Tekek village can be considered as the heart of Tioman. The airport is located at Tekek and so do the police station, local authorities and other government offices. The only available road at Tioman is from Tekek village to Lalang village (Berjaya Tioman Beach Resort). To get to other locations you need to take a boat taxi. For those who are fit enough can try the 7km jungle trekking from Tekek village to Juara village on the east side. Main attraction while trekking is the waterfall. Accommodation at Tekek:-
Berjaya Tioman Beach Resort, www.berjayaresorts.com Price RM200-1500
Barbura Seaview Resort, Tel: (609) 419 1346, Price chalet RM132-165
Swiss Cottage Resort, Tel: (609) 419 1843, Price chalet RM58-98
Monte Chalet, Tel: (609) 419 1648, Price chalet RM60-120
Tekek Inn, Tel: (609) 419 1579, Price chalet RM60/70
Air Batang Village
On this 2km stretch of beach, the southern part has some nice beaches. Air Batang has many visitors but also one of the better villages for snorkeling. You can snorkel around the rocks towards Panuba with a reef full of colourful coral and fish. Places to stay
include:-
Bamboo Hill Chalets Tel: (609) 419 1339, Price RM70-120
South Pacific Tel : (609) 419 1176, Price fan chalets RM15-30
Johan's Resort, Tel: (609) 419 1359, Price dorm RM12/25, air cond chalets RM65-80
Nazri's Place, Tel : (609) 419 4329, Price dorm RM25
Nazri's II, Tel: (609) 419 1375, Price chalets RM25/60
ABC Bungalows, Tel : (609) 419 1154, Price chalet RM20/120, hut RM30
Salang Village
Salang village is popular with visitors and located at northwest of Tioman island. It is adjacent to Monkey bay, Marine Park and Tulai Island and is a good destination for snorkeling and scuba diving. Facilities available at the resort includes mini market, 3 scuba shops, jet ski, canoe, souvenir shop and many restaurants.
Khalid's Place. Tel (609) 419 5317, Price RM45/100
Zaid's place. Tel (609) 419 5020, Price RM80/200
Pak Long Island Chalet Tel: (609) 419 5000, Price RM130/180
Salang Indah Resort Tel (609) 419 5015, Price RM25/35/150
Salang Beach Resort Tel (609) 419 5015, Price RM80/110
Genting Village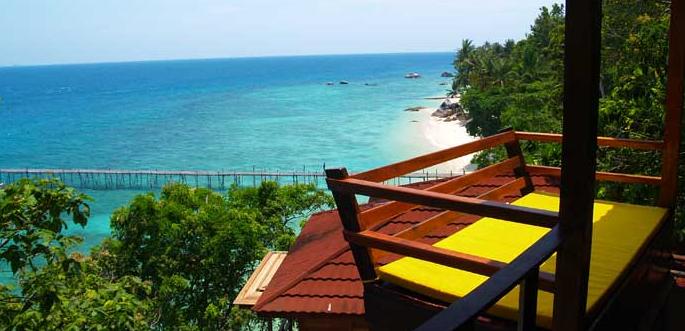 Genting village mix fishing villages and resorts. Most of the resorts located at a hilly side thus illustrate a splendid sea view. Facilities at the village include mini market, scuba shop, souvenir shop and many restaurants. The exquisite Japamala resort is located at south of Genting Village. It is a private, secluded tropical paradise hidden among 11 acres of natural beauty. Within the grounds you will find a cluster of comfortable villas and chalets offering commanding views of the South
China Sea and surrounding jungle. www.japamalaresorts.com. At the Mersing Jetty, let the boater know that you want to get off at the resort. If you arrive by plane at Tioman airport, hop on a boat taxi to take you to the resort. They can be contacted at (609 419 7777 or (609) 419 6001, KL Office Tel: (603) 4256 6100. Price range from RM340 – RM900 per room per night.
Juara Village
Juara village, about 2 kilometres away from the village, its strategic location promised to be the most peaceful and quiet place in Tioman Island for it happens to be the only resort there. At about 50 metres from the resort, a white water Mentawak River flows from Kajang mountain, the highest mountain in Tioman Island. Visitors will be able to feel the freshness and the coldness of the mountain, which cannot be found in any other part of this island. The beach here is very good. Places to stay are :-
Paradise Point, Price fan chalet RM20
River View Place, Tel :(609) 419 3168, Price: fan chalet RM20
Juara Mutiara Resort Tel :(609) 419 3159, Price: chalet RM25/60
Rainbow Chalets Tel; (609) 419 3140, Price: chalet RM25/30
Bushman, A frames, Price: RM30-40
Mizani's Place Tel :(609) 419 3157, Price: chalet RM25
Juara Bay Resort Tel: (609) 414 5349, Price: chalet RM30
Mukut Village
Located on the Southern part of the island, this village is secluded and tranquil with a lovely beach. It is close to the Asah waterfalls and to several exciting rock climbing areas. You can stay at the traditional village-styled chalets Mukut Coral Resort Tel: (607) 7992535, Price: room with fan RM25, A/C chalet RM88.
Paya Village
The 500m beach is located in a wide shaped bay. Beside the beach is a small waterfall to bath and cool off. There are four resorts, the Tioman Paya Resort, Paya Beach Resort, Sri Paya Holiday and Sri Paya Tioman Enterprise which is booked through tour agencies for package tours.
Nipah
A secluded spot in the southwest of the island with only two beach resorts, the Nipah Beach Resort, Price: chalet RM30-80 and Nipah Paradise, which is mainly used for outings of a school in Singapore.
Internet & Telephone
Broadband: There is an Internet Cafe across from the airport in Tekek. The rate is 10rm/hour. It is open from 9AM-6PM. There is also broadband available at Berjaya Tioman Resort for similar rates, and one at Paya Beach Resort. A better option if you have a laptop is wireless broadband at Berjaya - 60 RM for the duration of your stay and it is available 24x7 once you have paid. You can use it only at the public area. Dial-up: most of the villages have a couple of dial-up spots. In Air Batang, there are 2: Bamboo Hill has dialup for 10rm/hour available from 8:30AM-7:30PM. There is also an internet cafe near the jetty with 2 computers. It is open late. Telekom cards are sold in shops but do not buy them unless you found a public phone that works. If you want to call home, a lot of chalets offer international call services.
Getting There
By car : Access point to Pulau Tioman is Mersing, a fishing village located at the mouth of Sungai Mersing. There are many
restaurants, inexpensive hotels and a resort but little to see in Mersing, although the 95-year old Fushun Chinese Temple may interest you. Together with a Hindu temple, it is located at the roundabout by the bridge. To get to Mersing it takes 4½ hours by car from Kuala Lumpur. Kuala Lumpur - (access the Karak Highway) Temerloh - Kuantan - Pekan - Kuala Rompin - Tg. Gemuk – Mersing. Alternatively from Kuala Lumpur - (access the PLUS Highway) Seremban - Bahau - Muadzam Shah - Kuala Rompin - Tg. Gemuk – Mersing. Driving from Johor Bahru or Singapore to Mersing, you access the Tebrau Highway and proceed to Kota Tinggi. Estimated travel time is 4-5 hours. Car park services are available at both Tg. Gemuk and Mersing jetties. Parking charges are at around RM5 - RM7 per night inclusive of security.
By Bus & Taxi : Public transport from Kuala Lumpur to Mersing. Buses depart from Puduraya Bus Station and the fare is about RM
19.50 and 25.00 one way. The buses leave at noon and 11.30pm. Estimated travel time 5-6 hours. Taxi fare is approximately RM 300
- RM 400 per taxi for chartered service.
Public transport from Singapore to Mersing. Express buses are available at Newton Circus Court and Jalan Sultan Bus Station,
Departures start at 6.30am daily
By Air : Direct flights to Tioman Island depart from Kuala Lumpur(Subang Airport(SZB)* Terminal 3) and Singapore (Seletar Airport).
Berjaya Air : 03-7846 8228, www.berjaya-air.com
By Boat : Ferry Terminal : Mersing in Johor is the main ferry terminal to Tioman. Ferries stop at Genting, Paya, Berjaya Tioman, Tekek, ABC and Salang in that order. Buy tickets at R&R Plaza tour operators. Departures start from mid-morning till mid afternoon.
Ferry Terminal : 09-413 1996 / 1997 (Tanjung Gemok, 35km north of Mersing). Useful if coming from the north and faster to Berjaya Tioman Beach resort. Departure starts 10am till 2pm.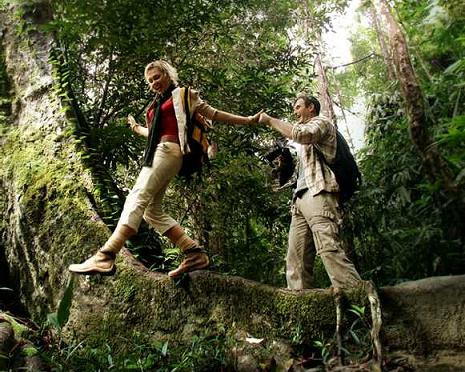 Taman Negaraêê One of Malaysia's largest and greatest park, Taman Negara, or National park, covers an area of 4,343sq km and sprawls across the states of Pahang, Kelantan and Terengganu. The most visited area of the park is located in Pahang. The tropical jungle here is claimed to be the oldest in the world, which is 130 million years old. There are many animals and plants, but you will probably not be able to spot any large mammals, apart from monkeys. The jungle is so dense that you could pass within metres of an animal and never know it. Chances increase if you do an extended trek away from the heavily trafficked park headquarters and deeper into the jungle. However, you will certainly be able to see many varieties of insects and flora. At the Pahang side, the wildlife department is near the Mutiara Taman Negara resort. It is here you need to register before heading off into the park. The major activity at Taman Negara is walking thought the magnificent jungle and rivers. There are many variety of walking and trekking possibilities –from an hour's stroll to nine arduous days up and down 2187m high Gunung Tahan. The trails around the park headquarters are convenient but heavily trafficked. A long day walk will take you away from the crowds. Easy trails around park headquarters are signposted and marked with approximate walking times. The Bukit Indah trail will bring you to the Canopy Walkway, a suspended bridge in the middle of the jungle. Adult/Child RM5/3. Opens 11am to 2.45pm Sat-Thu. Other activities include a night jungle walk, cave exploration at Gua Telinga, river rafting, rapids shooting on Sungai Tembeling, a picnic trip to Lata Berkoh Rapids, fishing at Sungai Tahan, Keniam, Sepia and visits to an Orang Asli settlement. Visit the Interpretive Centre in the Mutiara Taman Negara resort to enquire on such activities. Bumbun or hides are built overlooking salt licks and grassy clearings, which attract feeding animals. There is a chance to spot tapir, wild boar, dear and the rare elephant. These bumbun have sleeping bunks for six to eight people and a toilet. You will need to bring your own food and sleeping bag. If you plan to stay overnight, try to book at the Wildlife Department the day before and it cost RM5 per night. A powerful torch will prove useful when trying to see animals at night. Even if you don't see any wildlife, the fantastic sounds of the jungle is quite an experience. Try bumbun Belau, Yong, Tabing, Kumbang and Cegar Anjing as they are located further
away from Kuala Tahan, which increases the chances of seeing some animals. Mountain climbing Gunung Tahan(2187m), the tallest mountain in Peninsula Malaysia, requires physical preparation beforehand as it is punishing. Carrying heavy loads puts a lot of strain on the shoulder and legs as you have to be fully equipped and stocked. It takes from 7 to 9 days to complete the climb. For camping near the summit of Tahan you will need thicker clothes, a sleeping bag or blanket as it is chilly. Guides are compulsory at RM500 for 7 days and RM50 for each day thereafter. Entrance to the park is RM1, a camera permit is RM5, a fishing license costs RM10 and rod rental is RM5. These can be obtained at the office at the Kuala Tembeling jetty or at the Wildlife Department at the park. Guides cost RM120 per day, plus a RM50 fee for each night spent out on the trail. It is necessary for the Tenor jungle trail and when climbing Gunung Tahan.
Places to Stay
Kuala Tahan
Mutiara Taman Negara Tel : 609 266 3500 or 603-2145 5585
Kampung Kuala Tahan
The village of Kuala Tahan is directly across the river from park headquarters and the accomodation here is cheaper. Sampan or small boats charge RM0.50 to cross the river.
Tembeling River Hostel & Chalets. Tel: 609 266 6766
Teresek View Motel, Tel : 609 266 9177
Rainforest Resort, Tel : 609 266 7888
Durian Chalet Tel : 609 266 8940
Liana Hostel 609 266 9322
Ekoton Chalets 609 266 9897
Agoh Chalets 609 266 9570
Tahan Guesthouse 609 266 7752
Nusa Camp
15 minutes up Sungai Tembeling from Kuala Tahan
Nusa Camp 609 266 3043 or KL office Tel 603 20705401
Kuala Trenggan
35 minutes upsteam from Kuala Tahan at Kuala Trenggan
Trenggan Lodge. Tel 609 266 3500
Getting There
By Boat : Drive, take a bus, taxi or train to Jerantut, a bus or taxi from Jerantut to Kuala Tembeling and then a boat from Kuala Tembeling to park headquarters at Kuala Tahan. The staging point for visits to the park is Kuala Tembeling from which a 3 hour interesting boat ride upriver takes you to Kuala Tahan at 9am and 3pm daily, except for Fridays when the afternoon departure is at 2:30pm. The boat fare costs RM 19 for a one way trip. Mutiara Taman Negara Resort also operates a speedboat service that take only 45 minutes to reach Kuala Tahan. The speedboat leaves Kuala Tembeling at 10:30am and 1:30pm daily. Buses to Jerantut may be found at the Jalan Tun Razak Bus Station in Kuala Lumpur. From there, hop on a local bus or taxi to Kuala Tembeling, 16km north of Jerantut. Alternatively, Jerantut bound taxis are available at the Pudu Raya Bus Terminal in Kuala Lumpur.
By Car : You can also drive all the way to Kampung Kuala Tahan, just across the river from the resort and park headquarters. But there is more to experience by taking the boat trip from Kuala Tembeling.
By Rail : Kuala Tembeling is also accessible from Kuala Lumpur, Singapore or Kota Bharu (via Tumpat) by rail. Trains from these stations stop at Tembeling Halt, about half an hour's drive to the jetty at Kuala Tembeling. From Kuala Tembeling take the boat to Kuala Tahan. Please contact Keretapi Tanah Melayu Bhd for details on train schedules and fares. The contact number are 03-2267 1200.
Kenong Rimba State Parkê This is a 120sq km lowland forest park rising to the limestone foothills bordering Taman Negara. The park offers adventures such as exploring bat filled limestone caves at Gunung Kesong's Gua Hijau, jungle treking, visiting a orang asli village(batek tribe), swimming in the river, visiting Lata Babi waterfall and camping. A permit from the Forestry Department is not required, but you must be accompanied by a registered guide. Guides to the park can be arranged at Kuala Lipis. Look for Appu's Guesthouse Tel : 609 312 3142; 63 Jln Besar, Pan Holiday Travel & Tours Tel; 609 312 5032 (Building opposite train station), Tourist Office at train station Tel : 609 312 3598, also arranges trips with guides.
Getting there
To get to Kenong Rimba Park is through the town of Kuala Lipis, some 180km from Kuala Lumpur, 258km from Kuantan and 300km from Kota Bharu. It is accessible by bus and taxi. Railway links it to Kuala Lumpur and Singapore. From Kuala Lipis train station take a southbound local train to the Batu 9 station. You can go by road to the Lipis Railway Station, about three hour's drive from Kuala Lumpur. From Batu 9 station, it's a short five-minute walk to the Sungai Jelai jetty for a 20-minute boat ride downstream to Tanjung Kiara Jetty at Sungai Kesong. The journey into the park starts from the jetty and the entrance is a 30 minute walk away. Alternatively, opts for a boat from Kuala Lipis jetty to Tanjung Kiara or take the trunk road on a four-wheel drive to Felda Kechau Sembilan before passing through Kampong Matok.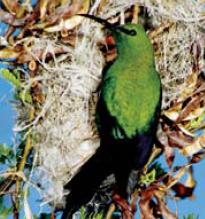 Bukit Fraserê Bukit Fraser or Fraser's Hill, is named after Louis James Fraser, an ore-trader and mule-train operator who built himself a shack and lived here at the turn of the 20th century. He somehow disappeared and was never found in this hill station. In 1910 Bishop Ferguson-Davie of Singapore came looking for Fraser and recognised the area's potential as a hill station. Fraser's Hill has seen some but little development when compared to the hill station of Cameron Highlands. Set at a cool 1524m altitude, this small hill town is great for a day trip or a family get away. The colonial buildings are indeed charming and blend well with the abundant local flora and fauna. This place is one of Malaysia's top destinations for bird watching. There are some 265 species of birds recorded here. Even if you are not an ardent bird watcher, it is wonderful to listen to bird songs and see the varied coloured feathers of the birds. There are five jungle trails for trekking in the forests ranging from 0.5 hour, 2 hour and 4 hour walks. Try your hand at the nine-hole golf course, which cost RM40 a game and rental of clubs, RM15. At the paddock to the east of the golf course, you can go horse riding or practice archery, but be there early as it closes quite quickly. Another fun activity not to be missed is to paddle boat at a small lake called Allan's Waters. The lake is located next to the flower nursery and Muniswarar Hindu Temple. About 5km northwest of the town centre is Jeriau Waterfall, a pool fed by a small waterfall.
Places to stay
Puncak Inn, Tel : 609-362 2201, Price RM39-61
Rumah Selangor Seri Berkat, Price RM40-60
Rumah Rehat Gap, Price RM41 (This is located 8km south of Bukit Fraser)
Quest Resort, Tel : 609-362 2300, Price RM99-180
Jelai Highland Resort, Tel 609-3622600, Price RM80-140
Fraser's Pine Resort, Tel 609-362 2122, Price RM288
Ye Olde Smokehouse, Tel 609-362 2226, Price RM280-400
Getting there
By Car : From Highway 1, or the north south highway, get off at Rawang and head towards Kuala Kubu Baru town. From Kuala Kubu Bharu, you need to drive to the foothill where the Rumah Rehat Gap is located. The eight-kilometre drive up the hill is a winding one way road. Cars coming up and down between 6.30am to 7pm have to take their hourly turns.
By Bus : Take the bus from Puduraya bus terminal in Kuala Lumpur to Kuala Kubu Bharu. You then need to board another bus from Kuala Kubu Bharu which departs to Fraser's Hill at 8am and 2pm daily. Taxis also available from Kuala Lumpur.
Cameron Highlandsê Cameron Highlands is a highland region located about 20 km east of Ipoh and about 150km north of Kuala Lumpur in Pahang, Malaysia. At 5000 ft (1,500 m) above sea level it is the highest area on the mainland, and enjoys a cool climate, with temperatures no higher than 25°C and rarely falling below 10°C year round. Cameron Highlands takes its name from William Cameron, the surveyor who mapped the area in 1885. He was soon followed by tea planters, Chinese vegetable farmers and colonialists looking for a temperate climate. Over the years, the favourable temperature has attracted too much badly conceived development and many were left unchecked. Despite this, Cameron Highlands is still a relaxing destination worth a visit. From Tapah it is 47km up to Ringlet, the first village of the Highlands and primarily Malay town. After Ringlet is the main town of Tanah Rata. Tanah Rata has a large Indian population, descendants of Indian workers originally brought here to pick tea. After Tanah Rata town is Brinchang, a more modern Chinese town.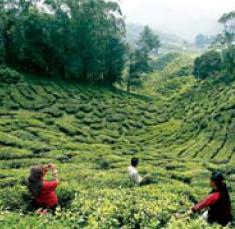 A visit to a tea plantation is a popular Highlands outing. The first tea was planted here in 1929 by JA Russell, who founded the Boh Tea Estate. Apart from the beautiful vista of tea trees planted at the mountain sides, you can also visit the factories to see tea production and purchase some tea from the shops. Boh's Sungai Palas Tea Estate is up in the hills north of Brinchang, off the road to Gunung Brinchang. Public buses running between Tanah Rata and Kampung Raja pass the turn-off to Gunung Brinchang. From there it is 4km along the road past Robertson Rose Garden to the plantation entrance. You can also visit the Boh Tea Estate, southeast of Tanah Rata and 8km off the main road up to the Highlands. www.boh.com.my. Robertson Rose Garden is worth a visit for its hilltop views.
Cameron Higlands is the leading producer of flowers in Malaysia. Most of the flower nurseries are centered around Bertam Valley and all along the way from Brinchang to Kg Raja. Common flowers are roses, chrysanthemum, carnations, dalia, geranium, fuschia and gladioli. Cactus nurseries are also found here. There are many strawberry farms in Cameron Highlands and the main season for strawberries is January.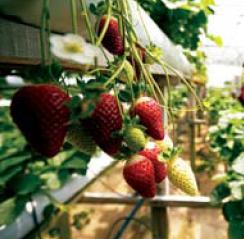 Some of the farms are Kasimani, KHM, EQ, Healthy and Raju Strawberry farm. There are also Vegetable farms which can be visited. The larger farms provide the vegetables for the nation's consumption and not on the tourist trail. A butterfly Garden and Farm are located at Kea Farm. There are more than 300 varieties of butterflies and beetles, scorpions
and stick insects. There main tourist market to buy local produce can also be found at Kea Farm. Other markets are located along the mainroad from Ringlet to Kg. Raja. Other places of interest include the Sam Poh Temple, just below Brinchang about 1km off the main road. It is a typical Chinese temple with many statues and colours. It is signposted as the "Tokong Temple" from the intersection at the main road in front of Iris House Hotel. Located nearby is the Hindu temple, Sri Tehndayuthapany Swamy. It is adorned with bright sculptures created by artists from India. Gunung Brinchang at 2031m is the highest point and has breathtaking views. Drive the narrow and steep 7km road to reach here. Visit the Orang Asli (aboriginal People) settlement near Brinchang to see their simple way of life. You may need to hire a local Malay guide, who will also act as an interpreter. One of the most popular activities in Cameron Highlands is to enjoy Mother Nature. This can be done by doing jungle trekking and mountain hiking. There are up to 11 trails with varying degree of length and difficulty. The trails generally pass through relatively unspoiled jungle, and the cool weather makes hiking a pleasure. Many trails are available and it is safer to go in groups(especially for women) or hire guides for longer trails. Camping is another activity popular with the youth where you can pitch tent on the along the main range after a hike. Alternatively, you can put up tent at the Sg Pauh campsite, which is located near the Forestry Department at Taman Sedia, a 5 minute drive to Tanah Rata or Brinchang. Call the forestry departmnet at 605-4911384.
Local tour companies organise tours in Cameraon Highlands or provide guides for longer jungle and hiking trails. They are Titiwangsa Tours and Travel Sdn. Bhd., www.titiwangsatours.com. C.S. Travel and Tours Sdn. Bhd., www.cstravel.com.my. Golden Highlands Adventure Sdn. Bhd., www.gohighadventure.com. Cameron Secrets, www.cameronsecrets.com.
Places to stay in Cameron Highlands.
Tanah Rata
Cameronian Inn, Tel : (605) 491 1327, Price : RM6-30
Father's Guest House, Tel : (605) 491 2484, Price : RM8-20
Camlodge Hotel, Tel : (605) 491 4975, Price : RM35-45
Hotel BB Inn, Tel : (605) 491 4551, Price : RM35-45
Kavy Hotel, Tel : (605) 491 5652, Price : RM29-39
Daniel's Lodge, Tel : (605) 491 5823, Price : RM6-18
Hillview Inn, Tel : (605) 491 2915, Price : RM40-80
Jurina Hill Lodge, Tel : (605) 491 5522, Price : RM50
Bala's Holiday Chalet, Tel : (605) 491 1660, Price : RM88-120
Cool Point Hotel, Tel : (605) 491 4914, Price : RM75
Lakehouse. www.lakehouse-cameron.com, Tel : (+605) 495 6152, Price: RM407
Ye Olde Smokehouse, Tel : (+605) 491 1215, Price :RM350
Hotel Casa de la Rosa, Tel : (605) 491 1333, Price : RM320-1000
Century Pines, Tel : (605) 491 5115, Price : RM150-200
Heritage Hotel. www.heritage.com.my, Tel : (605) 4913888, Price : RM350
Brinchang
Hotel Sentosa (605) 491 1907
Iris House Hotel (605) 491 1818
Parkland Hotel 491 (605) 1299
Hill Garden Lodge 491 2988
Brinchang Hotel (605) 491 1755
Strawberry Park Resort(+609) 491 1166
Merlin Inn Resort. (605)
Homestay Programme (See Homestay Link)
Tanah Rata, Cameron Highlands
Tn. Hj. Ramli b. Mohd Yunus
Balai Penghulu Cameron Highlands
39000 Tanah Rata, Cameron Highlands
Mobile: 013-9202 293
Getting There
The gateway to Cameron Highlands is Tapah, which is easily reached by bus, taxi or train from Kuala Lumpur. From Tapah, you can take a bus or taxi to Tanah Rata, Cameron Highlands' main town. There are daily buses from Tapah to Tanah Rata, between 8am and 6pm. It takes 2 hours to reach the top and the 653 bends can be nauseating for some.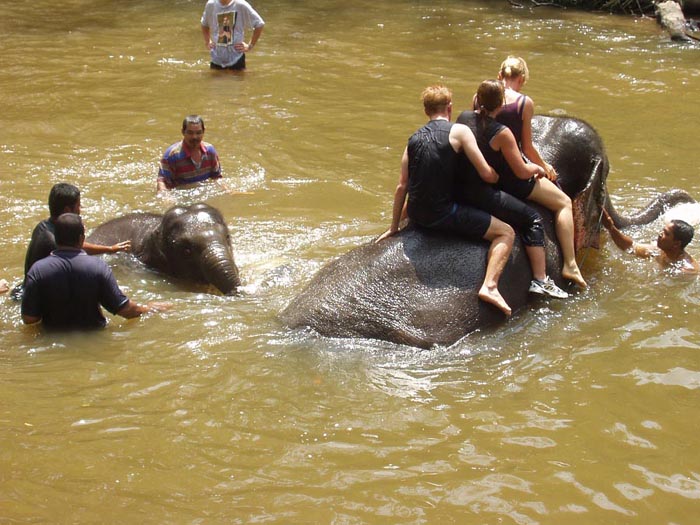 Kuala Gandah Elephant Conservation Centreêê This conservation centre is located at Department of Wildlife and National Parks, Kuala Gandah, 28500 Lancang. The Kuala Gandah Elephant Conservation Centre educates visitors about the plight of the Asian elephant. Here you're not only able to watch elephants in the wild, but also feed, ride and swim with them. Feeding time is 2pm, followed by bathing session at the river starting at 2.30pm. Park closes at 4pm and on Fridays. There are no admission fees but donations can be contributed to the elephant trust fund. www.myelephants.org
Getting there
From Kuala Lumpur, take the Karak highway heading towards Lancang district, passing the Karak Village along the way. Once in Lancang, you should be able to see a BP gas station by the side of the road. Turn left into the road before the gas station then follow the ample road signs along the way and head towards Bolok. You will pass an Orang Asli settlement and at the end of that road, you will reach the Kuala Gandah Elephant Centre. The journey takes between two and a half hours and is 160 km from Kuala Lumpur. The centre is open from 2pm to 4.30pm
Homestays in Pahang
Stay in a traditional Malay home instead of a hotel and get a feel of the kampung(village life). Please see homestay link.
Pahang Tourism Action Council
Jalan Mahkota
25000 Kuantan
Pahang Darul Makmur
Tel: 609-517 1111/1112
Fax: 609-514 6900
Tourist Information Centre
Jalan Mahkota
25000 Kuantan
Pahang Darul Makmur
Tel: 609-516 1007/2007/517 8112
Fax: 609-515 7006
homepage > Pahang
2009 Events
Happy Shaolin Legend


27 January 2009 Until 2 February 2009
Shaolin Kung-Fu is undeniably one of the most well-known martial arts in the world. Its popularity has survived tumultuous history, sprawling several legendary tales that firmly etched their marks on Chinese civilization. 'Happy Shaolin Legend', will be staged at Arena of Stars, Genting Highlands. The show is not just an ordinary martial art performance; but a professionally choreographed theatrical performance which will be appreciated by all levels of the society.

Venue:
Arena or Stars, Genting Highlands
Pahang
Phone: 603-2718 1118/ 6012-233 3099/ 6012-399 3109
Fax: 603-2116 5837
Email: enquiry@j-link.com.my
Website: www.genting.com.my
Pahang Food


7 March 2009 Until 22 March 2009
Savour some of the best delicacies Pahang has to offer! This event is part of the Colours of Malaysia 2009 celebrations.
Venue:
Genting Highlands
Pahang
Phone: 09-5171 114
Fax: 09-5146 900
International Rafting Expedition


26 April 2009 Until 3 May 2009
The expedition requires participants to raft about 360 kilometres on the Pahang River. The event, to be happening for eight days and seven nights, will see participants served with village feasts upon arriving at several spots along the rafting route. Cultural performances will be among the highlights at these venues to celebrate the rafting adventure.
Venue:
Kuala Lipis
Pahang
Phone: 609 517 1624 / 23
Fax: 609 517 1626
Email: pkbf@tm.net.my / pkbf@streamyx.com
Website: www.pkbf.org.my
Organiser:
Bukit Fraser Development Corporation
Eco Paintball / Rainforest Festival


1 June 2009 Until 30 June 2009
Held in Putrajaya and several other states in Malaysia, the eco-paintball competition is hailed as one of the world's most exciting outdoor sports. A combination of childhood games such as 'tag' as well as 'hide-and-seek', paintball is a match which normally consists of two teams competing against each other. The shooting game uses 'paint gun' as the weapon whereas 'paintball' - a round, thin-skinned gelatin capsule containing coloured liquid - is used as the bullets.
Venue:
Putrajaya, Rompin, Kenyir Lake, Bukit Cerakah,
Royal Belum, Jelebu, Taman Negeri Wang Kelian, Kuala Lipis
ALL
Phone: 603 2693 7111
Fax: 603 2694 1146
Email: info@motour.gov.my
Website: www.motour.gov.my
Organiser:
Ministry of Tourism, Malaysia
Flower Festival


5 June 2009 Until 6 June 2009
The Flora & Fruit Festival in Malaysia is held in conjunction with the local fruit season. Enjoy the excellent nutrition and great taste of local fruits!
Venue:
Cameron Highlands
Pahang
Phone: 609 517 1111
Fax: 609 514 6900
Email: mtpnpahang@motour.gov.my
Website: www.motour.gov.my
Organiser:
Pahang Tourism Action Council



Interesting Links on Pahang



http://www.pahangtourism.com.my/

http://portal.pahangtourism.org.my/



ANNUAL EVENTS (ALL DATES ARE TENTATIVE)



For more information and exact timing, kindly contact:-

Tourist Information Centre
107 Jalan Pelindung, Taman Pelindung Jaya,
Beserah,26100 Kuantan,
Pahang Darul Makmur,
Malaysia.

Tel: 609-5165633 (En. Hafiz)

Mailto : trc@pahangtourism.com.my

The Pahang Tourist Information Centre, is open from:

Monday to Saturday, 9.00 am - 5.00 pm

International Monsoon Madness Windsurfing Challenge, Balok Beach, Kuantan

,

Jan 19-21

Taman Negara Eco-Challenge, Gunung Tahan

,

Mar 24,25

Sungai Pahang International Rafting Expedition, Lipis to Pekan, April 29-May 6

Rompin Orang Asli Festival, Rompin

,

April 19,20

Pahang International Gamelan Festival, Kuantan, May 26,27

Tioman Diving Competition, Tioman Island

,

June 16,17

Fraser's Hill Bird Race, Fraser's Hill

,

June 23,24

Cameron Highlands Food and Fruits Festival, Cameron Highlands

,

July 14,15

Royal Pahang Billfish International challenge, Rompin

,

Aug 3-5

Kuantan Beach Run, Kuantan

,

Aug 18-19

International Dirt Bike Challenge, Kemahang, Lipis, Sept 2,3

International Surfing Competition, Cherating

,

Dec 28-30