Sarawak
Bumi Kenyalang (Land of Hornbills)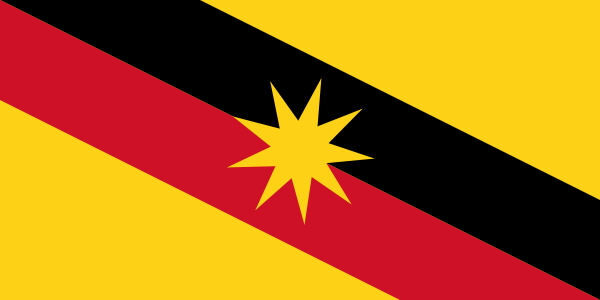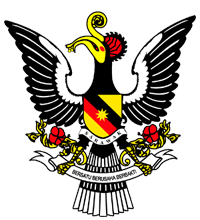 ---
Sarawak is one of the two Malaysian states on the island of Borneo, situated on the northwest of the island. It is the largest state in Malaysia; the second largest, Sabah, lies to the northeast. Sarawak has been a loosely governed territory under the control of the Brunei Sultanate in the early 19th century. James Brooke, an Englishman, became governor of Sarawak on September, 1841 and was appointed Rajah by the Sultan of Brunei on August 18, 1842; originally this territory was just the western end of later Sarawak, around Kuching. He ruled Sarawak until his death in 1868. His nephew Charles Anthoni Johnson Brooke became Rajah after his death; he was succeeded on his death in 1917 by his son, Charles Vyner Brooke. The territory was expanded under these three, mostly at the expense of areas nominally under the control of Brunei. In practice Brunei had only controlled strategic river and coastal forts in much of the lost territory, and so most of the gain was at the expense of Muslim warlords and of the de facto independence of local tribes. The Brooke dynasty ruled Sarawak for a hundred years, which is until 1941, and became famous as the "White Rajahs.
Sarawak is home to 28 ethnic groups, each with their own distinct language, culture and lifestyle. The Ibans form the major ethnic group on this land with about 31.2% of the total population per the year 2004 census. The Malaysian Chinese, who generally live in the cities, are the second largest group at 28.6%, followed by the Bidayuh, Melanau and other native tribes of Sarawak. The Malays, from Brunei constitute a large portion 21.4% of the population as well, mainly concentrated along the coast. The people of East Malaysia are generally known for their genuine friendliness and down to earth attitude.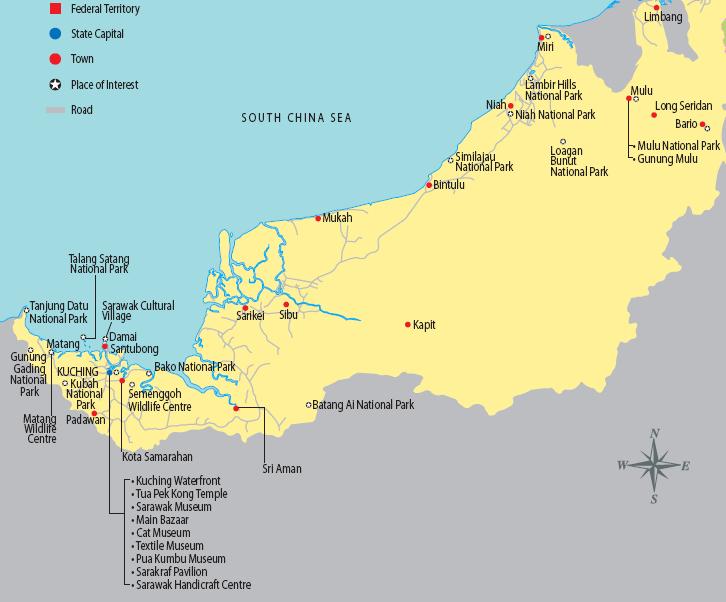 Sights – In the City of Kuchingêê > Go to Malaysia Map for Kuching City Map
Kuching means 'cat' in Malay and unlike many other towns in Borneo, it did not suffer any destruction due to bombings in WWII. Thus many of its historic building remain and are tastefully renovated. Although Kuching is the main gateway to the rest of Sarawak, there are some sights here, mostly located at the south bank of Sungai Sarawak. The waterfront is at the south bank of Sungai Sarawak has a tastefully developed paved walkway, lawns and flowerbeds. Here you can watch or go on a river cruise on a tambang (river ferries) with their lanterns. The cruise cost RM30 per hour. There are many godowns(river warehouses) and Chinese shophouses around the waterfront and markets. Visit the Sarawak Museum which is built in the style of a Normandy townhouse, the old wing was opened in 1891. It is located at Jalan Tun Haji Openg; Free Admission. 9am-6pm. It contains interesting artifacts, including stuffed animals, headhunting trophies, photographs of tribal people, a longhouse, musical instruments and old ceramics. The Islamic Museum, located at Jln P.Ramlee is a beautifully restored building with galleries exhibiting various exhibits of ceramics, costumes and weaponry and Islamic art. Admission is Free; 9am-6pm, Sat-Thu. The Istana located at the north bank of the river was built by Charles Brooke in 1870. It is now the governor of Sarawak's residence and not open to the public. Fort Margherita (named after his wife) was another building commissioned by Charles Brooke in 1879, to guard Kuching against pirates. The fort now houses the Police Museum (open 10am-6pm, Tue - Sun) and orchid garden. Both Admissions free. To get to the Istana and fort, take a tambang across the river. The Chinese History Museum at Main Bazaar began as a Chinese courthouse in 1912. Inside, historical notes, traditional furniture and musical instruments are on display. Admission is Free. 9am-6pm, Sat-Thu. The Cat Museum pays homage to the origin of the city's name with many displays of cat items and themes. It is located north of the river at Bukit Siol, Jln Semarian. Admission free. 9am-5pm. Tue-Sun. Take the Petra Jaya bus No.2B. The timber museum located at Wisma Sumber Alam, Petra Jaya displays numerous logging processes and types of timber found in Sarawak. Take the Kuching Matang Transport bus No.8 from near the market for the 12km ride to Wisma Sumber Alam. The Courthouse and Brooke memorial at Jalan Tun Haji Openg was built in 1874 and now houses a tourist information centre. The Chinese temple of Tua Pek Kong Temple, at Jalan Tunku Abdul Rahman, dates back to 1846 and this makes it the oldest building in Kuching. The Hindu temple at Jalan Ban Hock, Sikh temple at Jalan Mosque and Indian mosque (dated 1850)at Jalan India are some of the other interesting sights of Kuching. The Kuching mosque looks interesting from across the river. 1km south of the city centre along Jalan Tun Haji Openg is the Civic Centre, which offers a panoramic view. Admission is RM2. The Sunday morning market at Jalan Satok is an interesting visit with bustling activities. Jalan Carpenter is an interesting stroll along old Chinese shops dating back to the late 19th century.
The Kuching visitors' information centre has just about everything you need to know about traveling in Sarawak. They supply lots of brochures, transport schedules and other information. Accommodation bookings and permits for Parks and Wildlife centres can also be done here. It is located at a old courthouse, Sarawak Tourism Complex, Jln Tun Abang Haji Openg, Kuching; 8am-6pm, Mon-Fri. 9am-3pm, Sun & Holiday. Tel : 6082 410944 / 42.
Kuching tour operators & travel agency
Looking for some adventure, whether it is Snorkeling, Scuba Diving, Mountain Climbing, Jungle trekking, River Rafting, River travel, Kayaking, Animal viewings such as turtle hatchery, Orang Utans, Proboscis monkeys, Homestays, Cultural trips to local longhouses and others, arrange them with experienced and well equipped travel/tour operators.
Borneo Adventure : (6082) 245175, www.borneoadventure.com; 5th Floor, 509-512 Gaya Centre. Established in 1987, this award Winning company has professional staff and interesting itineraries. One of the top tour operators.
Borneo Interland Travel : (6082) 413595, www.bit.aus.to, 1st Floor, 63 Main Bazaar, Offers a wide variety of tours near Kuching and throughout Sarawak at reasonable prices.
Borneo Exploration : (6082) 252137, http://borneoexplorer.tripod.com, 76 Jln Wayang. Similar to Borneo Interland Travel
Borneo Inbound Tours & Travel : (6082) 233354, 1st Floor, 98 main Bazaar,. Arranges Homestays trip to Telok Melano and other Sarawak tours.
Places to stay
B&B Inn. Tel : (6082) 237366, Jln Tabuan, Price RM24-32
St Thomas Diocesan Rest House, Tel : (6082) 414027, Jln McDougall, Price RM30-40
Fata Hotel, Tel : (6082) 248111, Jln McDougall, Price RM45-63
Mandarin Hotel, Tel : (6082) 4182 269, Jln Green Hill, Price : RM45-55
River View Inn. Tel : (6082) 412551, Jln green Hill. Price : RM45-55
Goodwood Inn, Tel : (6082) 244862, Jln Green Hill. Price : RM40-55
Telang Usan Hotel, Tel : (6082) 415588, www.telangusan.com, Jln Ban Hock, Price : RM90-140
Harbour View Hotel, Tel : (6082) 274666, www.harbourview.com.my, Jln Temple, Price : RM98-128
Borneo Hotel, Tel : (6082) 244122, Jln Tabuan, Price RM75-85
Supreme Hotel, Tel : (6082) 255155, Jln Ban Hock, Price RM70-90
Hotel Grand Continental, Tel : (6082) 230399, www.grandhotelinternational.com, Jln Ban Hock, Price RM150
Hilton Hotel, Tel : (6082) 248200, www.hilton .com, Jln Tunku Abdul Rahman. Price RM335
Crowne Plaza Riverside Kuching, Tel : (6082) 247078, www.crowneplaza.com, Jln Tunku Abdul Rahman. Price RM380-450
Merdeka Palace Hotel, Tel : (6082) 258000, www.merdekapalace.com, Jln Tu Haji Openg, Price RM335-440
Holiday Inn Kuching, Tel : (6082) 240277; www.holidayinn.com, Jln Tunku Abdul Rahman, Price RM300-360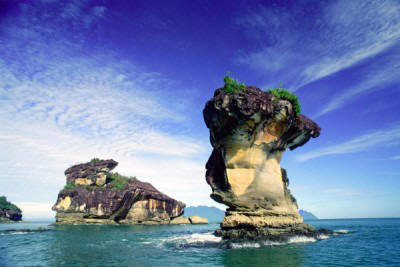 Bako National Parkêê Bako is Sarawak's oldest national park. Anyone can visit Bako National Park in a day as it covers 27sq km of unspoilt dipterocarp forest, scrub-like padang, swamp forest, mangroves and delicate cliff vegetation. Located 37 kilometres from Kuching, the park is rich with an abundance of flora and fauna. Although it is one of Southeast Asia's smallest national parks it contains almost every type of vegetation found in Borneo. Jungle trekking is the best way to fully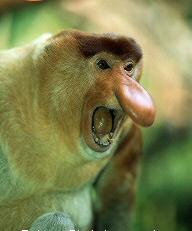 absorb the richness of the park's treasure. A system of 16 colour-coded walking trails offers full day jungle hikes to gentle strolls. It has been protected since 1957 so the animals have become used to human visitors and are less shy than their remote jungle cousins. This means a good chance of seeing wildlife and getting close enough to take photographs. The proboscis monkey(only found in Borneo), long-tailed macaque monkeys, silvered Langurs, monitor lizards and squirrels can be seen here. Bako is also a good place for bird watching, particularly the hornbills. More than 150 species of birds have been recorded at Bako, including some rare varieties. There are beaches at Telok Panan Besar, Telok Sibur and Pulau Lakei which is accessible by boat.
Getting there
The park can only be reached by a 20-minute boat ride from Kampung Bako(May not operate during monsoon season of November to February). First take a bus to Kampung Bako. Petra Jaya Bus No.6 leaves from near the market in Kuching every hour. Last bus to Kuching leaves Bako at 5pm.
Santubong & Damaiê The Santubong Peninsula is located 32km north of Kuching. It is a picturesque place with jungle trekking on nearby Gunung Santubong and good seafood at fishing villages. The jungle trek starts near the Holiday Inn Resort and ends near the cultural village. If you feel that you are up to it, you can climb Gunung Santubong(810m). You can also see primitive rock carvings at Sungai Jaong, about 1.5km upriver from the coast. It is said that there are about 40 artifacts, mostly carved on boulders. An accurate dating of the site has not been made but Chinese ceramic pieces from Tang dynasty and evidence of iron-making have all been found here. They are located at the end of a gravel road south off the main road, going into Sanbutong, about 2km after the run-off for Kampung Buntal. Other sights here is the Sarawak Cultural Village, www.scv.com.my, Price RM45/22, Adult/Child. This is a living museum with examples of traditional dwellings built by different peoples of Sarawak. They have the Orang Ulu, Bidayuh, Iban and Melanau, as well as Malay and Chinese houses. The dwellings are inhabited by tribesman who demonstrate local arts and crafts, including blowpipe shooting, top-spinning and basketry. There is even a cultural show at 11.30am and 4.30pm. Hotels and travel agencies in Kuching have packages that include admission, lunch and transportation. Pricing ranges from RM60-90. There is no public transport to the village, but a shuttle bus leaves the Holiday Inn Kuching at 9am and 12.30pm, returning at 1.45pm and 5.30pm.
Places to Stay
Nanga Damai Homestay Tel : 016-8871017, Jln Sultan Tengah, Santubong, Price RM80-110
Holiday Inn Resort Damai Lagoon, Tel : 6082 846991, Price RM280-380
Holiday Inn Resort Damai Beach, Tel 6082 846999, www.holidayinn.com Price RM300-380
Santubong Kuching Resort. Tel 6082 846888, Price RM133-380
Damai Rainforest Resort. Tel :6082 846487, Price RM120-234
Getting there
From Kuching, take Petra Jaya bus No.2B from the open air market. The last return bus leaves for Kuching at 7pm. Taxis can be hired for traveling both ways. Frequent shuttle buses leave Holiday Inn Kuching and Holiday Inn Damai resorts.
Kubah National Park Just 20km west of Kuching, this is the nearest national park to Kuching. Relatively small, its 22sq km area has sandstone hills that rise dramatically to a height of 450m, with waterfalls, rainforest walking trails and lookouts. There are wide variety of palms and orchids but there is less wildlife here. Walking trails include the paved entrance road, which runs up to the summit of Gunung Serapi. Another trail, Ulu Rayu Trail(3 hour walk) joins Kubah with Matang Wildlife Centre. Entrance to the park is RM10 and trail maps are available at park office.
Places to Stay
Hostels RM15-40
Chalets RM150
Rest houses RM120
Places to stay is entirely self catering with no restaurants. Bring your own food. Kitchen and utensils are supplied. Bookings can be made at Kuching visitor's Information centre. Tel : Tel : 6082 410944 / 42.
Getting there
From Kuching, the Matang Transport Co. bus No.11 leaves Kuching for Kubah every 50 minutes. Bus stops at Sungai Cina where there is a 300m walk to the park entrance.
Matang Wildlife Centreêê Adjacent to Kubah National Park, the Matang Wildlife Centre was set up to rehabilitate animals like the orangutans, hornbills, sambar deer and crocodiles. There are twice-daily feeding programs. A nearby river is popular with the locals for swimming on weekends. There are walking trails for absorbing the local flora and fauna. This include the Ulu Rayu Trail which link to Kubah National Park. Admission is RM10. Places to StayHostel for 4 RM40
Chalet for 8 RM150
Camping for RM5
Bookings can be made at Kuching visitor's Information centre. Tel : Tel : 6082 410944 / 42.
Getting there
A taxi from Kuching takes you straight to the wildlife centre or you can book with a tour agency.
Semenggoh Wildlife Rehabilitation Centreêê Located 32km south of Kuching, Semenggoh or Semenggok is Sarawak's equivalent to the orangutan sanctuary at Sepilok in Sabah. The centre rehabilitate orangutans, monkeys, honey bears and other creatures found injured or orphaned. The feeding time for orangutans, are from 8.30am to 9am and 3pm to 3.15pm. A permit is required to visit the centre and can be obtained from the visitors' information centre in Kuching. There is no accommodation and cafeteria at Semenggoh. Centre Headquarters Tel : (6082) 442180; Adult/Child RM3/1.50, 8am-12.45pm & 2-4.15pm.
Getting there
Take STC bus no. 6, 6A, 6B or 6C from Kuching. It is a half-hour walk form the bus stop to the centre. The last bus back to Kuching is at 4pm.
Longhousesêê Longhouses are gigantic wooden structures on stilts, where an entire small orang asli community lives under one roof, with separate rooms and many doors. Typically, the longhouses traditional community homes can house 20 to 100 families. Many of these longhouses have modernised with the use of satellite TV, electric lighting, corrugated iron and other upgrades. Most have been exposed to modernity and they are after all, living in the 21st century.
The most interesting and unspoilt longhouses in Sarawak are those furthest from large settlements, particularly along the upper reaches of Rejang, Baleh, Belaga, Balui and Baram rivers. If you do not intend to go so far, the Bidayuh longhouses are nearer with Kampung Benuk a 35km bus ride south of Kuching, followed by a short walk. Kampung Annah Rais, further south, is one of the best-known 'tourist' longhouses. It has over 100 doors and largely preserved its traditional looks, if you can ignore the metal roofs and satellite dishes. Travel or Tour agencies have set tours for RM75. To get to the longhouses from Kuching, take the STC bus No.9A which goes to Annah Rais between 9am and noon. For Kampung Benuk take STC bus No.6 and ask the driver to let you off.
Gunung Penrissen Gunung Penrissen is a 1325m-high mountain over the border in Kalimantan, Indonesia. To climb it, it is a strenuous two to three day trek. There are no regular treks up the mountain, although an adventure tour company in Kuching may be able to put together a package. The Borneo Highlands Resort may be able to arrange trips to the mountain. It is cheaper for a group to attempt to climb as to share transport and guide costs. Guides can be hired from Kampung Annah Rais or in nearby Kampung Padawan.
Jong's Crocodile Farm The farm is located 29km southeast of Kuching at Siburan. Apart from crocodiles crowded in concrete tanks, you will also see other animals such as monkeys, hornbills and leopard cats. However unpleasant the sight of caged animals, this is probably the only chance of seeing many of them at all. Feeding time is at 11am and 3pm, but do call the Kuching office first. Farm Tel : 6082 863570, Kuching Office 6082 242790, Admission Adult/Child RM8/4, 9am-5pm.
Wind Cave & Fairy Cave These two cave systems are located a few kilometres south of Bau, southwest of Kuching. This makes an interesting day trip from Kuching. The Wind Cave is a network of underground streams on the banks of the Batang Kayan. There are boardwalks through the caves which make for an easy walk. About 5km further south, there is the Fairy cave. For a long time, the Chinese have used it as a prayer site to the many cave formations. It is a large cave on which you can spend quite some time in.
Getting there
From Kuching take STC bus No.2 to Bau. From Bau, take a taxi to the Caves.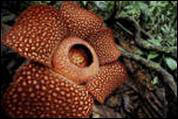 Gunung Gading National Parkêê The main draw of this National Park located at the Lundu district, is the rafflesia, which is the largest flower in the world. It can grow up to 3 feet or 1m in diameter and can weight 15pounds or 7kg. The flower emits a stench of rotting flesh and some even heat, mimicking a newly dead animal, to attract carrion flies, to help in pollination. The plant itself is parasitic and grows within the stems of jungle vines. Researchers say that its lineage dates back roughly 100 million years to the Cretaceous Period, the last act of the Age of Dinosaurs when flowering plants are believed to have first appeared. What was surprising was that they are nested within this group of plants with absolutely tiny flowers. This family, called Euphorbiaceae, also includes the poinsettia, Irish bells and crops such as the rubber tree, castor oil plant and cassava shrub, the researchers said.
At the Gading National Park, the rafflesia blooms year-round but unpredictably. Call and check whether there is one in bloom and get there soon if one is available. The bloom only lasts a few days. Guides to locate blooms can be hired for RM20 per hour. November to January are the peak blooming months. Other activities here include walking trails, viewpoints or the strenuous climb up Gunung Gading(906m) or Gunung Perigi. Park Office Tel : 6082 735714, Adult/child RM10/5; 8am-12.30pm & 2-5pm.
Places to stay
In the Park
Park Hostel. Price : RM15-40
Park Chalets. 3 bedrooms, Price : RM150
Camping, Price :RM5
Bookings can be made at Visitors' Information centre in Kuching. Tel : 6082 410944.
Out of the park
At Lundu town, Chen Hak Boarding House. Tel : 6082 735018, Price RM35
Lundu Gading Hotel. Tel : 6082 735199, Price RM58
Getting there
The Park is just 5 minutes drive from Lundu town or about 2 hour's drive from Kuching. Visitors can choose either day-trips or overnight stays when visiting the Park. Travelers should take STC (Sarawak Transport Company) Lundu Express Bus or Bus No. 2B from Kuching City to Lundu town centre. From there, take a Pandan bus No17C and ask to be dropped off at the park.
Tanjung Datu National Park This is the Sarawak's smallest park at 13sq km and located at the far west of the state, bordering Kalimantan, Indonesia. The park offers intact rainforest, clean rivers and beaches. There are no facilities for visitors and access is only possible by boat from Semantan. The villagers here will provide a boat ride for a fee. Borneo Inbound Tours & Travel do arrange trips to this park.
Talang Satang National Parkê This marine park, consisting of four islands, Pulau Satang Besar, Pulau Satang Kecil, Talang-Talang Besar and Talang Talang Kecil was established to conserve the marine turtle. The Satang Islands are open to visitors while the Talang Islands are not. The Sematan Hotel at the small coastal village of Sematan does arrange trips to the Satang Islands. Tour organizer Borneo Inbound Tours & Travel also have trips to the islands.
Batang Ai National Parkê This national park serves as a catchment area for the Batang Ai reservoir. The park's rainforest features wildlife such as orangutans, hornbills and gibbons. Longhouse visits are also one of the highlights of this park. Some travel agencies can arrange longhouse accommodation and jungle walks. Through a co-operative, the local Ibans have a direct say in how the park is run. They earn money by operating boat services, providing accommodation, working as guides and selling their distinctive handicrafts.
Places to Stay
Hilton Batang Ai Longhouse Resort. Tel 083-584338, www.hiltonworldresorts.com/resorts/BatangAi/index.html, Price ; RM250
Getting there
From Kuching, you have to travel by road to the Batang Ai Dam, which will take six hours. Then travel by boat from the Dam to the Park station for another two hours.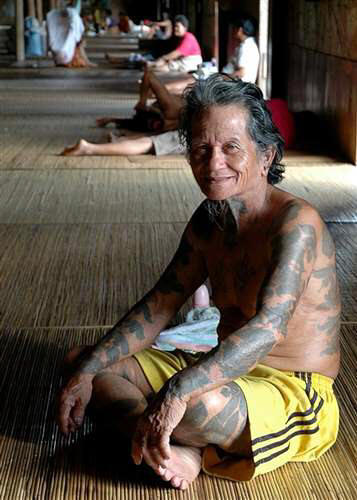 Batang Rejang & Longhousesêêê The Rejang is the longest river in Malaysia and form the main artery of trade with the interior for central and southern Sarawak. Scattered along its banks, and those of its tributaries, particularly in the upper reaches, are longhouses of Iban and other tribes. Arranging for a longhouse stay is one of the highlights of visiting Sarawak. Most visitors head for Kapit and Belaga, but there are plenty of longhouses around Kanowit and Song. Those further upriver will not necessarily be more traditional. Logging activities has caused much mud and soil to wash into certain parts of the river, creating an unsightly muddy look. Upriver is the near completed Bakun Dam. One of the best times to visit Rejang River is during the Harvest Festival of Gawai Dayak, in late May and early June. There is a festive mood and lots of movement and celebrations. Hotel accommodations are available in the towns of Song, Kanowit, Belaga and Kapit.
Sibu Sibu is the gateway to Rejang River and was once known as New Foochow. This is so because of the many Chinese migrants who came from Foochow province in the early 20th century. Other inhabitants here are the Iban, Melanau and Malays. It is here that much of the raw materials of logs, gravel and minerals are gathered and exported. Sights in Sibu include the 100 year old Tua Pek Kong Temple. Recently, a seven tiered Kuan Yin Pagoda was added to the temple. North of the city centre is the Civic Centre Museum. It tells the story of the settlement on the Rejang by the various cultures. Tel : 6083 333411, Jalan Suarah, Free Admission; 10.30am-5.30pm, Tue-Sun.
Tour company in Sibu
Sazhong Trading & Travel Services. Tel 6083 336017, Jalan Central, Sibu.
Places to Stay
Hoover House. Tel 6083 332491, Jln Pulau, Price : RM20-30
Holiday Hotel. Tel 6083 317 440, 16 Jln Tan Sri, Price : RM32
Villa Hotel. Tel 6083 337833, 2 Jln Central, Price : RM30-32
Li Hua Hotel. Tel 6083 324000, 1 Lorong Lanang, Price RM45-60
New World Hotel. Tel 6083 310313, 1 Jln Wong Nai Siong; Price RM35-45
Hotel Capitol. Tel 6083 336444, 19 Jln Wong Nai Siong; Price RM42-48
Hotel Ria. Tel 6083 326622, 21 Jln Channel. Price RM33-40
River Park Hotel. Tel : 6083 316688, 51 Jln Maju, Price RM70-80
Kingwood Hotel. Tel : 6083 335888, 12 Lorong Lanang, Price RM170-190
Premier Hotel Tel : 6083 323222, Jln Kampung Nyabor, Price RM160-180
Tanahmas Hotel. Tel : 6083 333188, Jln Kampung Nyabor, Price RM170-190
Getting there
By Air: Malaysia Airlines and Air Asia fly to Sibu, with the later being considerably cheaper.
By Boat: Express boats travel between Kuching and Sibu and up the Rejang to Kanowit, Song and Kapit. River boats leave from the new River Express terminal at the western end of the Rejang Esplanade and near the local bus terminal.
By Bus :Sibu is accessed by bus from all major and most smaller cities and towns in Sarawak. The main bus lines have ticket stalls at the long-distance bus station, northwest of town at Sungai Antu, as well as around the local bus station on the waterfront.
Northeast Sarawak
Similajau National Park Located 45-minute drive northeast of Bintulu, this park has some nice beaches perfect for a relaxing visit. It is easy to spend some time walking in the coastal rainforest or lazing on the beach. The Park occupies a narrow coastal strip 30km long and only a few kilometres wide. It is surrounded by logged forests and is a haven for wildlife. A total of 230 bird species and 24 species of mammals were recorded here. Sungai Likau is part of the park and is inhabited by dangerous saltwater crocodiles. There has been incidents of people killed by crocodiles here and swimming is not recommended. A boat trip up the mangrove-lined Sungai Likau is a good way to see animals like the hornbills, some mammals and crocodiles. Permits can be obtained on arrival. Access to the park is by car or taxi only.
Niah Caves National Parkêê The cave system is located at the Niah Caves National Park. The park is dominated by a 394m-high limestone massif, Gunung Subis. Park Headquarters is located at Pangkalan Lubang. (Tel : 085 - 737450 / 737454). To get to the caves from park headquarters, you need to take a boat across the river. Boat ride cost RM0.50cents. Once you are across you need to walk the 3km-long boardwalk to the caves. Along the way, you will come across the Niah Archaeology Museum(free admission, 9am-6pm) and much later, the village of Rumah Chang, where there are a couple of longhouses. In time you will reach the impressive Great Cave. It measures 250m across at the mouth and 60m at its greatest height. There are many bats inhabiting the caves and will fly out during sunset for feeding. Niah caves are nesting grounds for swiftlets, which supply the expensive bird's nest soup. These are collected by the Penan during harvest season. In 1958, archeologists discovered evidence of human occupation of the caves area dating back some 40,000 years. Rock paintings and death ships(burial coffins) were also found in what has become known as Painted Cave. To get to Painted Cave, you need to follow the pathway all the way through the Great Cave, out into the forest then to the opening of the cave. The area of the rock paintings and death ships are fenced off, so binoculars will be useful here. A permit and park fee of RM10 for adult/RM5 for child is chargeable at the park headquarters. It opens from 8am-5pm.
Places to Stay
Park Hostel, Price : RM15-42
Park Chalets, Price : RM105-158
Camping, Price : RM5
Rumah Chang Niah Homestay Program, Tel : 085-434181
Batu Niah
Niah Cave Hotel, Tel : 085-737726, Price : RM22-30
Park View Hotel, Tel : 085-737021, Price : RM38-45
Niah Cave Inn, Tel : 085-737333, Price : RM52-58
Getting there
From Miri to Batu Niah, Syarikat Bas Suria (tel: (6) 085-434317/412173) has a regular bus service to batu Niah from Miri Bus Station. The journey 1 hr 40 mins to 2 hrs. Share taxis from the Bus Station are available as there are regular taxis, which can usually be chartered on a daily basis. self-drive cars are also available (ask at your counter or check in the yellow pages).
From Bintulu to Batu Niah, Syarikat Bas Suria (Tel: (6) 086-335489) has a regular bus service to Batu Niah from Bintulu Bus Station. The journey time is about 2 hr to 3 hrs drive. Share taxis from the Bus Station are available as there are regular taxis, which can usually be chartered on a daily basis. self-drive cars are also available (ask at your counter or check in the yellow pages).
From Batu Niah to park headquarters at Pangkalan Lubang, take a taxi or boat costing RM10. We recommend the boat ride which river through jungle-clad limestone cliffs.
Gunung Mulu National Park, Sarawakêêê At 529 sq km, Gunung Mulu National Park is Sarawak's largest national park. Designated a Unesco World Heritage site, this park is an unspoilt wilderness offering caving, trekking and wildlife-viewing. Mulu is known for many things. For one, there is the Mulu Caves, a series of caves and caverns with the largest called the Sarawak Chamber, which is large enough to park eight 747 Jumbo jets! It is also home to the Deer Cave, which is the world's largest cave passage. It is a gaping cavern in the mountainside, huge beyond comprehension. As the sun sets(between 5pm to 7pm), thousands of free-tailed bats fly out of the caves, creating a dark and mysterious atmosphere as these nocturnal creatures cloud the sky before dispersing in their hunt for a night meal. This is one of the highlights of Mulu not to be missed. The Deer, Lang, Clearwater and Wind Caves are all known as the Show Caves. Many others are closed to the public for preservation or deemed too dangerous. Deer Cave and Lang's cave officially open in the afternoon and is lighted. Both are located a 3km away from Park Headquarters, and are safe with walkways and wooden steps. Lang Cave has stalagmites and stalactites to mesmerise you whereas Deer Cave is awe inspiring with is huge cave passage. At 2160m long and 220m deep, they have the world's largest cave passage. Clearwater Cave & Wind Cave officially open only in the morning and are located an hour's walk away from park headquarters, following a trail next to Sungai Melinau. Clearwater Cave has a pool of clear water near the cave entrance, sourced from an underground river. Wind Cave has some impressive caverns and beautiful limestone formations. The total cave system is 51km long and 355m deep. A Park fee of RM20 is chargeable. It is possible to explore the nooks and crannies of the Show Caves away from the pedestrian walkways. The park offer guides for adventure caving but needs at least a day's notice. Price ranges from RM200 to RM300 for groups of up to five people. Tour companies also offer such caving expeditions, which may include crawling, climbing and swimming through many passages.
The Pinnacles, a karst formation, is the other highlight of the Gunung Mulu National Park. It is a stone forest of razor sharp limestone peaks towering 45m above the rainforest, halfway up the side of Gunung Api. To get there, you will need to take a two or three our boat trip on Sungai Lutut from park headquarters to Long Berar. This is followed by a tough 8km trek to Camp 5 along Sungai Melinau. Camp 5 is a hostel-style accommodation where you will need to spend the night before doing the 3 hour ascent to the Pinnacles the next day. Guide fees are RM400 per group for a three day two night trek. Each extra day cost RM30. The boat trip with return trip cost RM350 for up to four people or RM85 per person for five or more.
Places to stay
Park Accommodation
18-bed hostel, Price RM15
Cabin, Price RM50
longhouse, Price RM100
chalets, 3bed, Price RM150
Royal Mulu Resort, Tel :085-790100; www.royalmuluresort.com, Price RM290
Getting there
Miri is the jumping-off point. From Miri, visitors can take Malaysia Airlines flight (15 minutes) or take the express boat from Kuala Baram (three hours) to Marudi. From Marudi, take a commercial express boat to Kuala Apoh or Long Panai on the Tutoh River (a tributary of the Baram River). The express departs Marudi at noon daily and returns to Marudi in the early morning of the next day. The trip takes about three hours. Transport hassles are one reason many travelers resort to tours. Trekking on your own will seem expensive because guide fees and boat hire rates are based on groups.
Homestays in Sarawak
Stay in a traditional Malay home instead of a hotel and get a feel of the kampung(village life). Please see homestay link.
homepage > Sarawak
2007 Events
Sarawak Hornbill Tourism Awards, Kuching, Jan 12
Miri Malaysia World Solo Challenge Miri, Last week of Jan
Nanyang Wushu Golden Lion Dance Festival, Kuching, Feb 4
Gongxi Festival Bazaar, Miri Feb 12 - 17
World Tribal Dance and Music Festival, Sarawak Cultural Village, Damai, March 29
Miri International Deep Sea Fishing Tournament, Miri April 13-15
Mukah Kaul Festival, Pantai Kala Dana, Mukah, Apr 21,22
Kapit Balleh Raft Safari, Balleh River, Kapit, Apr 28,29
Miri International Jazz Festival, Miri, May 11,12
World Harvest Festival, Sarawak Cultural Village, Damai, May 25-27
Gawai Festival, throughout Sarawak, June 1
Miri International Food Festival, Miri, July
Rainforest World Music Festival, Sarawak Cultural Village, Damai, Jully 13-15
Sarawak International Triathlon, Miri, Aug 11,12
Sarawak Regatta, Kuching Waterfront, Kuching, Sept 1,2
Borneo International Yachting Challenge, Miri, Sept 3-8
Miri International Trade Expo, Miri Oct 12-14
Nanyang Wushu Drum Festival, Kuching, Dec 8