Marathons
---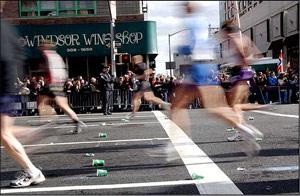 Running questions
How is your overall health?
Consult your doctor before beginning any exercise programme, it is especially important to do so if you are over 40. Your doctor may want to conduct a few tests, including an EKG or cardiac stress test to determine if undertaking a running programme will be right for you.
Do you like spending time alone?
Running can be a solitary, even lonely pursuit. If you prefer to socialise while you exercise, consider finding a running partner or joining a running club. Most clubs welcome runners of all abilities and are an excellent place to learn the latest training tips.
Can you make a commitment?
The key to a successful running programme is consistency. The best results are achieved when you complete 3-5 running sessions of 30 minutes each per week.
Where will you run?
Do you intend to fire up the treadmill thatís been gathering dust in your basement, or will you run on a treadmill at a gym? If the treadmill isnít your speed, you will need to take your show on the road Ė literally. To reduce the likelihood of being injured by an oncoming car or well-camouflaged pothole, you may want to consider running in a local park.
Are you doing this to lose weight?
If you are, there is some bad news Ė youíre going to have to diet. You may be surprised to learn that many new runners actually gain weight. This is because they are replacing fat stores with heavier muscle. Consequently, you will need to pay particular attention to the number of calories you consume each day.
Do you have patience?
The old adage Ďyou need to walk before you can runí is particularly true here. Most new runners abandon their programme after only a few weeks because they tried to do too much too soon. Rather than starting out with a full-out sprint, itís best to begin your programme by walking briskly and then working into a jog. In fact, many experts recommend alternating walking and jogging for a full eight weeks.
Do you have the right shoes?
While it is not necessary to go out and drop RM300 on the latest model running shoe, you should make sure the shoes you wear have adequate support and cushioning. Ill-fitting or poorly constructed running shoes can cause blisters and other ailments which will likely force you to abandon your program before you get to the end of the first week.
Are you going for distance or time?
This is important because it will ultimately have an effect on the amount of time you will need to commit to your running programme. For example, if your goal is to run for 30 minutes a day, you obviously will know how much time you will need to set aside for running. If, on the other hand, you want to work yourself into marathon(26.2 miles) shape, you will easily find yourself devoting 10 hours or more each week to your running programme.
Are your goals realistic?
For many runners, setting realistic goals may be the difference between nurturing a lifelong passion and a fleeting interest. For example, if you begin your running programme with a goal of finishing a marathon in three months time, you are likely going to find yourself frustrated when that goal isnít achieved. A more realistic goal for novice runners is a 5k or 10k race; many runners donít compete in their first marathon until they have been running well over a year.
Do you have a sense of adventure?
Running the same route for weeks on end may get a little boring after awhile, however, if you are comfortable with taking a different turn or visiting a different park, chances are you will be able to keep your run interesting.
2007 Running Dates
6 Jan KLIM Circuit Run 1 (Lake Gardens KL). Just turn up at the Tapak A of the Lake Gardens before 7am to register
21 Jan (6am) Great Eastern Pacesetters 30Km Run.
11 Feb KLIM Circuit Run 2 (Lake Gardens KL). Just turn up at the Tapak A of the Lake Gardens before 7am to register
Feb (date to be confirmed) Kuala Lumpur Towerthon 2006 - Kuala Lumpur Tower
4 Mar KLIM Circuit Run 2 (Lake Gardens KL). Just turn up at the Tapak A of the Lake Gardens before 7am to register
18 Mar (5:00am) AMBank Kuala Lumpur International Marathon (Dataran Merdeka, KL) 5am start for the Marathon, 6:30am for the Half-Marathon, 7am for the 10K. Finishers medals for the Marathon, finishers medals for those who complete the Half-Marathon within 3 hrs and top 500 finishers medals for the 10K. Website (not up yet)
Mar (date to be confirmed)Power Run (Dataran Merdeka, KL)
Mar (date to be confirmed) Saberkas International Marathon 2007 (Sarawak)
21st Mount Kinabalu International Climbathon, 25-26 August 2007
Kota Kinabalu, Sabah The World's Toughest Mountain Race, the 21st Mount Kinabalu International Climbathon will be held on 25 - 26 August 2007. The Climbathon, dubbed the World's Toughest Mountain Race, has been attracting some of the top world mountain runners. The race involves running up and down Mt. Kinabalu (4095.2m), a total distance of 21km for the Men's, Women's and Men's Veteran categories. The Buff Skyrunner World Series 2007 organized by the World's Federation of Altitude - FSA (racing on high altitude of 2000 metres above sea level) is scheduled to be held at the following venues:
Mexico - Chico Hildago, May 6

Andorra - Vallnord, June 3

Italy - July 1

France - August 12

Malaysia - Mt. Kinabalu International Climbathon - August 25 - 26

Japan - Mt. Ontake, Nagano - September 2

Spain (final circuit) - September 23
Clubs
Pacesetters Athletic Club Malaysia - Largest running club in Malaysia. www.pacesetters.com.my
Batu Pahat Marathon Club- The Persatuan Marathon Batu Pahat was formed in 1994 to promote running and other healthy outdoor activities. The club has about 150 members from all walks of life. Our official runsite is at Hutan Lipur Bukit Perdana Batu Pahat where members meet and jog together every Saturday at 6:00 pm. For more training we gather every Tuesday and Thursday at Tasik Y, 6:00 pm, and on Sunday mornings for long runs. Members enjoy gym facilities at our own clubhouse. Our members are active participants in local races with outstanding results.
Ipoh Road Runners : www.ipohroadrunners.org
Klava - Kuala Lumpur Association Of Veteran Athletes : www.klavarunners.info
Petaling Hash House Harriers
Associations
Kesatuan Olahraga Amatur Malaysia (KOAM)
Majlis Sukan Negara
Kompleks Sukan Negara
Peti Surat 10440 Bukit Jalil
50714 Kuala Lumpur
Tel: 603-90572119 / 603-89929662
Fax: 603-90572120
Federal Territory Amateur Athletics Association (FTAAA)
2nd Floor, Wisma OCM,
Jalan Hang Jebat,
50150 Kuala Lumpur.
Tel: 603Ė27152843
Federation of Chin Woo Association Malaysia
Chin Woo Stadium, Jalan Hang Jebat,
50150 Kuala Lumpur, MALAYSIA
Tel: 603-20705025 / 20724602
Fax: 603-20729346
www.chinwoo.org.my
Olympic Council Of Malaysia
Mezzanine Floor, Wisma OCM,
Jalan Hang Jebat,
50150 Kuala Lumpur
Tel: 603-27152802
Fax: 603-27152801
www.olympic.org.my/web
Malaysian Paralympic Council
1st Floor, Wisma MAB
166-1, Jalan Tun Sambathan,
Brickfields,
50470 Kuala Lumpur
Tel: 603-22739293 / 603-22733293
Fax: 603-22736237
www.paralympicmalaysia.org.my
National Sports Complex - Kompleks Sukan Negara
Level 1, National Stadium,
National Sports Complex,
Bukit Jalil,
57700 Kuala Lumpur
Tel: 603-89944660
Fax: 603-89944663
homepage > Marathons