Great places to stay
---
The accomodations represented here are chosen for meeting specific criteria which is based on uniquness of experience, service, comfort and the ability to make your stay a very memorable one. Perhaps we could describe the feeling felt is close to the experience of Stendhal Syndrome. Stendhal's syndrome is a psychosomatic illness that causes rapid heartbeat, dizziness, confusion and even hallucinations when an individual is exposed to art, usually when the art is particularly 'beautiful' or a large amount of art is in a single place.
Kedah
Tanjung Rhu, Langkawi Places to stay are the 5 star Tanjung Rhu Resort, www.tanjungrhu.com.my. This resort is in a secluded cove and has a beautiful beach. From the resort, you can walk to the public beach, with its food stalls and boats for hire. Prices from RM1,002.
Four Seasons Resort, Langkawi Alternatively, there is the other beautiful up market resort, Four Seasons Resort Langkawi. Prices from RM1,887. www.fourseasons.com/langkawi/. From Tanjung Rhu, you can hire a boat to get to Gua Cerita (Cave of Legends)
The Datai, Langkawi The award winning The Datai Resort is another "must go" for creature comforts who wants 5 star pampering. Featuring 54 deluxe rooms, 40 villas and 18 suites nestled in lush rainforests and a private stretch of sandy shore facing the breathtaking Andaman Sea. Kerry Hill, an Australian now based in Singapore was the architect and Didier Lefort a talent nurtured in Paris invited to expertly draw its design. The architect has cleverly adapted the building to the natural terrain, building on a crest 150 feet above the sea and extending 500 metres through the jungle to the water's edge. Trained elephants were used to fell trees where necessary as this was less damaging to the forest. The spa at The Datai, was Runner Up in the "Best Hotel Spa in Asia" category in the 2nd Annual Conde Nast Traveler Readers' Spa Awards 2005. 4th placing Asia Leisure Hotels in 2002 Conde Nast Readers' Award. The Datai Beach listed No. 7 in the World's Best Beaches, Discovery Travel & Adventure Channel January 2003. Prices from RM1,250. www.ghmhotels.com.
The Andaman, Langkawi The Andamans Langkawi is a tropical paradise featuring 188 elegantly appointed rooms and suites located next to the private beach. The Andaman provides relaxing spa treatments. The spa has three villas; two duplex-style Rainforest Villa overlook the Andaman Sea and includes: two massage beds on each level, large bathtub, garden shower and relaxation terrace. The very private Sari Villa offers more lavish facilities, including a large jacuzzi, garden-shower and relaxation terrace. Prices from RM750. www.ghmhotels.com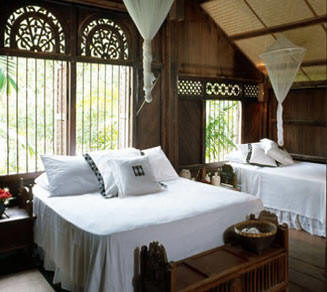 Bon Ton Resort, Langkawi Accommodation is in seven antique and charming Malay timber houses, ranging from 60 to 120 years old and built into a 100 year old coconut plantation. The houses are beautifully restored with modern amenities and individually decorated in a unique Aseana style. The restaurant is said to be one of the best in the Island. www.bontonresort.com.my
Mutiara Pedu Lake Resort This resort stands on two islands in the Pedu lake. Its 205 chalets including suites are designed along Kedah-Thai wooden houses on stilts, with some standing in the placid waters of the lake. It is a great place to relax, but you can indulge in activities like cruising the lake, water sports, fishing, jungle trekking, bird watching and mountain climbing. There is also the possibility of following honey gatherers into the jungle to collect honey from tall tualang trees. Apart from the usual resort facilities, there is also the resort's 18-hole par-72 championship golf course. www.pedulakeresorts.com.
Kuala Lumpur
Carcosa Seri Negara
Melaka
Nyonya house
Pahang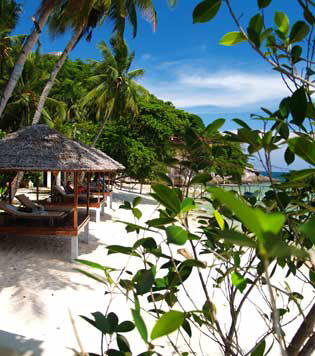 Jalapama Resort, Tioman The exquisite Japamala resort is located at south of Genting Village. It is a private, secluded tropical paradise hidden among 11 acres of natural beauty. Within the grounds you will find a cluster of comfortable villas and chalets offering commanding views of the South China Sea and surrounding jungle. www.japamalaresorts.com. At the Mersing Jetty, let the boater know that you want to get off at the resort. If you arrive by plane at Tioman airport, hop on a boat taxi to take you to the resort. They can be contacted at (609) 419 7777 or (609) 419 6001, KL Office Tel: (603) 4256 6100. Price range from RM340 – RM900 per room per night.
Perak
Pangkor Laut Resort Located at a beautiful horseshoe-shaped bay called Emerald Bay. The accommodations are spacious 148 Malaysian styled hillside and seafront luxury villas. The luxurious Spa Village is a collection of low buildings and structures, featuring both indoor and open-air spaces, spread over 4 acres on a quiet bay between the sea and the rainforest. This exclusive and up market resort offers full service and amenity and is a favourite getaway for famous personalities the likes of Italian tenor Luciano Pavarotti, Joan Collins and Nick Faldo. Signor Pavarotti officially opened the Spa Village in 2002. Pangkor Laut Resort has won the ultimate accolade at the Condé Nast Traveler UK Readers' Travel Awards, taking the 'Number One in the World', as well as winning the 'Best Overseas Destination Spa' category for the year 2003. There is a helicopter charter from Kuala Lumpur, where you can charter from their website. www.pangkorlautresort.com
Sabah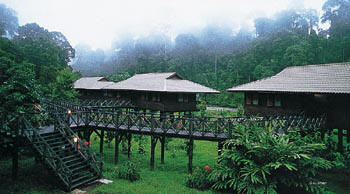 Borneo Rainforest Lodge Borneo Rainforest Lodge lies within the Danum Valley Conservation Area along the banks of the Danum River in eastern Sabah, Malaysia. The conservation area is Sabah's largest protected area of lowland dipterocarp forest, 43,000 hectares managed for the purposes of conservation, education, training, and research. Besides being home to hundreds of species of birds and reptiles, and some of the largest butterflies and moths in the world, it is also one of the largest remaining sanctuary for the wild Orang Utan. Other activities include self-guided walks, bird-watching, or photography. There are signed trails and longer treks along escarpment routes for panoramic views. There's the chance to visit the Kadazandusun burial site, and swim at the waterfalls, or tube down the Danum River. There is also a 107m canopy walkway and the lodge offers nocturnal animal spotting at night in an open jeep. www.borneorainforestlodge.com. Tel : 089 880207, Price : RM690-900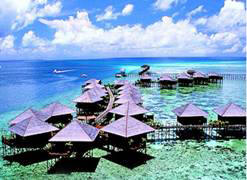 Sipadan Water Village Resort, Mabul Island Sipadan Water Village is a resort beautifully constructed with Bajau architectural design. Part of the Mabul Island is also home to groups of Bajau fishermen who have built their traditional palm thatched houses. The Bajau Laut, the world's only tribe of nomadic sea gypsies spends their lives on the water. Over the years, some have entered a transition from sea nomadic to sedentary village life at a former major anchorage site such as Mabul. The entire resort is built over water on stilts made of Belian Wood commonly called ironwood, laid in certain points so as to minimise damage to the existing reef. In its design, Sipadan Water Village has achieved near utopia in its over-the-water layout, splendid water cottage accommodations with flowered sidewalks, wonderfully prepared Asian and Continental cuisine, and impeccable and personable service.
Getting there
Malaysia Airlines and Air Asia provide flights departing from Kuala Lumpur and Johor Bahru to Kota Kinabalu. From Kota Kinabalu you fly with Malaysia Airlines in 50 minutes to Tawau.
At the new Tawau airport you are picked up by an aircondition minivan and transferred in 1,5 hours to the fishing village Semporna. If you arrive there in the afternoon it is better to stay there one night and go to the island on the next day.
From Semporna all operators bring their guests by speedboat to the islands.
Semporna - Mabul 30 Min.
Sipadan-Kapalai Resort It is built on the Ligitan reefs of Kapalai Island that stretches along the deep and vast Sulawesi (Celebes) Sea. Sitting on its sturdy stilts on the shallow sandbanks of the Ligitan Reefs, the Sipadan-Kapalai Resort was planned and built in full style as an airy, comfortable, sunny water village with no land in sight. Built using an innovative concept, the Sipadan-Kapalai Resort made up of a chain of chalets linked by a couple of miles of wooden walkways - great for those who like to take their morning jog while looking at thousands of fish just a few inches beneath their feet. Centered around the open restaurant, sundeck, and dive center, the elegant twin-sharing wooden chalets are roomy and well equipped with attached bathrooms and huge private balconies. Those who just want to relax and rest between the dives may take advantage of the cleverly thought-out balconies, which offer the total privacy so much sought out by the lovers of sunbathing. At one end of the resort boasts a rather long sandbar of blindingly white sand where one can sunbathe in total recluse during low-tides.
Getting there
Malaysia Airlines and Air Asia provide flights departing from Kuala Lumpur and Johor Bahru to Kota Kinabalu. From Kota Kinabalu you fly with Malaysia Airlines in 50 minutes to Tawau.

At the new Tawau airport you are picked up by an aircondition minivan and transferred in 1,5 hours to the fishing village Semporna. If you arrive there in the afternoon it is better to stay there one night and go to the island on the next day.

From Semporna all operators bring their guests by speedboat to the islands.
Semporna - Kapalai 45 Min.
Sarawak
Hilton Batang Ai Longhouse Resort This is a beautiful resort build in a shape of the traditional longhouses of Sarawak. Located on Batang Ai National Park, the ancient rainforest with trees from pre-history and wild, untamed surroundings. It is on the shores of a lake where guests arrive, crossing the lake by boat. The Hilton Batang Ai Longhouse Resort, northwest of Borneo, really is that different and that remote. The indigenous population, the Iban people, will go out of their way to make you feel welcome. It is an experience in itself discovering the serenity of the Batang Ai Lake by pedalo or kayak, or shooting the rapids on the longboat river safari. Journey deep into the primal forest on an exhilarating canopy walk accompanied by our naturalist. Then, finish the day with a sunset walk to the Barbecue Island, before returning to the creature comforts of the resort. Batang Ai National Park. Through a co-operative, the local Ibans have a direct say in how the park is run. They earn money by operating boat services, providing accommodation, working as guides and selling their distinctive handicrafts. www.hiltonworldresorts.com/resorts/BatangAi/index.html
Penang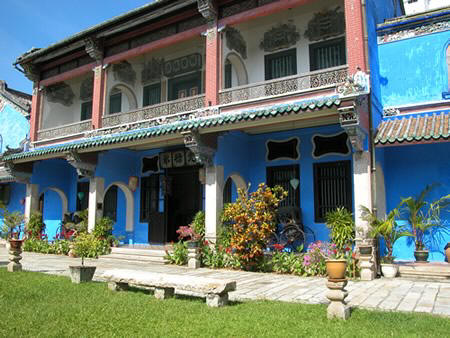 Cheong Fatt Tze Mansion In Lebuh Leith is the magnificent 38-room, 220 window Cheong Fatt Tze Mansion. It was commissioned by Cheong Fatt Tze, a local merchant-trader who was a rags-to-riches story. It is a rare surviving example of the grandiose architectural style preferred by wealthy overseas Chinese trying to imitate the opulence of the Ching dynasty. The building was restored recently with a cost of US2million and won top honours for the "most Excellent" in the Unesco Conservation award 2000. This is also now and exclusive and unique owner-hosted homestay, which is also one of the city's premier tourist attractions. The opulently turnished suites are individually styled and each comes with a personal valet. www.cheongfatttzemansion.com
Eastern & Oriental Located at 10 Lebuh Farquhar, this hotel was originally built in 1884, as the Eastern Hotel, which in the following year was expanded and renamed the Eastern & Oriental Hotel. The sytlish E&O was the archetypal 19th-century colonial grand hotel, established by two of the famous Armenian Sarkies brothers, Tigram and Martin. In the 1990's, the E&O closed and fell into disrepair only to be rescued by a huge renovation programme. It was reopened in 2001 as a luxury, all-suite grand hotel, with elegant, spacious rooms decorated with the best of colonial style.
homepage > Great Places to Stay