Johor
Darul Ta'zim (Abode of Dignity)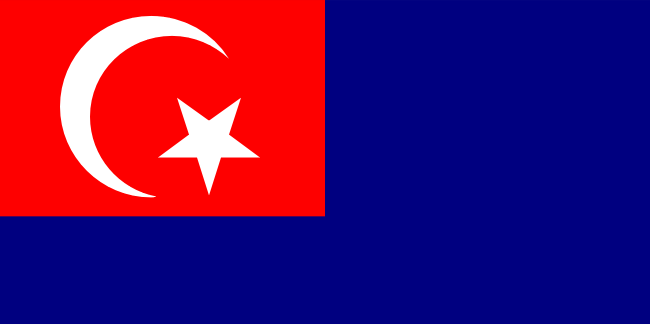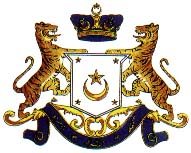 ---
Johor, the third largest state in Peninsular Malaysia, is the Southern Gateway to Malaysia and home to the millennia-old Endau-Rompin forest. It is one of the peninsula's few remaining lowland forests, and one that is rich in biodiversity. The state covers an area of 18,986sq km at the southern tip of the peninsula and its capital, Johor Bahru, lies just across the Straits of Johor from Singapore.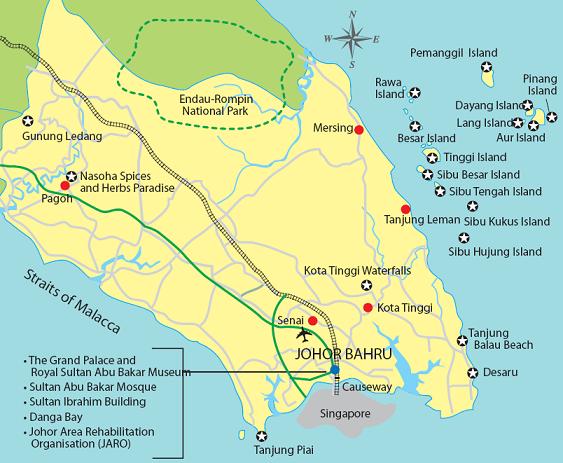 Sights – In the City of Johor Bahru
> Go to Malaysia Map for Johor Bahru City Map
Capital of the state of Johor, it is the southern gateway to Peninsular Malaysia. Connected to Singapore by road and rail, it attracts many holiday makers from across the causeway who come to shop.
Royal Abu Bakar Museumê The Istana Besar was used as a main palace by the Johor Royal Family. Built in 1866 by Sultan Abu Bakar, it followed after the Victorian Style. Now converted into a museum by his Majesty Sultan Iskandar in 1990, it contains many of the Sultan's possessions and other art collections of the royal family. Get a glimpse of the quaint items like the antelope-leg ashtrays and hunting trophies. The 53-hectare palace grounds are free for one to roam. Muzium Diraja Abu Bakar Tel : 2230555, Jln Ibrahim, adult/child US7/3. Open 9am – 5pm Sat-Thu. Counter closes at 4pm. Friday closed.

Sultan Abu Bakar Mosque West of the museum is the old colonial/royal district of fine buildings. They have more character when compared to the modern city center. The Sultan Abu Bakar Mosque is worth a look if you are in the area. Built in 1900, it is not the typical Muslim looking mosque and styled more in the Victorian architectural designs.
Istana Bukit Serene Built in 1932, it is now the residence of the Sultan of Johor. Catch a glimpse of it from the outside as it is not open to public. It is 5km west of the Abu Bakar Museum.
Bangunan Sultan Ibrahim Sultan Ibrahim Building is Johor's state secretariat building, where state government departments are housed. It is located at Bukit Timbalan in Johor Bahru, Malaysia. The building was constructed between 1936 and 1939. It was officially opened by the late Sultan Ibrahim of Johor a year later. It has a 64 meter high square tower and the building was used by the Japanese during world war II to spy on British activities in Singapore before attacking it.
Roufo Gumiao A Chinese Taoist temple located at Jln Trus, near the centre of town is a shrine dedicated to Hong Xian Dadi, Yuantian Shangdi and Weitian Dadi.
Johor's other attraction
Kukup Located at the southern point on the west coast of Johor, about 40km from Johor Bahru, is the little fishing village of Kukup where delicious seafood awaits. Locals and Singaporeans come here for the seafood restaurants built on stilts over the water. Take bus No.3 from JB to Pontian Kecil, and to Kukup on a taxi.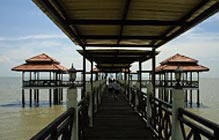 Tanjung Piai Dubbed the southernmost tip of mainland Asia, Tanjung Piai is a haven for a diverse species of flora and fauna, including those unique to mangrove areas such as mangrove crabs, beady-eyed mudskippers and crab-eating macaques. Tanjung Piai is also famous for being a hot spot for birdwatchers to visit during the migratory season which falls around September and March. Located within the district of Pontian, Johor, Tanjung Piai is a place where the earth and sea, plant and animal life, live in blissful harmony. Tanjung Piai Johor National Park covers an area of over 926ha -- 526ha of which comprise of coastal mangroves. There are two entry points to Tanjung Piai - the one at Sungai Belukang and the other at Desa Sri Piai. Entry into the Tanjung Piai park requires a minimal fee of just RM3 for adults (Malaysians) and RM5 for foreign visitors, payable at Tanjung Piai's visitor's complex
Getting there Tanjung Piai is located about 75km from Johor Bahru. Currently there is no direct bus service to the Tanjung Piai Johor National Park. Taxi service is available from Pontian bus station, in the town center, to Tanjung Piai's entry point in Sungai Belukang. Be sure to book your return passage back to town in advance with your cab driver. A full taxi of four passengers should cost around RM15.From Kuala Lumpur, take the North-South Expressway (NSE) south past Machap, then take the Simpang Rengam exit (Interchange 247) onto the highway headed for Tanjung Piai, via the Benut - Pontian - Kukup highways (Highway 96, Highway 5 and Highway 95). Once near Kukup, follow the sign boards leading you to Tanjung Piai.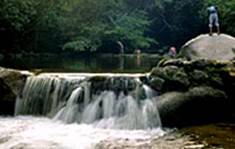 Gunung Ledang & Kota Tinggiê The highest mountain in Johor at 1276m. Make sure you are fit and up to the task if you intend to climb to the summit, which takes two days. Most visitors only climb part of the mountain to view some waterfalls situated on the route. Nature lovers will be able to experience and see the lush tropical forest with this climb. Avoid weekends if you can as the boisterous youths come for a splash at the falls. You can stay at the Gunung Ledang Resort located at the base of the mountain. For more info on the resort please go to www.ledang.com.
Getting there By Bus : Take bus 65 from Muar, get down at Gunung Ledang and proceed to walk 1km from the main road to the falls.
Kota Tinggi is situated 56km northeast of JB or a 45 minutes drive. The Lombong waterfalls 15km northwest of the town are popular with the locals. The highest waterfall drops to 32 meters below. These falls are less pristine when compared to Gunung Ledang due to works on the landscape and the Kota Tinggi Waterfalls Resort. www.greaterdesaru.com/waterfall_resort.htm
Desaru Located 98 km north-east of Johor Bahru, Desaru has several resort facilities. Located on a 20km stretch of beach, it is a place to relax and also enjoy with your family. Golfers also travel here to play at the 18- hole facility. There two hotels and facilities for fishing, windsurfing, snorkeling, swimming, boating and canoeing. There are also cascading falls, jungles and natural lakes. For information on the places to stay please go to www.desaruresort.com and www.desaru.com.my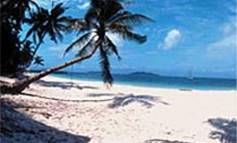 Seribuat Archipelago êêê Located on the east of Johor and Pahang in the South China Sea, the archipelago house up to 64 islands. The beaches and corals of east coast Islands of Peninsula Malaysia generally are better than those found in the islands of west coast. The beautiful Pulau Tioman("Pulau" is the Malay word for Island) is located off the coast of Pahang state. Pulau Tioman has a regular scheduled ferry service. (There are some controversial developments which harmed some of the corals, among them the building of a Marina). On Johor's side, there are the less famous islands of Pulau Besar, Pulau Mensirip, Pulau Harimau, Pulau Sibu, Pulau Rawa, Pulau Tinggi, Pulau Pemanggil & Pulau Aur but definitely worth a visit.
Access point to these islands is Mersing, a fishing village located at the mouth of Sungai Mersing. There are many restaurants, inexpensive hotels and a resort but little to see in Mersing, although the 95-year old Fushun Chinese Temple may interest you. Together with a Hindu temple, it is located at the roundabout by the bridge. To get to these islands, arrangements can be made through the resorts at the Island or at offices in Mersing's Plaza R&R Bus Terminal, (jalan Abu Bakar). Take time to pick your transport as there are many boat operators offering different rates. Boat trips to the islands do not run during the height of the northeastern monsoon, from November till February. Heavy rains and strong winds are a daily occurrences. Some resorts will open on January and February as the monsoon eases. The crowds will be missing this two months and could be one of the best times to visit, if you are not on a tight schedule and can afford a day or two extra in Mersing or the islands due to ferry service interruption. Normal visiting period is between April and October.
Pulau Besar Formerly Pulau Babi Besar is the closest to Mersing and ideal for sun bathing, catching up on sleep, finishing that novel. To do some snorkeling, hire a boat and hop to neighbouring Pulau Mensirip and Pulau Harimau. For Pulau Mensirip, a privately owned island, the snorkeling has to be done off shore. Try looking for the cavern when snorkeling at Pulau Harimau.
Places to stay at Pulau Besar are Aseana Island Resort, chalets Tel : 07-7994152, D'Coconut Island Resort. Tel : 603-42526686,
Nirwana Resort Tel : 07-7995979/5929.
Pulau Sibu Pulau Sibu Besar, Pulau Sibu Tengah, Pulau Sibu Kukus and Pulau Sibu Hujung. Its clean white beaches, clear blue waters and offshore coral reefs beckon visitors to this island. Famous for its lush vegetation and scenery, visitors can expect an ambience of relaxation. Activities include snorkeling, scuba diving, wind surfing, sailing and angling. Places to stay are available in Pulau Sibu Besar and Tengah with boat rides to other snorkeling area at Kukus. Places to stay at Pulau Sibu Besar are Rimba Resort 07-2231493/91, Sibu Island Cabanas, 07 - 331 7216 / 331 1920. Twin Beach Resort Tel : 07-332 2122, Waterfall Hillside Chalet 07-2236554, O & H Kampung Huts Tel : 011 ?354 322. Sea Glory Island Village Tel : 07-799 3767 and Sea Gypsy Village Resort
Tel : 07-799 3125. At Pulau Sibu Tengah, there is the Sibu Island Resort Tel : 07-223 1188.
Pulau Rawa 16km away from Mersing, it is truly an unspoilt paradise. There are caves for exploration and offshore coral reefs rich with marine life. Place to stay in Pulau Rawa is the Rawa Safaris Island Resort. Tel : 07-7991204 , 07-7991205 and Le Club Rawa.
Pulau Tinggi Pulau Tinggi gets its name from a high hill rising 2,000 feet above sea level ("tinggi" is a Malay word for high). The island is painted green by the lush tropical forest. Place to stay in Pulau Tinggi is Nadia's Inn Tel : 07-7995582.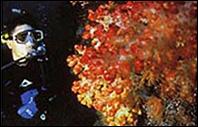 Pulau Aur Pulau Aur (Aur Island) is located 65km east of Mersing on the east coast of Johor, thus journey there is quite long. This island and its surrounding islands -- Pulau Dayang (Dayang Island), Pulau Lang (Lang Island) and Pulau Pinang (Pinang Island) are rated by divers as one of the best scuba diving destinations within the Johor Marine Park area.
Pulau Pemanggil Pulau Pemanggil sits 45kms east of Mersing, which takes some time to get to. The advantage of this is that there will be less crowds. An array of soft and hard corals in the sea will keep you mesmerised. With such healthy gardens, you are bound to find many variety of reef fish. Serious fishing takes place at the Lanting Resort and it is well know among the fishing community as a fishing haven. Please see fishing in Malaysia link. Places to stay : Pak Mazlans Chalet. Tel: mobile phone : 012 - 758 5785 or Tel: 07 - 7991649 and Lanting Resort. Holiday packages available in family suite, junior suite, deluxe room, standard room and long house. Wide range of water sport facilities including jet-skiing, snorkeling, canoeing and of course deep-sea fishing. The Mawar Coffee Shop stands 50 feet above the sea level provide a breathtaking view of the sea front. The open concept offers a picturesque sight while you dine on our sumptuous local and Western cuisine and BBQ too. Tel: 607-799 3973.
Getting there
By Car : To get to Mersing it takes 4½ hours by car from Kuala Lumpur. Kuala Lumpur - (access the Karak Highway) Temerloh - Kuantan - Pekan - Kuala Rompin - Tg. Gemuk – Mersing. Alternatively from Kuala Lumpur - (access the PLUS Highway) Seremban - Bahau - Muadzam Shah - Kuala Rompin - Tg. Gemuk – Mersing. Driving from Johor Bahru or Singapore to Mersing, you access the Tebrau Highway and proceed to Kota Tinggi. Estimated travel time is 4-5 hours. Car park services are available at both Tg. Gemuk and Mersing jetties. Parking charges are at around RM5 - RM7 per night inclusive of security.
Bus & Taxi : Public transport from Kuala Lumpur to Mersing. Buses depart from Puduraya Bus Station and the fare is about RM 19.50 and 25.00 one way. The buses leave at noon and 11.30pm. Estimated travel time 5-6 hours. Taxi fare is approximately RM 300 - RM 400 per taxi for chartered service.
Public transport from Singapore to Mersing. Express buses are available at Newton Circus Court and Jalan Sultan Bus Station, Departures start at 6.30am daily
By Air : Direct flights to Tioman Island depart from Kuala Lumpur(Subang Airport(SZB)* Terminal 3) and Singapore (Seletar Airport). Berjaya Air : 03-7846 8228, www.berjaya-air.com
By Boat :Ferry Terminal : Mersing in Johor is the main ferry terminal to Tioman. Ferries stop at Genting, Paya, Berjaya Tioman, Tekek, ABC and Salang in that order. Buy tickets at R&R Plaza tour operators. Departures start from mid-morning till mid afternoon.
Ferry Terminal : 09-413 1996 / 1997 (Tanjung Gemok, 35km north of Mersing). Useful if coming from the north and faster to Berjaya Tioman Beach resort. Departure starts 10am till 2pm.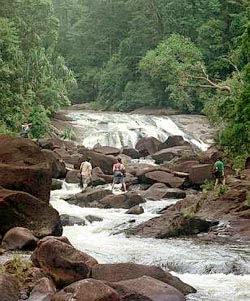 Endau Rompin National Parkêê The Endau Rompin park is the second largest park in Peninsula Malaysia after the Taman Negara National Park and it is located in the Johor-Pahang border. It covers 870-sq-km or 92,000 hectares, which is one and the half times the size of Singapore. One of the last remaining virgin forest is Malaysia, it boast a large variety of plant life including the huge umbrella palms, and host to many animals, like the endangered Sumatran Rhinoceros, elephants, wild boars and Indochinese Tiger, which are almost impossible to spot. The accessible region of the park is along the banks of Sungai Endau and Sungai Jasin. You are advised to hire a guide for RM40 per day at the park headquarters at Kampung Peta. A park entry permit of RM20, camera permit of RM10, fishing rod permit RM10 and daily permits to travel within the park is chargeable. To get to Kampung Peta you can take two routes. The first is From Kuala Lumpur or Johor Bahru by the North South highway, on reaching Kluang detour to the Kahang town, the turn-off is a mile marker 26 ('Batu 26' in Bahasa Malaysia), from where it's a 56km drive over rough roads to Kampung Peta. At Kampung Peta, you can hire a boat, RM10 per person to take you the final 10km upriver to the base camp at Kuala Jasin or walk the 15km. You can also get to the park from Kuala Rompin in Pahang along a paved road to Selendang, and then by following a dirt track to Kuala Kinchin on the park boundary.
There are two walking trails from the Kuala Jasin base camp, the Janing Barat Pleateau trail, which takes you to a Janing Barat Pleateau and the grueling 16km Buaya Sangkut Trail, which ends at the Buaya Sangkut Falls.(Buaya Sangkut translates to Trapped Crocodile in Malay) The Janing Barat Plateau is a 500m-high sandstone plateau which is a challenging uphill slog. Going to the Plateau and back to base camp normally takes one day. The Buaya Sangkut Trail takes a full three days(2 days if you are very fit) to reach and get back or if you choose to spend two days only, you can just stop at the Upeh Guling Falls or Batu Hampar campsite somewhere midway and return to base camp from there. Doing the full Buaya Sangku Trail, you will see the two beautiful Upeh Guling(8 meters in height) and Buaya Sangkut water Falls(40 meters in height). Midway, you will also come across Tasik Air Biru or Blue Lagoon. Camping grounds are at Kuala Jasin, Kuala Marong, Batu Hampar, Upeh Guling and above the falls at Buaya Sangkut.
The Park provides camping equipment (at RM 20 per pax) and your guide will help you set up camp. There are also simple huts and chalets in Kuala Jasin and Kampung Peta. There is only one restaurant in the Park's premises – at Kampung Peta. Bring your own food and cooking utensils. The Park provides a free canteen that has a gas stove, piped water as well as some utensils, but these utensils are not well kept. If you are camping, bring a portable gas stove as you are not allowed to start a fire on the ground.
Endau Rompin is also home to the Orang Asli(Aboriginal people) of the Jakun tribe. Drop by at Kampung Peta near the park entry point and gain valuable insights on Orang Asli culture. They lead a very simple life, selling handicrafts and pretty much self-sustained through farming and rearing of chickens.
Alternatively, join a tour to the Endau Rompin National Park. Mersing is the best place to arrange. Please contact Omar's Backpackers' Hostel Tel: 07-7995096, H/P 019-7744268 or Giamso Safari Tel: 07-7993576. Johor National Parks Corporation Tel : 07-2237471.
For more information, please contact the Johor Tourist Information Centre at +607-2234935, 2241432.
Homestays in Johor
Stay in a traditional home instead of a hotel and get a feel of the kampung(village life). Please see homestay link.
homepage > Johor
2009 Events
Monsoon Mayhem Johor 2009


3 January 2009 Until 4 January 2009
Great challenges await participants in this surfing competition that sees involvement from countries as far as the United States (Hawaii), England, Chile, Oman, Thailand (Phuket), Singapore, Philippines and Japan. A total of more than 70 contestants are expected to portray their surfing abilities against the might of waves for this event this year. Other highlights during the occasion will include thrilling band performances.
Venue:
Johor
Phone: 6017 749 8332
Email: info@bfikt.com
Website: www.bfikt.com
Organiser:
Bigfoot Industries
14th Pasir Gudang International Kite Festival


16 February 2009 Until 22 February 2009
The windy season is back at Bukit Layang-Layang in Pasir Gudang for this exciting international event that sees competitive participations from England, Germany, United States, Ghana, Cape Town, Japan, China and ASEAN countries.
Venue:
Johor
Phone: 607 251 3720 / 21 / 22
Fax: 607 251 5260
Website: http://www.kitefestpasirgudang.com
Organiser:
Johor State Government/Johor Tourism Action Council/Johor Corporation/Johor Kite Flyers Association/Pasir Gudang Local Authority
Colours of Malaysia 2009


21 March 2009 Until 31 December 2009
This year's celebration, shall take us on a colourful journey throughout this extraordinarily diverse country. Malaysia's premier cultural extravaganza is back to dazzle and entertain locals and visitors alike. Colours of Malaysia is a cornucopia of spectacular traditional performances, colourful parades as well as exquisite arts and crafts. Plenty of activities have been prepared for this year's Colours of Malaysia throughout the country that shall portray the image of 'Malaysia Truly Asia'.
Venue:
Nationwide
ALL
Phone: 603 2693 7111
Fax: 603 2694 1146
Email: info@motour.gov.my
Website: www.motour.gov.my
Malaysia Water Festival 2009 (Launch)


3 April 2009 Until 5 April 2009
Desaru, a beautiful beach retreat in Johor, will be the venue for the launch of this year's Malaysia Water Festival. Enjoy a host of beach activities and water sports such as jet-ski challenge, parasailing, kayaking, yachting, boat racing and lots more. Other main water sports events in the country are:

i) Langkawi Water Festival
10 – 11 April Pantai Chenang, Langkawi, Kedah

ii) Labuan International Sea Challenge
28 Apr – 3 May *Labuan

Venue:
Desaru
Johor
Phone: 607 224 9960
Fax: 607 223 7554
Email: info@johortourism.com.my
Website: www.motour.gov.my
Organiser:
Johor Tourism Action Council
ANNUAL EVENTS (ALL DATES ARE TENTATIVE)
For more information and exact timing, kindly contact:
Majlis Tindakan Pelancongan Negeri Johor,
Aras 5-4, Pusat Penerangan Pelancongan Negeri Johor (Jotic),
No. 2, Jalan Air Molek,
80000 Johor Bahru,
Malaysia.

Tel: 607-223 4935, 607-224 9960, 607-224 1432
Faks: 607-223 7554


If you have any further inquiry, feel free to send us email :

Infomation Department
info@johortourism.com.my

Research Department
research@johortourism.com.my

Promotion Department
promotion@johortourism.com.my

Office Hours:
Monday-Friday 8.00 a.m - 5.00 p.m
Break 1.00 p.m - 2.00 p.m
Saturday & Sunday Off
12th International Kite Festival, Bukit Layang-layang, Taman Bandar, Pasir Gudang,Feb 5-11
Johor Parks Mangrove Run, Taman Negara Johor, Tanjung Piai
E Karnival Mersing 2007 & Pesta Air Papan, Mersing, April 7-21
Sultan Iskandar Shooting Competition, Ladang REM shooting range, Kota Tinggi,Apr 20-22
Nusantara Cultural Festival 2007, Danga Bay, Johor Baru,May 19-26
Johor Park Ledang Climbathon International Challenge, Gunung Ledang, June 23, 24
Malaysian Rally 2007(FIA Asia Pacific Rally Championship & World Rally Championship Observer Round), Jeti Pelabuhan, Tanjung Langsat, Pasir Gudang, Aug 4,5
Johor Open Yachting Championship, Jeti Pelabuhan, Tanjung Langsat, Pasir Gudang, Aug 4,5
Lantern Festival, Johor Baru, Sept 6
Muar Watersports Festival, Muar, Sept 12-15
Desaru Pengerang International Triathlon, Johor Baru, Sept 18,19
Watabusi (Disabled Persons Music Festival), Johor Baru, Sept 28
World Scramble Causeway Team Competition, The Zone, Johor Baru, Nov 23-25
Johor Paintball Open, Dataran Bandaraya Johor Baru, Nov 17,18