Weather & Tide
---
Malaysia has a tropical climate, and is hot and humid throughout the year. Daily temperatures average between 21 degrees Celsius and 32 degrees Celsius. Average humidity levels exceed 82%. The heat and humidity is lower at hill stations of Bukit Larut, Cameron Highlands, Fraserís Hill and Genting Highlands. Temperatures here rarely drops below 10 degrees Celsius or climb above 21 degrees Celsius.
There is rainfall throughout the year but the heaviest are during the 2 monsoons seasons, especially so for the northeastern monsoon.
Annual southwest monsoon from April to October brings moderate to heavy rainfall.
Annual northeastern monsoon from November to February brings in heavy rainfall and strong winds to the east coasts of West Malaysia. The hardest hit areas are along the east coast of peninsular Malaysia in the states of Kelantan, Terengganu and Pahang. The city of Kota Bharu can be particularly hard hit. Its affect is also felt throughout the West Coast, including the Capital Kuala Lumpur where rainfall is almost a daily affair in the late afternoons, from November till late December. East Malaysia of Sabah and Sarawak also receives high rainfall and strong winds during this monsoon season.
Flood woes
Flooding is a common occurrences brought about by the monsoon season, especially the northeastern monsoon from November until February. It is a yearly problem, although a varying one, and you should check the Web before heading to this region.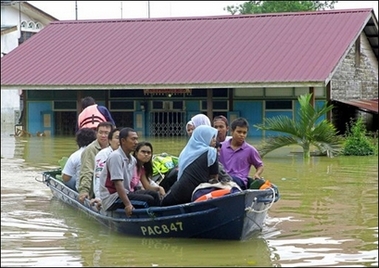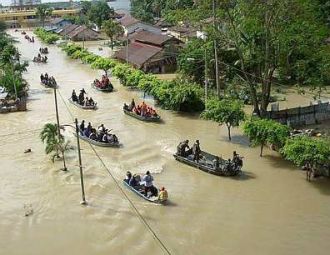 Pictured here, villagers sail through the village of Lenga and Kota Tinggi town after flood waters engulfed the southern Malaysian state of Johor in December 2006. This is one of the worst floods to happen in decades. The death toll from the floods was 17. Fresh heavy downpours also forced hundreds to evacuate in the country's north and the eastern state of Sabah in East Malaysia.
Haze Situation
Haze from fires on the Indonesian island of Sumatra has become a periodic nuisance for residents of Singapore and Malaysia, which are separated from Sumatra by as little as 75 kilometers, or 46 miles. Visibility is reduced to a few meters at worst and incidence of eye irritation and respiratory problems increase.
Droughts and unlawful burning of rain forests by farmers and illegal loggers in Sumatra are the main causes of this environmental nightmare. The haze situation is worse during September and October, just before the rainy season. It has become a yearly problem in this region and you should check the Web on the haze situation before heading to this region.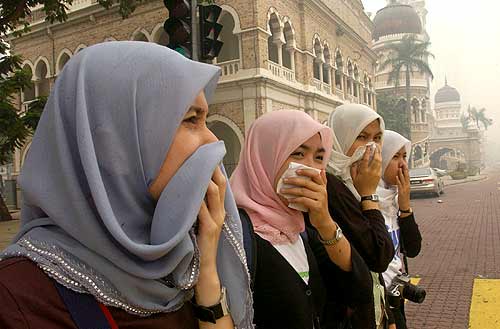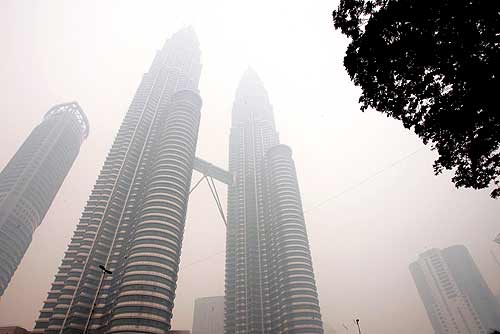 For tides and more information on the weather, log on to
www.met.gov.my/home_e.html
homepage > Weather & Tide